2023 Commencement Ceremony
Saturday May 6, 2023 , 2 to 4 p.m.
We look forward to celebrating our graduates on Saturday, May 6. Check back for more details.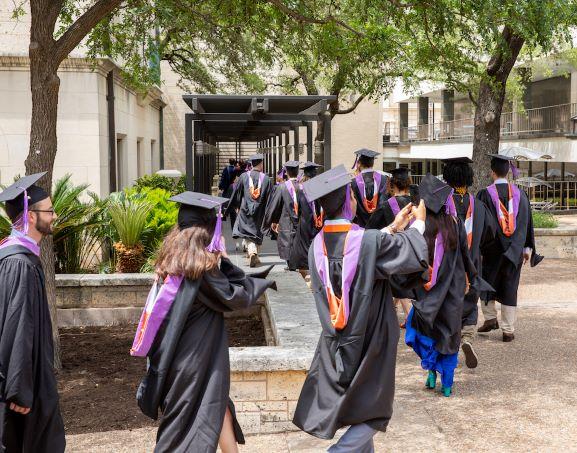 LOCATION
The LBJ Auditorium is located on the lower level of the LBJ complex at 2313 Red River St. Access to the Auditorium will be through the lobby of the LBJ School of Public Affairs.
The ceremony will also be live-streamed on the Texas Architecture YouTube channel.
TICKETS
Seating is limited. All guests must have a ticket to enter the LBJ Auditorium. Ticket pick-up will be available at the Office of the Dean reception desk. 
REGALIA
Regalia is required to participate and may be purchased from the University Co-op. The color for the School of Architecture is lilac. Check their website to have the latest information about deadlines.
ACCESSIBILITY
The LBJ Auditorium is ADA-accessible. If you require special accommodations, email soa-reception@austin.utexas.edu. 
RECEPTION
A reception honoring graduates and their guests will immediately follow the ceremony on the Lyndon Baines Johnson Library and Museum Plaza. Details will follow.
EVENING COMMENCEMENT
Please join Dean Michelle Addington at the University-wide Commencement  held on Saturday, May 6. Graduates and guests attending the ceremony in DKR-Texas Memorial Stadium will require a ticket. Click here for more ticket information. Graduates who are participating should arrive by 6:45 p.m. to line up for the procession onto the field in the stadium. 
Please note that a clear bag policy will be in effect at DKR-TMS for all graduates and guests attending.  
PARKING
Free parking will be available in all university parking garages and on most surface lots. First come, first serve parking is available in Lots 37-39. If surface parking becomes full, guests are encouraged to park in the Manor Garage (MAG), San Jacinto Garage (SJG), or any of the other seven university parking garages. 
SECURITY INFORMATION
Food, drinks, and large purses and bags are not permitted in the LBJ Auditorium.
ADDITIONAL QUESTIONS?
Check back here for more details as commencement nears. You can also contact the School of Architecture's reception desk at (512) 471-1922.