2024 Career Fair
The University of Texas at Austin School of Architecture will host its annual career fair at the AT&T Executive Education and Conference Center's Zlotnik Family Ballroom on campus.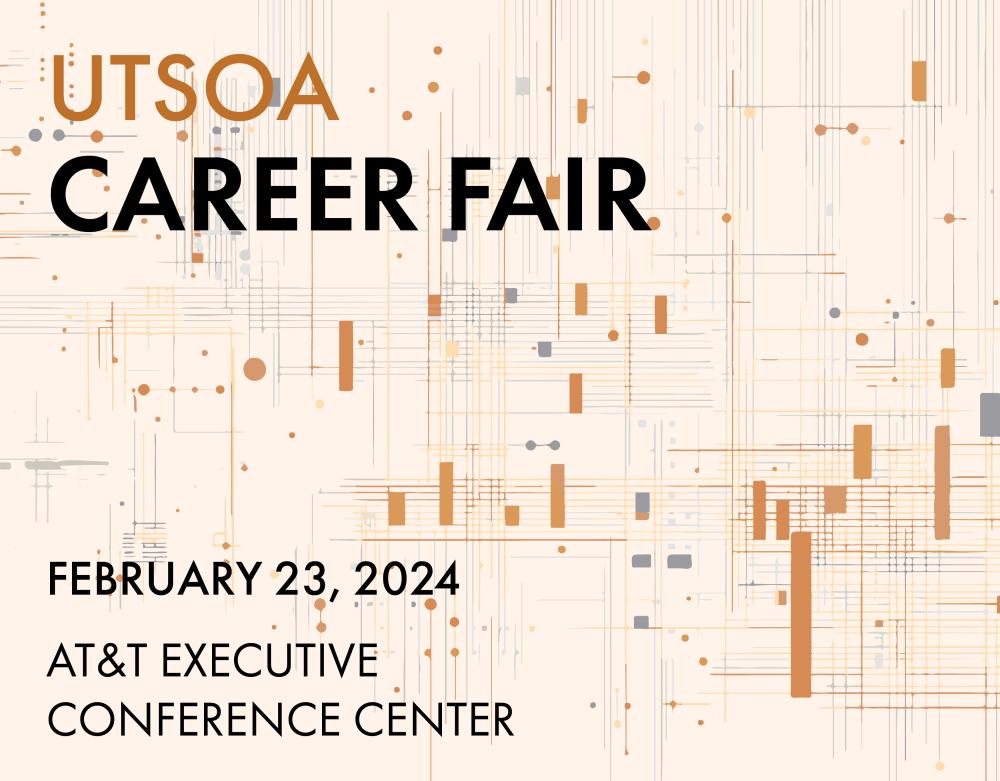 This fair provides a fantastic opportunity for employers to connect with UTSOA students and alumni while promoting their firm or organization. 
Participating disciplines: Architecture, Community & Regional Planning, Interior Design, Landscape Architecture, Architectural History, Historic Preservation, Sustainable Design, and Urban Design. 
SCHEDULE: 
Student + Firm Meet & Greet: 10:00 am - 1:00 pm   
Interviews: 1:00 pm - 5:00 pm (conference ballroom)    
Faculty + Firm Cocktail Reception: 5:00 pm 
REGISTRATION: 
Employers can register for the 2024 Career Fair here >>    
$595 for-profit rate / $325 non-profit/government rate   
Student Registration is NOT required.
EMPLOYER ELIGIBILITY: 
UTSOA welcomes career fair registration for firms and organizations hiring for their own HR needs. Employers attending the fair are required to be seeking full-time or internship opportunities available for students. Third-party recruiting and staffing firms are not eligible to participate in our career fair.    
All employers who partner and recruit through UTSOA Career Services must acknowledge, adhere and agree to the following recruiting policies. Should you have any questions, please contact 512-471-1333 or utsoa-careers@utexas.edu. 
UT Austin Equal Opportunity Policy    
Employment recruiters who wish to make use of the assistance and/or facilities offered by UTSOA Career Services at The University of Texas at Austin must agree with the following equal opportunity policies.
Non-Discrimination Statement: It is the policy of The University of Texas at Austin to provide an educational and working environment that provides equal opportunity to all members of the University community. In accordance with the federal and state law, the University prohibits unlawful discrimination, including harassment, on the basis of race, color, religion, national origin, gender, including sexual harassment, age, disability, citizenship, and veteran status. Procedures for filing discrimination complaints on the basis of gender, including sexual harassment are addressed by HOP Policy 4.B.2. Pursuant to University policy, this policy also prohibits discrimination on the basis of sexual orientation, gender identity, and gender discrimination. 
UT Non-Discrimination & Equal Opportunity Site    
HOP Policy 4.B.1: Nondscrimination   
HOP Policy 4.B.2: Sex Discrimination and Sexual Harrassment 
The University of Texas at Austin is committed to this policy in the operation of recruiting and the services of this office are available only to employers who conform to this policy in hiring. Any complaint that an interviewing employer does not conform to this policy with regard to hiring will be investigated to determine whether such practices have indeed occurred.
National Association of Colleges and Employers (NACE) Principles for Professional Practice   
As part of the University's commitment to leadership in the area of ethics and professional conduct, also we require employers utilizing UTSOA Career Services to adhere to employment laws and principles of professional practice, as outlined by the federal government and The National Association of Colleges and Employers (NACE) Principles for Professional Practice, respectively. Please review the following links and agree to the following guidelines.   
NACE's Principles for Professional Conduct   
NACE's Reasonable Offer Deadline Guidelines   
NACE's Position Statement on Rescinded and Deferred Employment   
    
Additional NACE Resources   
Position Statement on Unpaid Internships   
Best Practices for Internship Programs