American A-Frame
An exhibition and prototype developed by Barkow Liebinger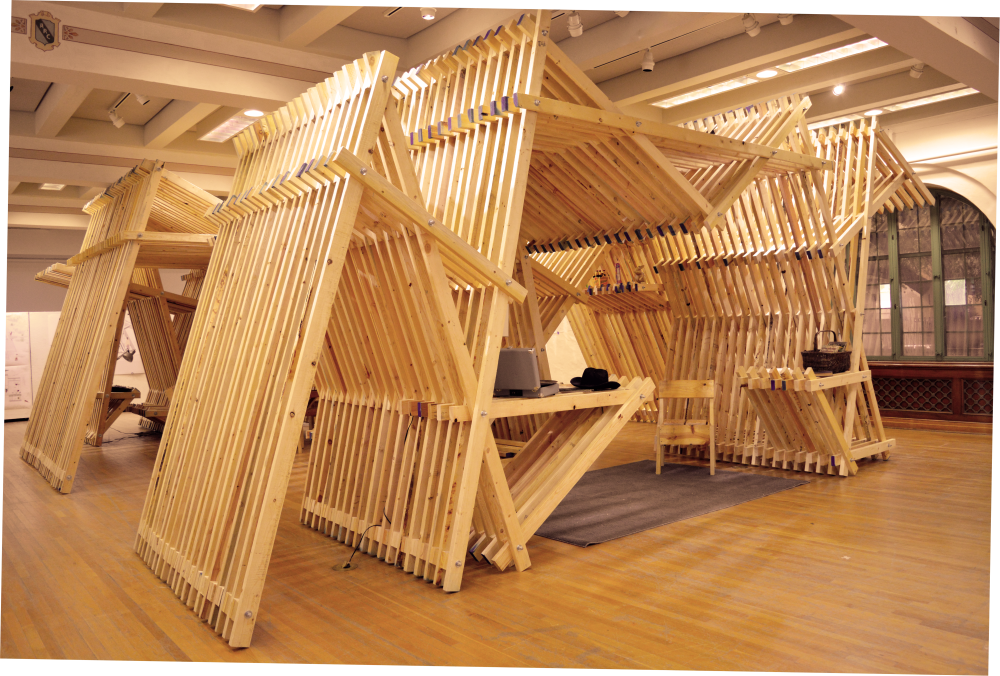 The American A-Frame, a post-war low-cost housing solution often used for holiday homes and cabins, remained limited in scope despite its simple yet innovative design. Like Buckminster Fuller's geodesic domes, it never evolved beyond a DIY concept. However, with modern digital production and a focus on sustainable timber construction, there's potential for reimagining it. 
Using 2x4 wood studs, a common building material, this exhibition revisits the A-Frame as a versatile, sustainable architectural solution. The Mebane Gallery prototype showcases adaptable configurations with triangulated trusses serving both structural and spatial functions. Its modular design can accommodate various programs and potentially adapt to different terrains. Clad with energy-efficient materials that can collect graywater and support roof gardens the A-Frame is configurable. The exhibition imagines a customizable, eco-friendly house for under $100,000 that transforms this underdeveloped typology into a contemporary, practical, and innovative housing solution that challenges traditional housing norms.
ABOUT BARKOW LEIBINGER
In 1993, Frank Barkow and Regine Leibinger founded their American-German practice which has grown into a team of 100+ architects, model builders, and support staff. Active internationally, the roots of the firm go back to building for industry, companies whose technologies drove an interest in evolving technologies and craft. 
The interface between practice, research, and teaching characterizes the practice's approach. A focus on materiality and how they are transformed by digital and analog tools and technologies, underscores much of the experimentation in the practice. This research then informs the design and construction of building elements for ongoing projects. A particular focus has been on prefabrication, in concrete (gradient or lightweight), timber, and ceramic elements.
The spectrum of Barkow Leibinger's work is multi-scaled: from master planning, urban high-rises, office and industrial buildings to residential, installation, and prototypical exhibition pavilions. They are currently building the Estrel Tower, a 522-room hotel which will be the tallest building in Berlin. A live/ work complex is also under construction in the Kurfürstenstraße, Berin. Other milestones are "Tour Total" in Berlin and the Trutec Building in Seoul, Korea, as well as, the Fellows Pavilion for the American Academy in Berlin, the Serpentine Summer House in London, and the Trumpf Smart Factory in Chicago. Most recently completed are the Harvard ArtLab in Cambridge and the Sid Richardson Residential College at Rice University in Houston.
The work of the firm has been featured in several exhibitions, with a retrospective at the Haus am Waldsee, Berlin 2020, including (among others) at the Architectural Association in London, the 2008 and 2014 Venice Architecture Biennials, the 2012 Marrakech Biennial, the 2017 Chicago Architecture Biennial.

In 2007, Barkow Leibinger's work was awarded the Marcus Prize for Architecture. They have received the DAM Prize for Architecture in Germany in 2009 and several Honor Awards for Architecture from the American Institute of Architects. The "Smart Material House" in Hamburg received the Holcim Global Innovation Prize in 2012.