CAAD Forum: Patrick Danahy
Location:
Dean's Conference Room (GOL 2.302B)
Patrick Danahy, 2023-2025 Emerging Scholar in Design, presents "Grammar: Observations on Machine Language"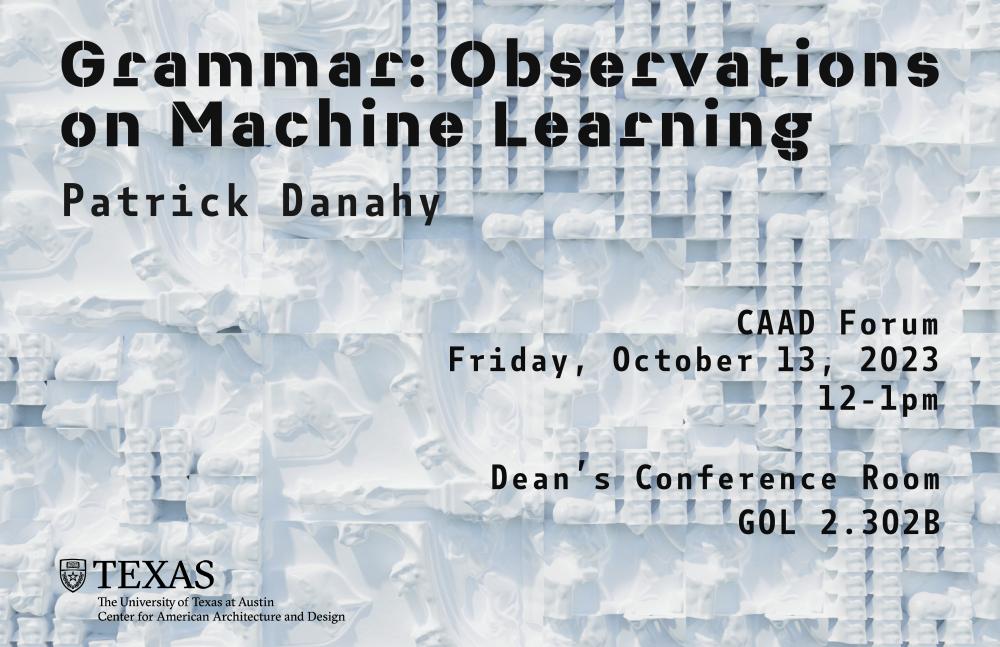 "Grammar: Observations on Machine Language" is a series of collected field observations expanding on previous research presented at the 2022 TRAITS: Post Digital Neobaroque Conference held at the University of Innsbruck, led by Marjan Colletti and his research cluster. This talk will discuss the rise of 3D scanning as a tool for both surveying and representation. Due to the variety of characteristics captured, these scanned artifacts provide opportunities for much more nuanced architectural classifications. Contemporary computational techniques, including several machine learning models that will be introduced and briefly discussed in this talk, may offer new languages of categorization, outside of typical linguistic bounds. This talk will be a compilation of computational and theoretical observations of the times and will include an attempt to synthesize these observations into a proposal for this new categorization of architecture and what I hope it could mean for the discipline. In this talk, I will reference writing and research from several key figures including the works of Jane Bennett, Ian Bogost, Manuel DeLanda, Gilles Deleuze, and Felix Guattari.
Due to the informality and in-progress nature of this talk, as prepared, I encourage challenges, advice, and reflections and look forward to the discussion that will follow.
---
The CAAD Forum series is hosted by the Center for American Architecture and Design to bring faculty, staff, and students together for informal and inquisitive discussions about ideas relating to architecture and its history, theory, practice, and future. Presentations are followed by time for Q&A, with recordings posted to the Texas Architecture YouTube channel following the event.