CAAD Forum, T. Andrew Stone and Claire Townley, "For More Senses"
Friday Jan. 20, 2023 , noon to 1 p.m.
If architecture were invisible, what would remain? The visually impaired experience uncovers a blind spot in architectural pedagogy.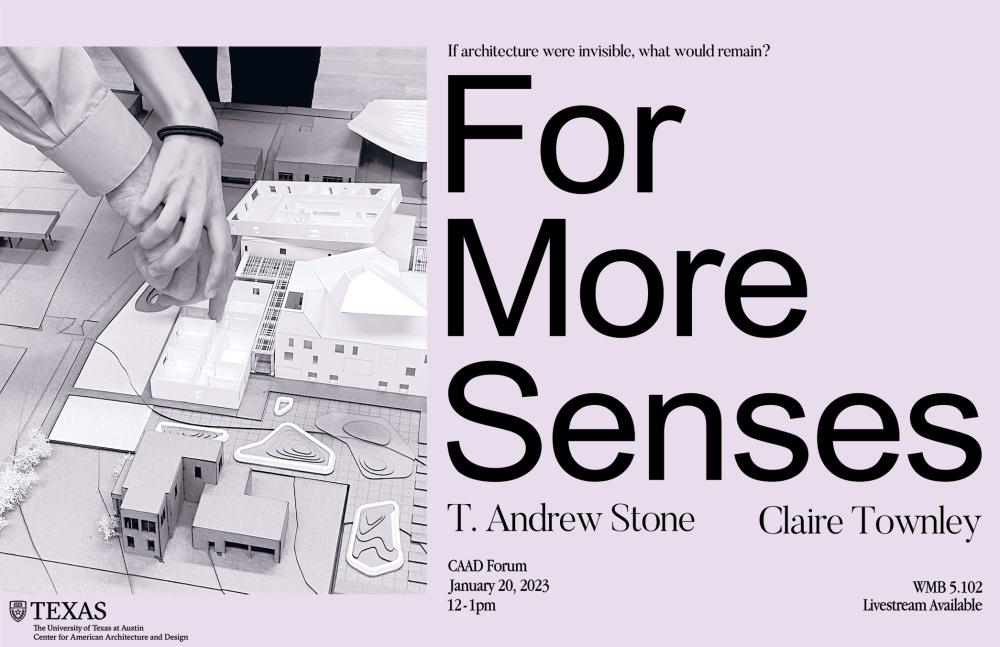 As tools for image creation become more powerful, architects risk leaving the phenomenological magic of physical space behind. "For More Senses" challenges designers to rediscover their physical empathy and embrace the beautiful entanglements of multisensory perception.
Claire Townley and T. Andrew Stone have co-taught two Comprehensive Studios at UTSOA. In 2021 they taught Invisible Studio, challenging students to investigate architecture from the perspective of those who cannot see it. Class assignments focused particular attention on the unique needs of blind users, emphasizing tactility, materiality, acoustics, and spatial quality as instruments of architectural expression. The semester culminated with a visit from renowned blind architect Chris Downey. The ideas explored in this studio, and continued research on the topic of ocularcentrism in architecture, are the basis for their lecture "For More Senses."
T. Andrew Stone is an educator, designer, and artist based in Austin, Texas. Through his work as a Project Architect at Michael Hsu Office of Architecture, Andrew has experience on a diverse collection of project types, from public realm design to single family residential. His background in the sciences fostered a fascination with the blurry relationship between the objective and the subjective. In his personal work, he builds memorable and personal experiences through woodworking, drawing, and storytelling. Andrew seeks to create accessible architecture with an empathetic and relational framework.
Claire Townley is an Associate Architect at Pollen Architecture & Design. A native of Nebraska, she studied art history and philosophy at Boston College before pursuing studies in architecture at the University of Texas. She graduated with her Master of Architecture in May 2019, earning the AIA's prestigious Henry Adams Medal. During her time at UTSOA, Claire spent a semester working at Renzo Piano Building Workshop in Paris and a summer studying in Munich. She was a teaching assistant for many architecture and art history classes. Claire previously worked for KANEKO: Open Space for Your Mind and interned with the Cooper-Hewitt Smithsonian Design Museum in New York. 
This event is part of the CAAD Forum series, hosted by the Center for American Architecture and Design to bring faculty, staff, and students together for informal and inquisitive discussions about ideas relating to architecture and its history, theory, practice, and future. Presentations are followed by time for Q&A, with the option to participate in person or via live webcast.