CAAD Forum, Tyler Swingle, "Tempting Tools of the Trade"
Friday March 24, 2023 , noon to 1 p.m.
Location:
Dean's Conference Room (GOL 2.302B)
Join Tyler Swingle, 2022-2024 Emerging Scholar in Design Fellow, for a conversation about interrogating the connections between tools and their 'creative' product to propose new design methods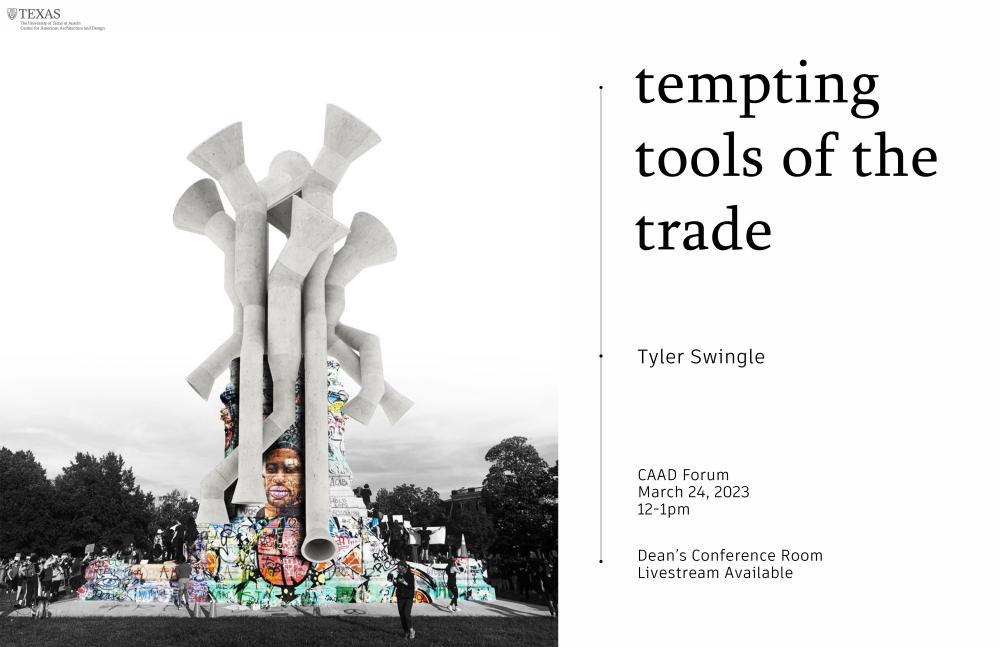 All tools come with inherent biases. This is especially true in architecture, where so many tools such as modeling software, fabrication techniques and materials not only exist, but influence design decisions. Because of their inherent bias, the role tools play in producing architecture should be questioned and criticized. Within teaching and research, Tyler Swingle has started to dismantle and interrogate the connections between tools and their 'creative' product to propose new design methods and promote critical thinking. Sometimes this method includes a weird and unexpected "misuse" of tools to produce innovative and progressive architectural designs. In this context, misuse has resisted conventional designs, othering and carbon-intensive results through collaboration in and outside of the studio, through material playfulness and performance in models and prototypes, through programmatic paradigms that confront patterns of segregation and discrimination, and through computation glitches that provide misreadings and composition in proliferate CAD softwares. 
Tyler Swingle holds the Emerging Scholar position at The University of Texas at Austin School of Architecture. He received his Bachelor of Environmental Design degree from Montana State University in 2012 and his Masters of Architecture degree from Massachusetts Institute of Technology's School of Architecture + Planning in 2018. During this time, Tyler won several prizes, including the AIA Henry Adams Medal in 2018 and the Sydney B. Karofsky '37 Prize in 2016. Tyler has worked at Barkow-Leibinger Architects and Matter Design, and has a wide range of project experience including awards, winning competitions, material research prototypes, and built works. Simultaneously, Tyler lectured at the Peter Guo-hua Fu School of Architecture at McGill University and held the Visiting Scholar position at Montana State University School of Architecture.
Image credit: Tyler Swingle, Matter Design, CEMEX Global R&D