City Forum: Johnson&Gregor- Nov 20
Friday Nov. 20, 2015 , All Day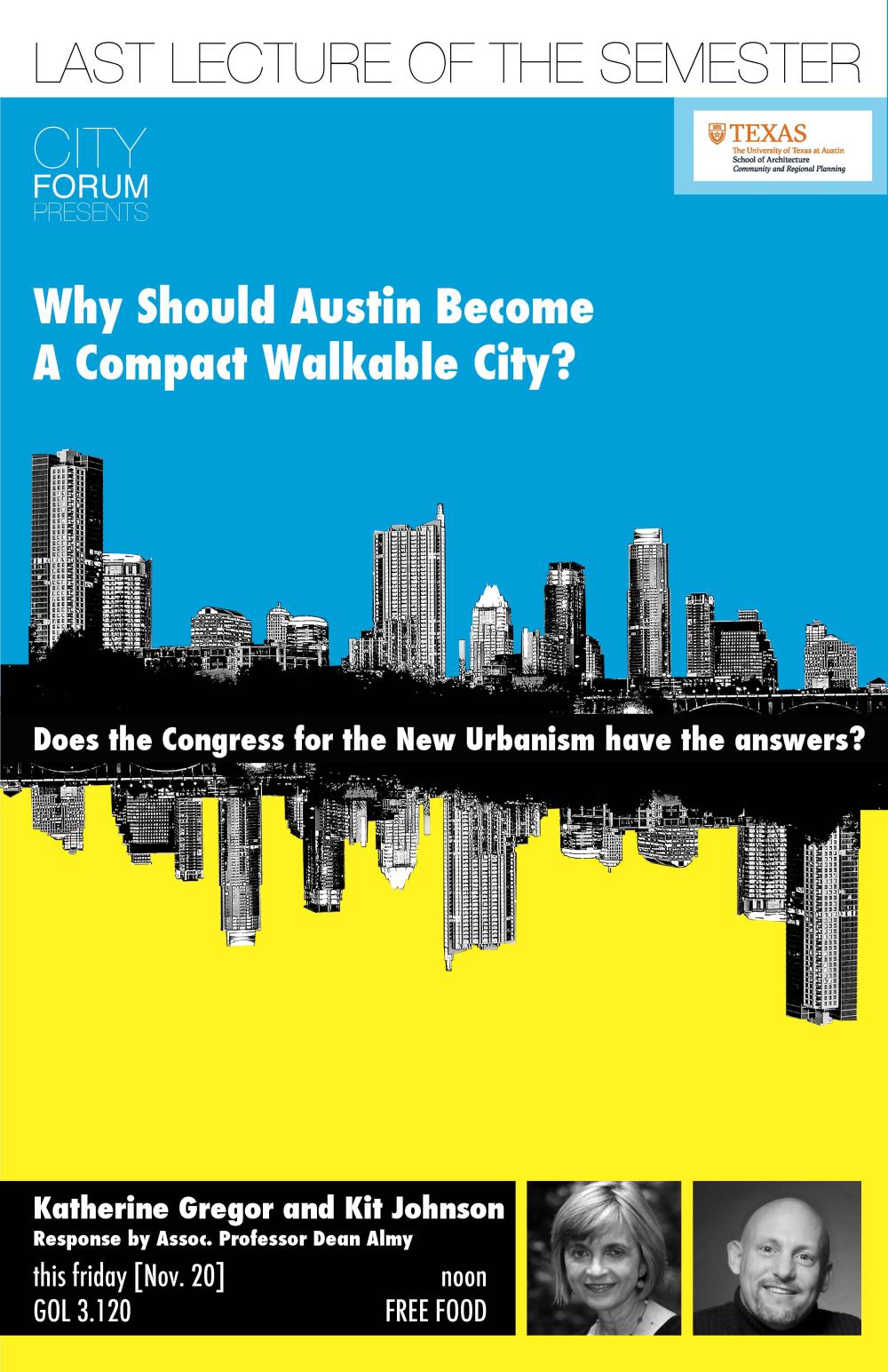 Why Should Austin Become A Compact Walkable City? Does the Congress for the New Urbanism have the answers?

presented by Kit Johnson and Kathrine Gregor with Response by Assoc. Professor Dean Almy.

SUBJECT

Austin's recently adopted Imagine Austin Comprehensive Plan that calls for remaking the city as "Compact and Connected."  But is that a good idea?  Is the recipe of "New Urbanism" the right answer for how Austin should grow?  Would it kill architectural creativity?   We'll hear a 30-minute pitch from two City of Austin staff -- Kit Johnson, City Architect, and Katherine Gregor, Complete Streets Program Manager.  Associate Professor Dean Almy, director of the Graduate Program in Urban Design, will respond and pose provocative questions, before opening it up to the audience for questions and comments.
SPEAKERS

Katherine Gregor and Kit Johnson are City of Austin staff who have co-taught a course for City staff on the principles of Compact and Connected in the Imagine Austin Comprehensive class, and an advanced course that leads to CNU accreditation. They both also are recipients of Envision Central Texas Stewardship awards.

 

Kit Johnson, AIA and CNU-A, serves as the City Architect for the City of Austin.  A graduate of The University of Texas School of Architecture, he is LEED accredited.  His 23 years of private practice include experience at Lake/Flato, Overland Partners and BCV San Francisco.  He is a founding partner of Hailey Johnson Architects and Architecture 365. He serves on the Board of AIA Austin.  

 

Katherine Gregor, CNU-A, serves as the Complete Streets Program Manager for the City of Austin.  A graduate of The University of Texas at Austin, she ran a communications consulting firm that specialized in working for architectural firms for nearly 20 years.  A former journalist and Austin Chronicle staff news writer, she has worked for the past 5 years at the Office of Sustainability, the Planning Department (Urban Design Division), and Transportation Department at the City of Austin.

 

Dean J. Almy III, AIA, FFUD, is an Associate Professor of Architecture,  Director of the Graduate Program in Urban Design and The Texas Urban Futures Laboratory. Professor Almy is a former Chair of the City of Austin's Design Commission and current chair of the Texas Society of Architects, Urban Design Committee.