City Forum: Mike Lydon and Sarah Filley
Friday April 1, 2016 , All Day
City Forum presents, "Improv to ImprovE: Talks from Two Impressive Tactical Urbanists," in conjunction with the Imagine Austin Speaker Series.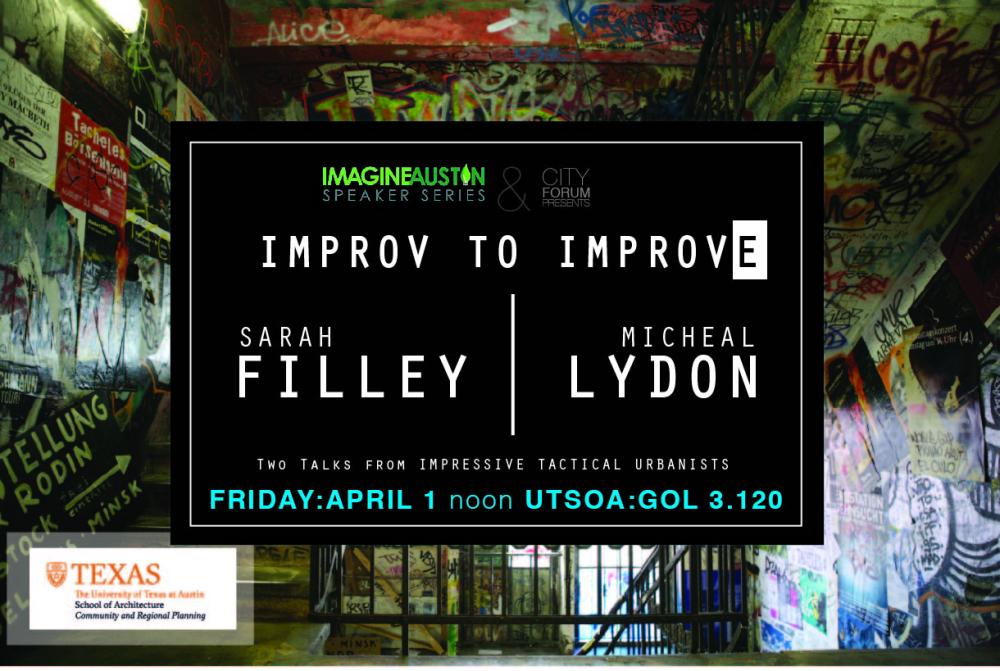 Co-hosted by City Forum & Imagine Austin Speaker Series
TALK: Improv to ImprovE: Talks from Two Impressive Tactical Urbanists
SPEAKERS:

Sarah Filley

Cofounder & CEO of Popuphood

Artist
Sarah Filley is CEO and cofounder of Popuphood. Her interdisciplinary background in public art and civic engagement serves as a foundation for her insights into creative and technology based solutions that increase civic participation for inclusive and sustainable growth. She has been profiled and quoted in the the global reports on urban innovation and retail and in the New York Times, the Wall Street Journal, Fast Co., The Huffington Post, The Atlantic Cities, and some other places.

 

She was selected as a panelist and exhibitor at the Venice Biennale for Architecture US pavilion in (2012) in Venice, Italy and in Chicago, IL (2013). As a participant in a prestigious roster of national organizations she has lent her creative approach to local economic development to the following panels and webinars: The City of Melbourne in Australia for 2013 Spring fashion week, the Federal Reserve Community Forum and webinar about Vibrant Economies, Local Initiatives Support Corporation (LISC) hosted by the San Francisco Office of Workforce and Economic Development, the International Council of Shopping Centers (ICSC), International Economic Development Council (IEDC), BALLE (Business Alliance for Local Living Economies), and the Center for a New American Dream, and many more.

 

She serves on the Business and Economic Development Advisory Committee for the California State Assembly and recently served as a judge for the prestigious NEA Our Town grant in 2014.  

 

She had co-designed the California College of Arts (CCA) ENGAGE 2013 Spring Class entitled Creative Disruptions as well as an exhibition of the same name as part of her contracted work with the KoreaTown Community Benefits District and more recently, co-designed the 2015Fall design/build urban prototyping project with the California College of Arts architectural department's Build Lab as part of [uncontained], a creative series of events in partnership with the San Fransisco Shipyard Communities development, a division of Lennar Urban.
Mike Lydon

Principal of the Street Plans Collaborative

Co-author of Tactical Urbanism: Short-term Actions for Long-term Change

Mike Lydon is a Principal with Street Plans and leads the firm's New York City office. Mike is an internationally recognized planner, writer, speaker, and advocate for livable cities. NPR, The New York Times, CNN Headline News, ABC News, City Lab, Planetizen, Salon, Next City, Architect Magazine, and Streetsblog have featured his work, among other publications.
Mike is the creator and primary author of the The Open Streets Project and the globally acclaimed series Tactical Urbanism: Short-Term Action, Long-Term Change Vol.1 – 4. With Tony Garcia, Mike authored the full-length bookTactical Urbanism, published by Island Press in March 2015. Mike also collaborated with Andres Duany and Jeff Speck in writing The Smart Growth Manual, published by McGraw-Hill in 2009 and honored by Planetizen as one of the top ten planning books of 2010.
A founding member of the New England Chapter of the Congress for the New Urbanism, a Board Member for CNU New York, and a steering committee member of the Next Generation of New Urbanists, he remains active in both local and national planning, design, and smart growth advocacy issues. He lectures frequently and leads workshops and trainings on the topics of smart growth, tactical urbanism, and complete streets/active transportation.
Before launching the firm in 2009, Mike worked for Smart Growth Vermont, the Massachusetts Bicycle Coalition, and Ann Arbor's GetDowntown Program. From 2006 – 2009 Lydon worked for Duany Plater-Zyberk and Company (DPZ), an international leader in the practice of smart growth planning, design, and research techniques.
Mike currently serves on Transportation Alternative's Executive Committee for the New York City Harbor Ring project, is an advisor to the Bicycle Coalition of Maine, and sits on the Board of the Center for a New American Dream. Mike received a B.A. in American Cultural Studies from Bates College and a Masters in Urban Planning from the University of Michigan. He encourages you to trade four wheels for two.