City Forum: Questions of Sustainability
Friday March 1, 2019 , noon to 1:30 p.m.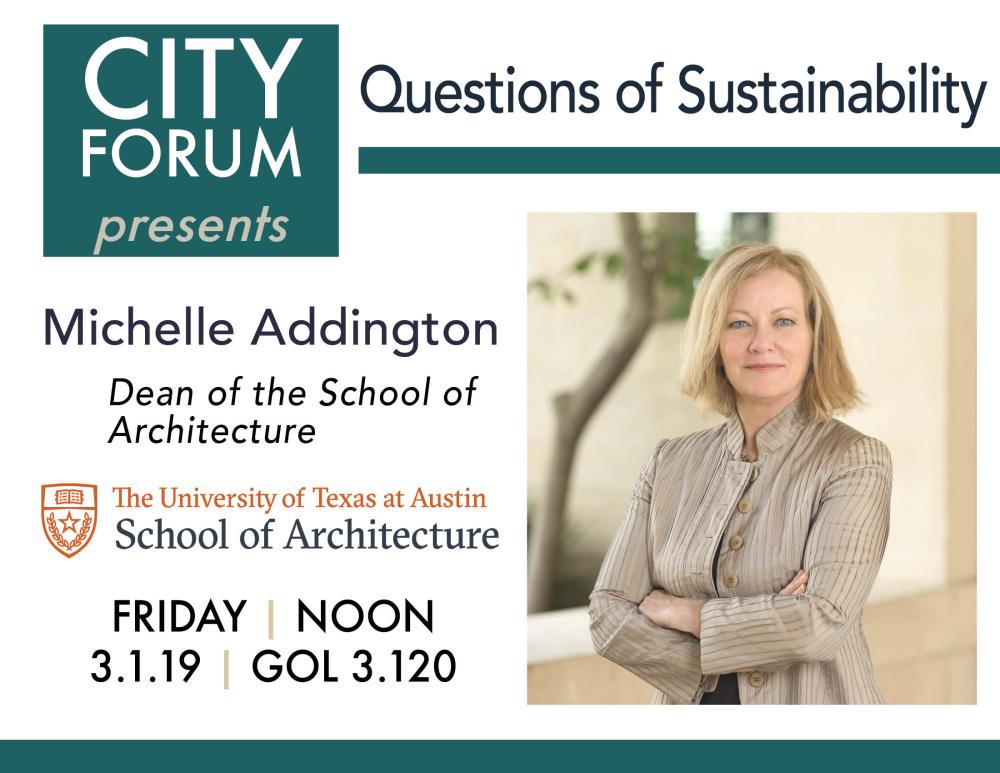 Description

As we accelerate ever faster to climate change's warming limit of 2° C, after having already passed the 400 ppm CO2 threshold a few years ago, we have not witnessed a meaningful reduction in the energy use of the building sector. Unquestionably, there have been enormous strides in analysis and simulation, in the development of new technologies and materials, and in the integration of multiple disciplines to bring unprecedented resources and knowledge to the design of the built environment.  As much as these strides have advanced our field, they have not only been unable to match the continuing rise in emissions, but they have not aggressively addressed the impacts of the rapid urban growth taking place globally. If our methods, materials and tools have improved, have we perhaps missed the mark on asking the right questions?
Michelle Addington

Michelle Addington is the Dean of the School of Architecture at The University of Texas at Austin, where she also holds the Henry M. Rockwell Chair in Architecture. Formerly, she held the Chair in Sustainable Architectural Design at the Yale University School of Architecture and was jointly appointed as a Professor at the Yale University School of Forestry and Environmental Studies. Educated as a mechanical engineer and as an architect, she focuses on advanced technologies, energy, and new materials.