City Forum: UT Campus Sustainability and Planning
Friday Feb. 19, 2016 , All Day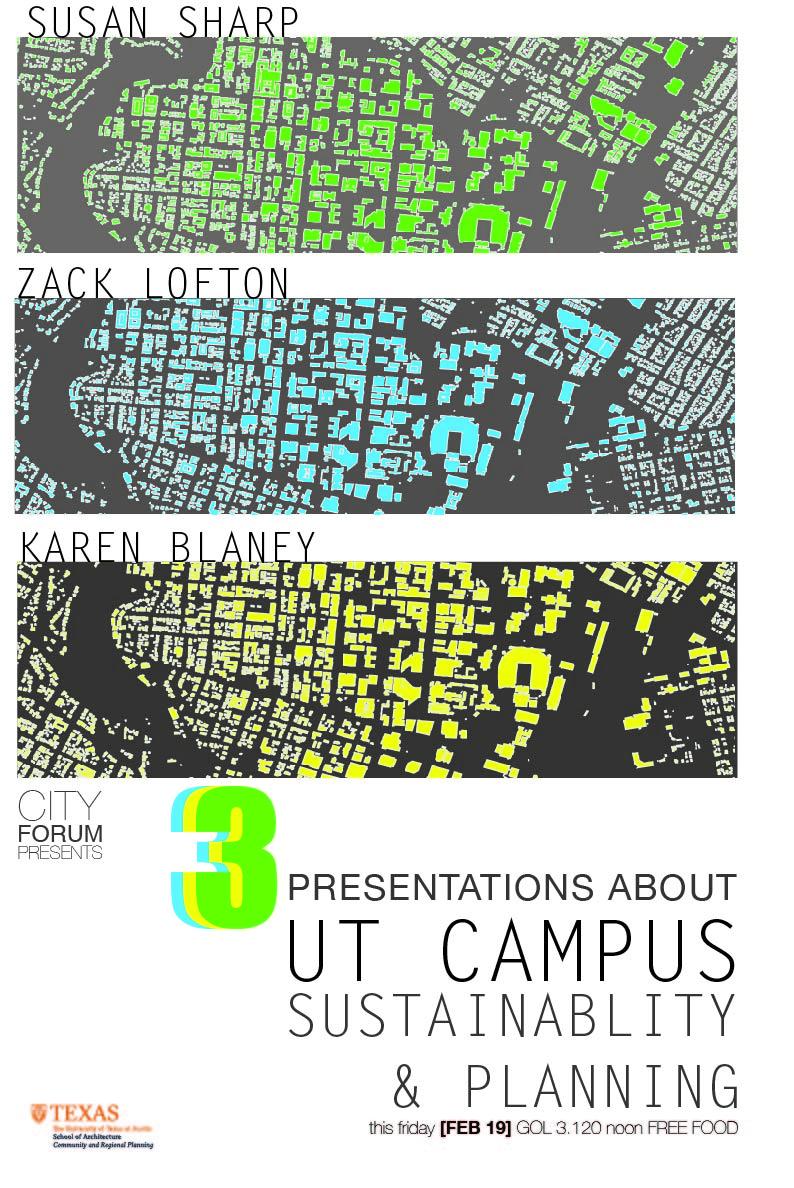 This week we will have 3 speakers talking about different aspects of UT Campus Sustainability and Planning:
Susan Sharp is pursuing a Master's degree in Community and Regional Planning and Master's in  Sustainable Design from UTSOA and holds a BA in Geography from Clark University. In addition to her studies, she works as a Graduate Research Assistant in the Center for Sustainable Development and serves as Vice-Chair of the Longhorn Energy Club. Before enrolling at UT, her professional work focused on mobile emissions reduction projects, carsharing, and writing assignments spanning from grant writing to ghostwriting.
TALK

On any given day, The University of Texas hosts an estimated 70,000 students, faculty, and staff on its grounds. This circulation requires a significant input of energy and materials, much of which uses fossil fuels. While accounting for all of the greenhouse gasses that stem from these activities is a challenge, meaningfully reducing these emissions can be even more demanding. This talk will reveal the breakdown of the university's carbon footprint, highlight successful reduction measures, and discuss a few proposals for further action.

Zack Lofton graduated with a B.S. in Business Administration from Louisiana State University. After completing his undergraduate studies, he worked in New Orleans, LA to help senior citizens and people with disabilities obtain affordable and ADA accessible housing subsidies. At the Urban Information Lab, he is the researcher for the Green Fee-supported Bicycle Infrastructure Improvement Study and Implementation Plan. He has also been a graduate research assistant with UT-Austin's Center for Transportation Research examining the potential for autonomous vehicles. Zack is focusing his graduate studies on public and active transportation as it relates to equity and livability. 
TALK

Zack is going to discuss what exactly he is doing for his research (in detail) and focus it on how it can impact the sustainability goals of the University. 

Karen Blaney has been working with the University of Texas for over eight years. She was hired as the first advisor to the Campus Environmental Center, a student organization that was the campus's first major student group focused on campus sustainability. Karen joined the Office of Sustainability in 2011 to help manage the UT Green Fee. Over her time here, Karen has worked on recycling, staff development initiatives, major events for the Office, and now the master planning process. She has a master's degree from the Pennsylvania State University and a background in project management for nonprofit organizations. She is from San Antonio, TX.
TALK

Karen will be previewing the content of the Sustainability Master Plan, which is scheduled to be complete in April 2016.