City Forum: What Do Arts and Culture Have to Do With Planning?
Friday Feb. 15, 2019 , noon to 1:30 p.m.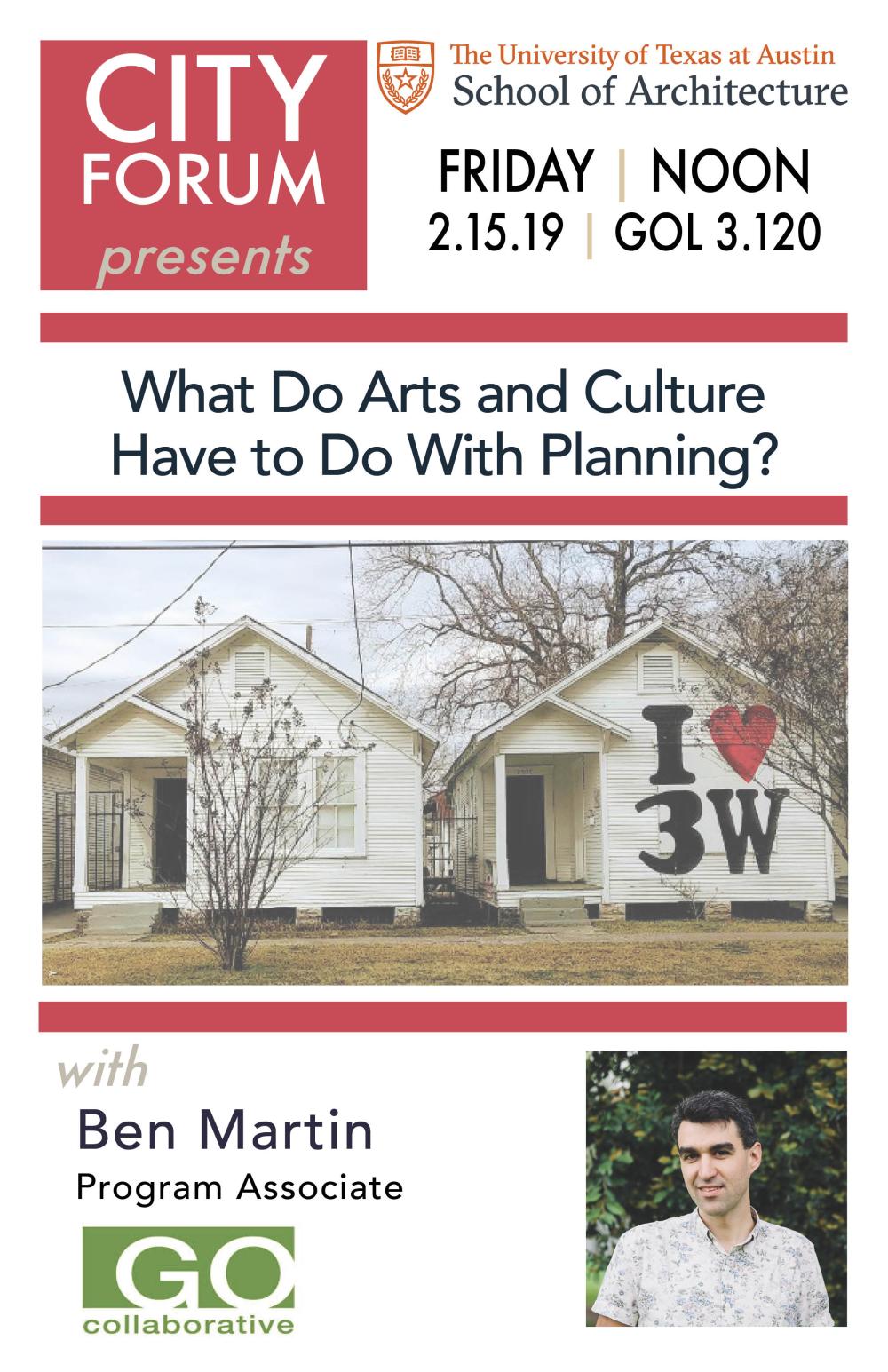 Description

Arts and culture are at the center of many conversations about how to make great cities and communities, and who gets to participate in them. From creative placemaking to artwashing to the creative class, many compelling, sometimes competing frames have been developed to explain the effect of arts and culture on city planning, community development, and civic discourse.  In this talk I attempt to answer the basic question, "What is cultural planning?" I identify some of the major themes and typologies of the cultural planning field, including: equity and placemaking, economic development, using art to facilitate civic processes, and public art. We'll look at examples of successful cultural planning practice, and other cases where these frames of cultural support have come into conflict.
Ben Martin

Ben Martin is a program associate at the cultural planning consultancy GO collaborative, and a master's candidate in Community and Regional Planning at the University of Texas at Austin. At GO collaborative and Metris Consulting he has contributed to research, field building, evaluation, and community engagement locally for Capital Metro, PARD, Foundation Communities, and the City of Bastrop, and for national organizations such as ArtPlace America, the National Endowment for the Arts, Kresge Foundation, and the Robert Wood Johnson Foundation. He was a researcher on the 2018 UT Austin "Uprooted" report on gentrification and displacement. He is a cofounder of the cultural space advocacy group, SPACE (Sustaining and Preserving Austin's Creative Ecosystem). He believes in great communities and places that provide access and opportunity for lots of different types of people. For him that means a focus on affordable housing, displacement mitigation, creative placemaking, cultural planning, and land use and development.