Clayton Korte Meet & Greet
Thursday Sept. 21, 2023 , 11 a.m. to 12:15 p.m.
Location:
Dean's Conference Room (GOL 2.302B)
Join Career Services and Clayton Korte for a presentation on the firm, their current work, and hiring practices.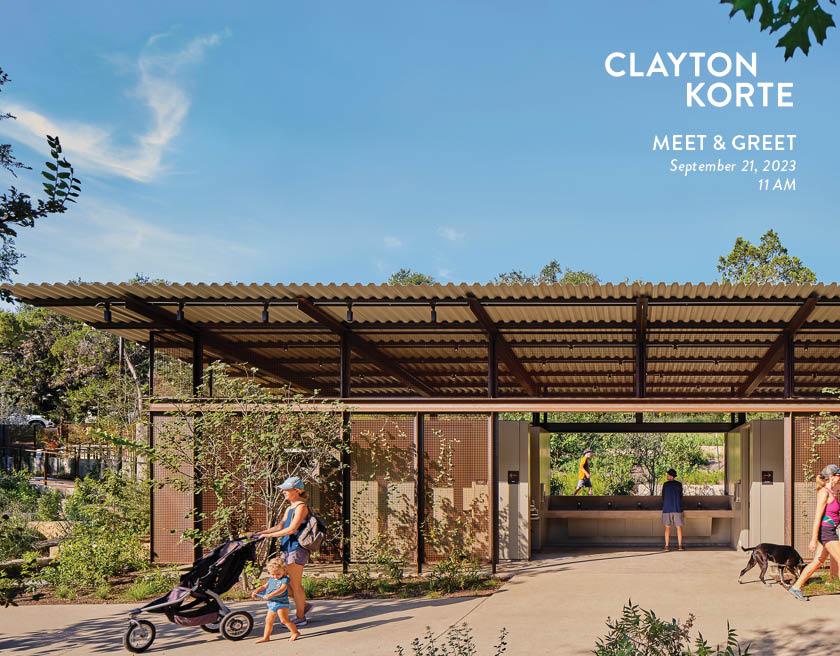 This event is only for current UTSOA students. It will be held in the Dean's Conference Room, Goldsmith Hall.  Lunch will be provided on a first-come, first-served basis. 
---
FIRM BIO
Clayton Korte creates places that celebrate their environment and exalt the human experience at the intersection of architecture, authenticity, and craft. What began as a small architecture practice in 1983 has evolved into a firm today that includes interior design and brand services with offices in Austin and San Antonio. Though their Texas architecture roots run deep, work on winery, ranch, hospitality, and residential projects have taken Clayton Korte to California, Maryland, Hawaii, and beyond. 
PRESENTER BIOS
Travis Greig, AIA: An Associate in our Austin Office, Travis' background is in fine arts and natural sciences. He holds a bachelor's degree from Middlebury College and master's degrees from The University of Texas at Austin School of Architecture and the School of the Art Institute of Chicago. Prior to joining the firm, Travis had his own multidisciplinary design firm with a landscape architect for four years, following many years as a project manager at Andersson-Wise Architects.
Camden Greenlee, AIA: An Associate in our San Antonio Office, Cam received his master's degree in architecture at the University of Illinois in 2010, after which, he taught undergraduate design courses as an adjunct professor for four years at his alma mater. This honed his understanding of the value of teamwork and design dialogue. His interests in architecture stem from an appreciation for the subtleties of materials, light, and the procession of space. Following his teaching experience, Cam made the trip south to work for another regional architecture firm before joining the San Antonio office.
Helen Bone: A native Louisianan, Helen attended Tulane University where she earned her bachelor's degree in marketing and a minor in architectural studies. Eager to learn Spanish and explore South America, she moved to Buenos Aires, Argentina, for three years after graduating in 2016. Helen has since worked in the areas of web design and development, legal marketing, communications, and public relations, and she is passionate about strong branding and creative content strategy.
Verónica Lloveras, NCIDQ: Verónica was born and raised on the tropical island of Puerto Rico. Verónica completed her BFA in Interior Design at Savannah College of Art & Design (SCAD) in 2016. During her time at SCAD, Verónica transferred to the Hong Kong campus, where she gained exposure to the eastern design world. She received recognition on various projects selected for CIDA and a nomination for the USGBC Interior Design Award for her final thesis. Through her designs, Veronica strives to not only create spaces that are practical, sustainable, and contemporary, but also create a connection between people and spaces.