Fighting for Fair Housing in Austin
Friday Dec. 2, 2016 , noon to 1:30 p.m.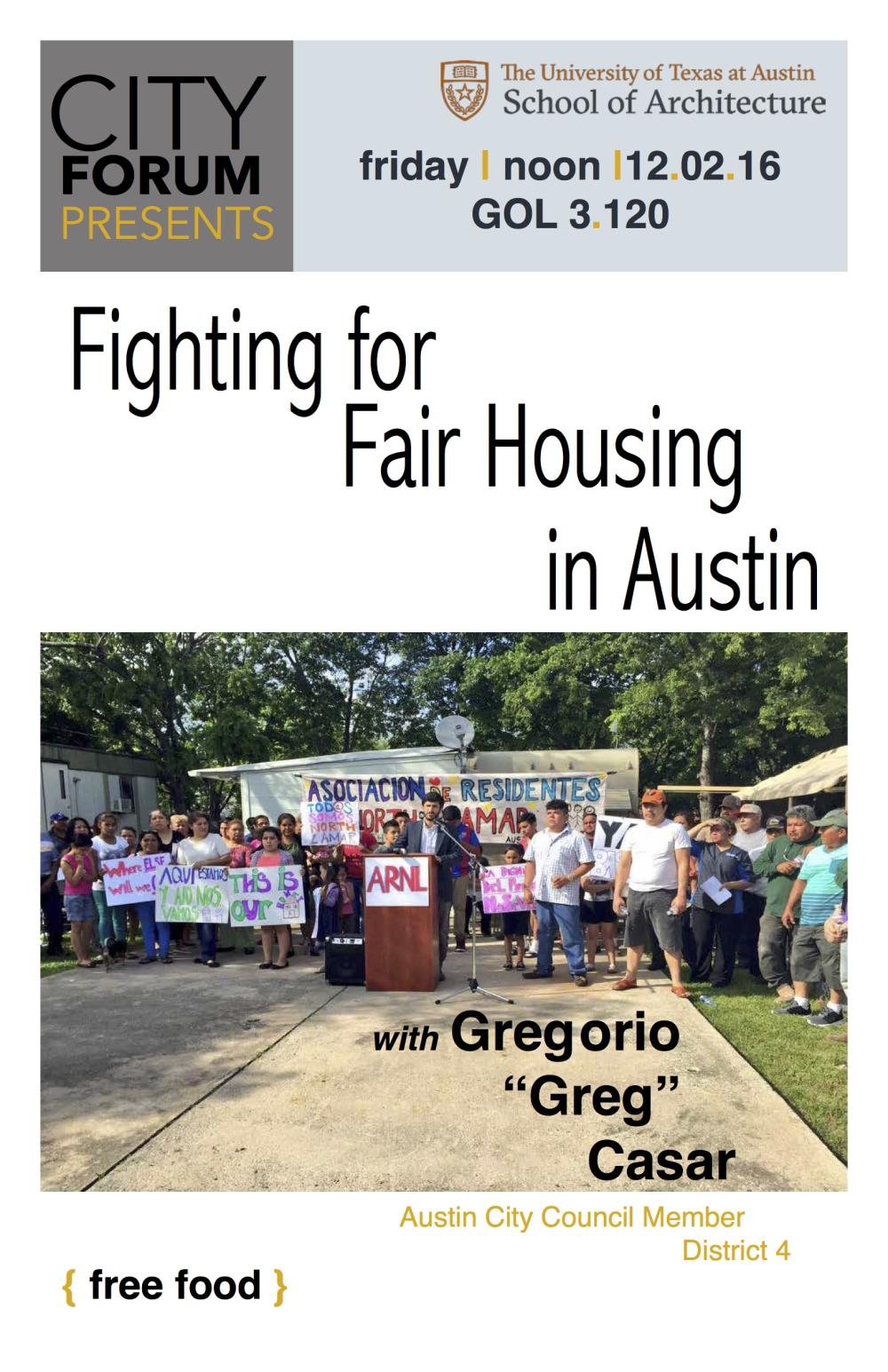 DESCRIPTION:

In June 2016, the Austin City Council passed a package of policies presented by Council Member Greg Casar as an "all of the above" approach to further the spirit of fair housing. This package passed with the goal of removing Austin of the list of most segregated cities in the country. These policies included boosting funding for affordable housing, including new affordable housing fees for major developments, and addressing existing impediments to fair housing. This discussion will explore these policies and opportunities moving forward to increase access to fair housing in the City of Austin.
GREGORIO "GREG" CASAR, a native Texan and the son of Mexican immigrants, was elected to represent District 4 in the Austin City Council in 2014. A graduate of the University of Virginia, Greg previously served as the Policy Director for Workers Defense Project, where he spearheaded campaigns that won major policy reforms to improve wages, education, and workplace safety across Austin, garnering national attention. Greg was elected as District 4's first-ever direct representative at age 25, making him the youngest Council Member in Austin's history. Greg's priorities include social equity, shared prosperity, affordability, environmental stewardship, and public safety for all.

 

Since taking office, Council Member Casar has worked to ensure North Austin families have a seat at the table when it comes to decision-making at City Hall. He helped organize the first two tenants associations at mobile home parks in Austin—both located in District 4—which unified against unlawful and unfair actions in their community including evictions. In the new Council's first budget, Casar successfully championed the establishment of the Residents Advocacy Project, a program that will empower and educate tenants about their rights; body cameras for Austin Police; and developed park space in District 4's urban park deserts.

 

His efforts have been recognized by Austin Chronicle readers, who voted him as the 2015 "Best Elected City Official."