Meadows Fellowship Symposium: Plant Potential
Friday Nov. 5, 2021 , 1 to 5 p.m.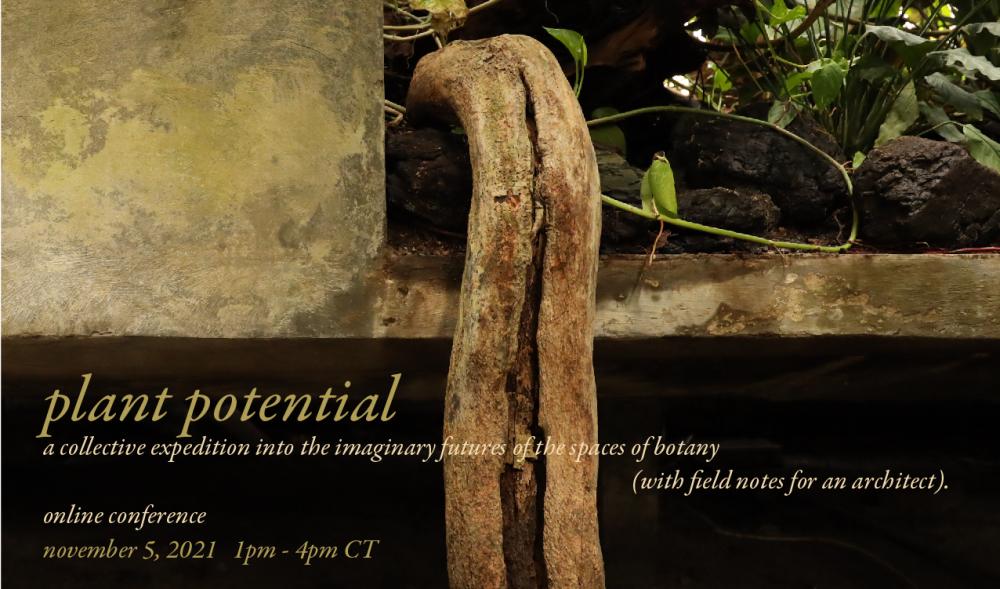 Human activities—construction first among them—thrive on minerals. Vital to our lives today, they were once an essential support to life's emergence. And yet—as Vladimir Vernadsky first intuited in 1928—living matter has been, in turn, perpetually reforming those minerals since then. Life makes geology! What's more, it makes the atmosphere—as James Lovelock and Lynn Margulis gambled it later— "breathable" as well! Next to photosynthetic bacteria whose ancestors once adapted to life in plant cells, plants are the only life forms capable of directly capturing energy from the sun to perpetuate these vital cycles of formation and regulation. Plants are the foundation of animal life on Earth.

The collections of early botanical conservatories relied on the plant specimens brought back home by the naturalist who participated in exploratory expeditions. In this event series, we gather field notes from a different type of a collective expedition. Rather than bringing back plants, we speculate with botanists, ecologists, gardeners, herbalists, chefs, artists, designers, and philosophers to replant seeds for a new way of thinking.

What future plant-human relations can we forge if we let ourselves be, once again, enchanted by plants?

Since giving spatial form to problems is the architects' forte, the idea is to also reflect on these issues by speculating about the potential futures of the spaces of botany as a metaphorical "thought incubator." While it would be naïve to assume that rethinking the future of botanical conservatories can help us revive our relationship with non-human life, it can hopefully at least help us meditate on the transformative power of plants.

Timeline:       
Remote Conversations with Plant Experts + Advanced Design Studio: Spring 2021
Project Website Launch: November 1, 2021
Virtual Conference: November 5th, 2021, 1pm - 5pm
Centerline Publication: Fall 2022

Conference Guests:
Sanford Kwinter, philosopher, writer, and editor, professor at Pratt, New York
Mae-ling Lokko, architectural scientist, assistant professor adjunct at The Cooper Union, New York, founder of Willow Technologies, Accra, Ghana
Ron Finley, urban gardener, founder of the Ron Finley Project, Los Angeles, CA
Oliver Kellhammer, artist and socio-ecological researcher, assistant professor at Parsons, New York
Roth, artist, founder of Roth Architecture and creator of Azulik eco-resort and Sfer IK museum, Tulum, Mexico

Plant Potential is an event series curated by Aleksandra Jaeschke, 2019-21 Meadows Foundation Centennial Fellow in Architecture. It is sponsored by the Center for American Architecture and Design at The University of Texas at Austin School of Architecture.
The project website is now live!