Saving Our Cities: Austerity, Schools, Food, Drugs
Friday Nov. 18, 2016 , noon to 1:30 p.m.
Dr. William Goldsmith's 2016 book, Saving U.S. Cities: A Progressive Plan to Transform Urban America, won Honorable Mention for the John Friedmann Book Prize from ASCP.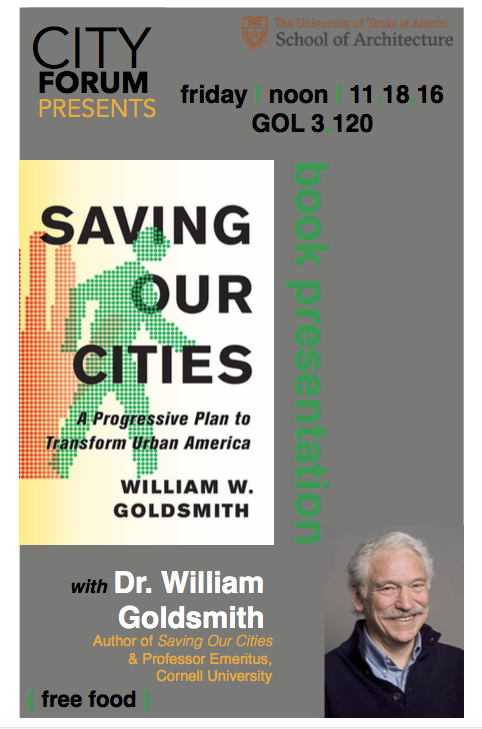 America abuses its cities and their poorest suburbs, mistreating them like despised stepchildren, first to be blamed and last to be helped. Federal and state budgets, regulations, and programs line up with the interests of giant corporations and privileged citizens to impose austerity, shortchange public schools, take away good food, and inflict the drug war on unlucky neighborhoods. Saving U.S. Cities documents these costly damages, then shows better options.   

        

Politicians propose far-reaching improvements, and well-armed advocacy groups offer support. Many cities and a some states have acted. Daily newspapers, evening broadcasts on television and radio, weekly magazines, blogs, and websites overflow with news about these subjects. Even the Congress has taken notice.
When more cities forcefully demand enlightened federal and state action on these four interrelated problems, positive movement will occur in traditional urban planning as well, to meet the housing, transportation, and public-space needs of most residents. 
Fortunately, as Saving U.S. Cities shows, political tipping points are in reach. City advocates and researchers have produced enormous bodies of evidence favoring reform. Austerians find themselves on the defensive, evidenced in elections of progressive city leaders, who signal the spread of frustration with inequality. Big city public school ills remain severe, but people call persistently for improvements, and education experiments abound. Rising health costs and epidemic obesity have led to widespread interest in food, and nutrition indicators have improved. The futility of the drug war and the high costs of unwarranted, unprecedented prison growth have become clearer year by year. 

 

Saving U.S. Cities shows how cities can be treated as places of opportunity rather than places with problems. With strongly revived cities and suburbs, working as places that serve all their residents, metropolitan areas will thrive, thus making the national economy more productive, the environment better protected, the citizenry better educated, and the society more reflective, sensitive, and humane.

 

Dr. William Goldsmith

Goldsmith has published widely in scholarly journals on US cities, segregation, and poverty, and also on international urbanization and regional development. His 2016 book, Saving U.S. Cities: A Progressive Plan to Transform Urban America won Honorable Mention for the John Friedmann Book Prize from ASCP. His co-authored book Separate Societies: Poverty and Inequality in U.S. Cities won the Paul Davidoff Prize from ACSP in 1993; the second edition, in 2010, has a foreword by President Clinton. He co-edited Urban and Regional Planning in an Age of Austerity in 1980.
A member of the planning faculty at Cornell University from 1967 until 2012, Goldsmith taught also in Puerto Rico, Colombia, Brazil, Italy, and UC Berkeley. He has served on the Governing Board of the Association of Collegiate Schools of Planning (ACSP), the Faculty Committee of the Cornell Prison Education Program (CPEP), the Faculty Board of Cornell University Press, and the City of Ithaca's Board of Public Works. Earlier in Ithaca he co-founded and chaired the board of Tompco Better Housing. In the Clinton Administration he served on the Clean Air Act Advisory Committee of the U.S. Environmental Protection Agency. 
FREE FOOD!  

first come, first served

See you there!