Texas's First Public-Private Partnership
Friday Sept. 21, 2018 , noon to 1:30 p.m.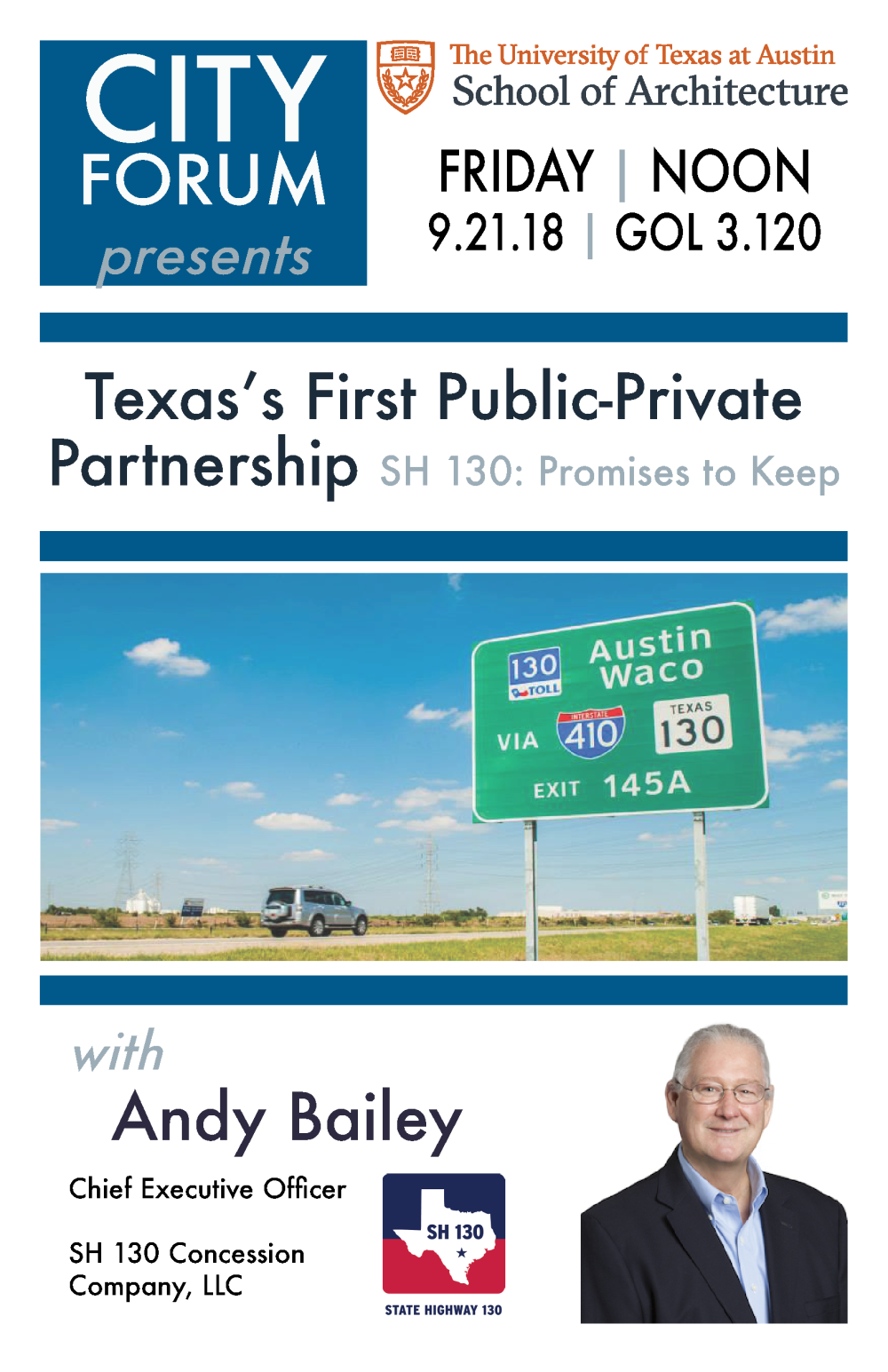 Description 

SH 130 Concession Company CEO Andy Bailey will share insight on the past, present and future of public-private partnerships (P3s) based on his decades of P3 experience as a leader in the public and private sector.  Hear his thoughts on the benefits of P3s to government entities and the public as well as a behind-the-scenes account of the rise, bankruptcy and ongoing turnaround of Texas's first P3 highway project SH 130 Segments 5/6 and the lessons learned.
Andy Bailey was appointed to this role in June 2017 when the company emerged from bankruptcy, having consulted for the lenders during the bankruptcy process. Immediately prior to his current position he served as the President of Louis Berger Services, LLC, the O&M division of the global architecture and engineering firm, providing leadership of operations that spanned the globe and included work in transportation, energy and government services. 

In other roles with Louis Berger, Andy served as in-country manager of the Iraq Reconstruction program, where he oversaw the non-industrial sectors programs, representing about $4 billion in delivered projects. He also deployed frequently to South Sudan where he led the Sudan Infrastructure Services Program, a USAID contract, where he was instrumental in the development and construction of public facilities such as roads, water treatment, power plants and government buildings.

Before joining Louis Berger in 2002, Andy retired from the Virginia Department of Transportation after 25 years of service where he finished his career as the Deputy Commissioner of Operations, Engineering and Construction, effectively the COO of the organization.
Andy received a Bachelor of Arts in Urban Affairs from Virginia Tech in 1976 and a Master of Business Administration from Virginia Commonwealth University in 2000.  His home is in Virginia, although he currently resides in Austin for the SH 130 assignment.