Water Forward: Planning for the Next 100 Years
Friday April 7, 2017 , 12:30 to 1:30 p.m.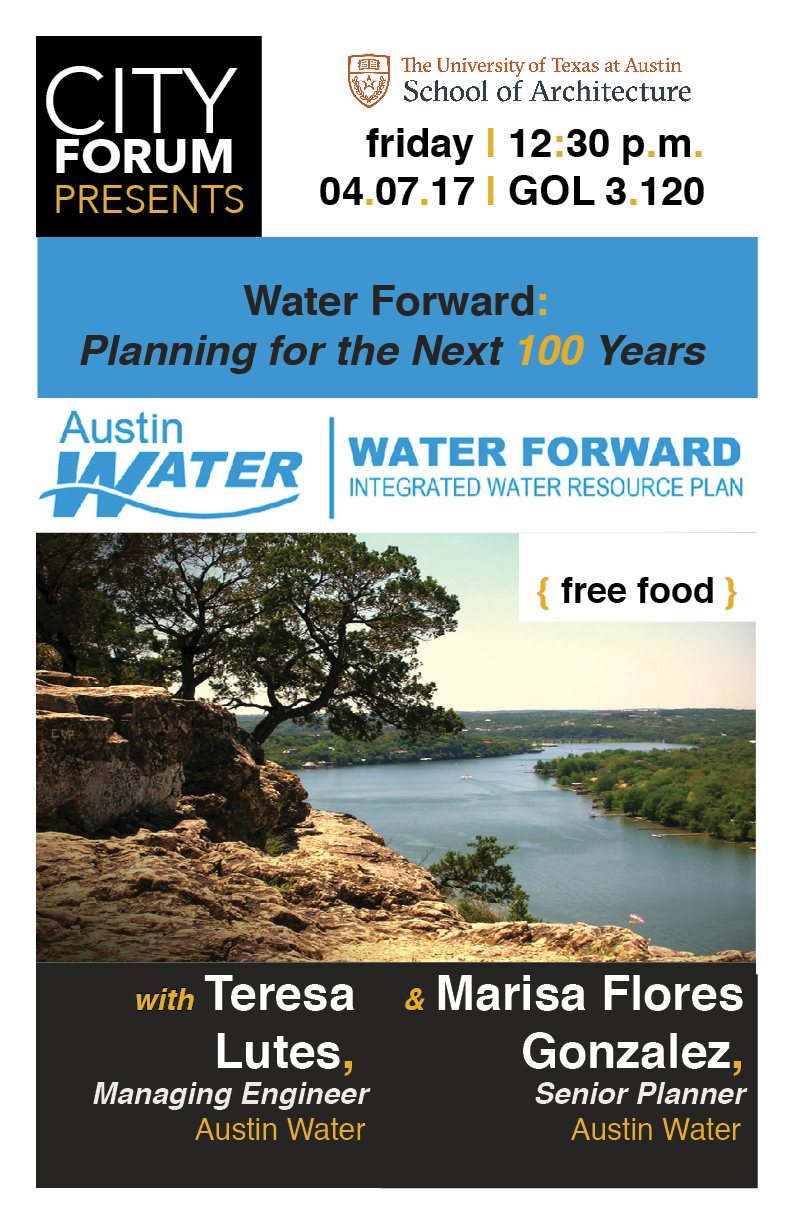 Description

Austin is one of the fastest growing cities in the country. With a rapidly growing city and changing climate, Austin Water is working with other City departments, a citizen task force, and the community to develop a water plan for the next century.  This 100 year water plan will identify Austin's future water needs and strategies to meet those needs such as conservation, technological innovation, and additional supply options. Come hear how Water Forward, Austin's Integrated Water Resource Plan will help to ensure a diversified, sustainable, and resilient water future for our community.
Teresa Lutes, P.E., Managing Engineer, Austin Water

Teresa Lutes, P.E. manages Austin Water's Systems Planning Division, a division of Engineers and Planning staff responsible for a wide-range of water and wastewater (W&WW) system planning functions including. Ms. Lutes has been with Austin Water for more than 32 years and has managed the Systems Planning Division since 2004.
Since March 2000, Ms. Lutes has served on the Lower Colorado Regional Water Planning Group (Senate Bill 1 – Region K) as a voting member representing the City of Austin and municipal interests.  Ms. Lutes also serves on the group's Executive Committee as Secretary.  Additionally, Ms. Lutes serves as municipal representative for the City of Austin on the Colorado-Lavaca Senate Bill 3 Environmental Flow Stakeholder Committee (BBASC), which was formed in late 2009.
A native of the Houston area, Ms. Lutes received a B.S. in Geological Sciences in 1984 from the University of Texas at Austin and became a registered Professional Engineer in 2001.
Marisa Flores Gonzalez, Senior Planner, Austin Water

Marisa Flores Gonzalez is a Senior Planner with Austin Water's Systems Planning Division. Ms. Flores Gonzalez' experience working in local government and utilities has spanned multiple areas in water supply, water distribution, wastewater collection, and stormwater management planning.  
As Project Manager for Water Forward, Ms. Flores Gonzalez brings a holistic approach to water resources planning, with a belief in the value of stakeholder engagement and integrated and adaptive management. Ms. Flores Gonzalez holds a B.A. in Geography and the Environment from the University of Texas at Austin and is currently pursuing a Masters in Public Administration from Texas State University.