We Need to Talk About Homelessness
Friday Feb. 11, 2022 , 1 to 5 p.m.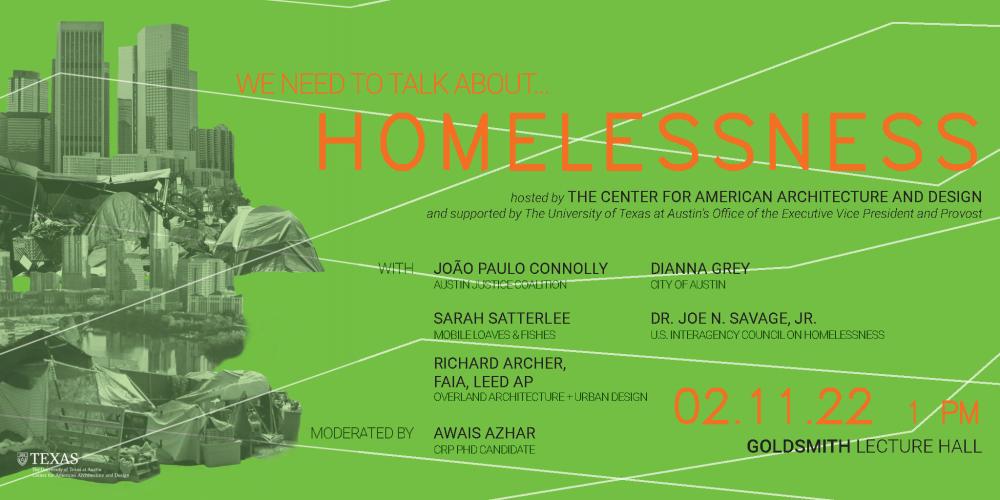 A person experiencing homelessness lacks shelter in its most basic form, but solving homelessness takes much more than buildings, and our contemporary moment reveals few problems that design, on its own, can resolve. According to the 2018 State of Homelessness in America report by the US Council of Economic Advisers, over half a million people in the US are homeless, with that number steadily increasing over the past three years—people living every day without this most basic form of protection that we as designers of our built environments provide.(1)  In our own city of Austin, Texas, a 2021 report by the Ending Community Homelessness Coalition (ECHO) found that there are 3,160 Austinites experiencing homelessness, with more than 2,200 living without any shelter. (2)
Many factors contribute to homelessness and solutions to increase availability and long-term, sustained access to shelter and housing will need to integrate health-, disability-, and employment services. The 2021 Summit to Address Unsheltered Homelessness aimed to develop an implementation strategy to effectively and significantly reduce unsheltered homelessness in Austin. Community partners, including the Greater Austin Chamber of Commerce, The Downtown Austin Alliance, ECHO, along with other partners and participants, developed a robust homelessness rehousing system vision and a housing plan to reach equilibrium in the next three years. The $300 million plan calls for the unlocking of more than 3,000 homes over the next few years through the creation of permanent supportive housing and rapid rehousing opportunities.
Plans such as the one laid out by the Summit in Austin cannot become reality without the efforts of architects, designers, and planners, who play leading roles in the physical shaping of the built environment. However, in order for these professionals to participate in a reimagined rehousing system, they must envision new ways of thinking about design practices. We need to talk about the possibilities—including the limits—of architecture to address this complex problem. We need to talk about how embedded notions of encampments versus permanent structures have influenced our understanding of landscapes and cities. We need to talk about architecture as personal shelter, as social infrastructure, and cultural expression, and how it might foster healing versus hostility. We need to talk about issues of equity and racial justice that are manifest in un-housed communities. And we need to talk about opportunities for multidisciplinary collaborations as more effective means towards common ends.
Our event will bring together guests who represent policy, academia, on-the-ground organizations and activism, and the bridges between them to have a conversation about where we are now in the design fields, where we need to be, and how to work towards housing our whole communities. It will provide practical tools that we can use now, in our current academic culture and practices, to begin to shift our building climate for the better of our people. 
In the same way that CAAD gives faculty a platform from which to be seen, heard, and read, we also want to provide this service to our students. The dialogue series aims to address issues that are important to them and that they face in the world every day, and to put people in conversation with them who can help them understand how to clarify and use their voices in design to translate lived experience to professional experience that does good in the world. 
Moderator

Awais Azhar, PhD candidate in Community and Regional Planning
Guest Panelists

Joao Paulo Connolly, Director of Housing and Community Development at the Austin Justice Coalition

Dianna Grey, the City of Austin Homeless Strategy Officer

Richard Archer, FAIA, LEED AP, Principal, Overland Architecture + Urban Design;

Sarah Satterlee, Director of Architecture and Site Development at Mobile Loaves and Fishes in Austin;

Dr. Joe N. Savage, Jr., Regional Coordinator for the U.S. Interagency Council on Homelessness in Philadelphia; 
Student Panelists

Logan Rogers, BArch candidate

Dhruv Vairagi, MSUD candidate

Liudmila Iantrova, MSUD candidate