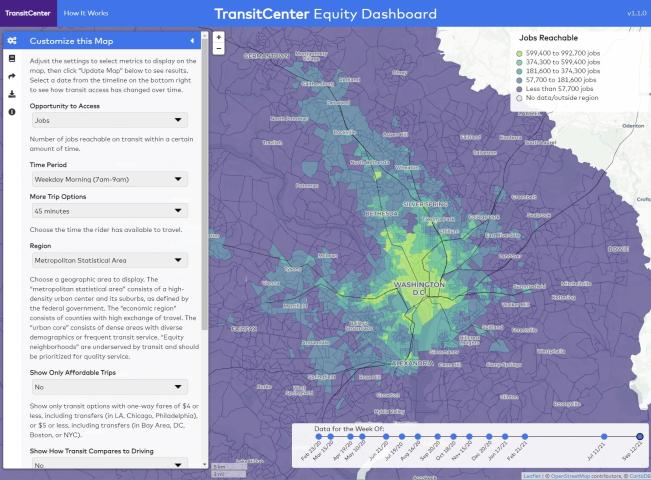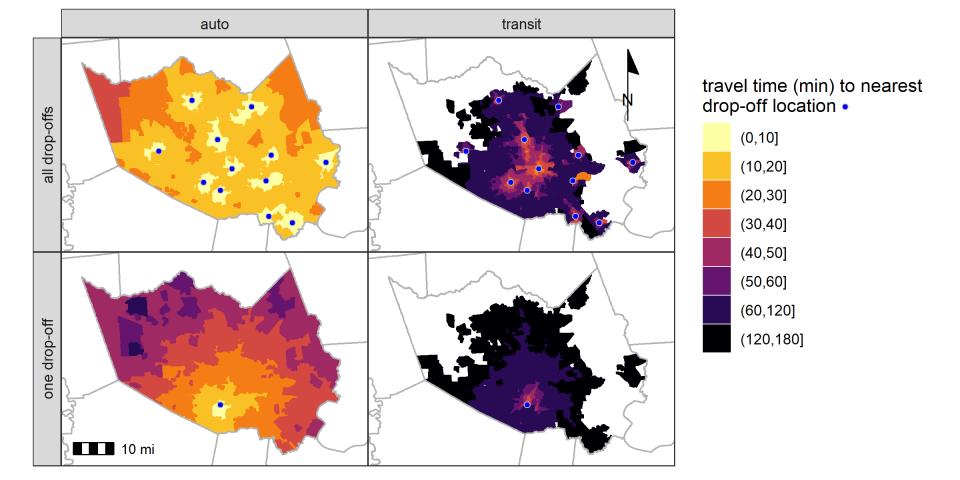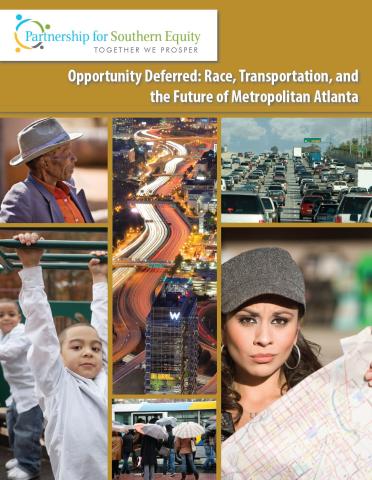 Alex Karner's work critically engages with transportation planning practice to achieve progress towards equity and justice. A deep commitment to practice and community engagement undergirds his research and teaching; he collaborates with community members, non-profit organizations, and public interest law firms to identify pressing research needs and improve conditions in communities experiencing transportation disadvantages.
The overarching goal of his work is to identify areas where current planning and modeling practices fall short and demonstrate the power of alternative approaches. He conducts research on:
Accessibility: quantifying how easily people can reach the destinations they need to lead a meaningful and dignified life

Civil Rights and Environmental Justice: helping agencies and advocates conduct analyses that reflect the true impacts of transportation projects and plans on low-income people and Black, Indigenous, and people of color populations

Travel Demand Modeling: incorporating critical elements of identity (e.g., race/ethnicity, gender) and individual experiences (e.g., feelings of safety and security) into dominant transportation modeling frameworks

Community Engagement: identifying and evaluating engagement efforts to strengthen the link between a community's input and the ultimate decisions that are made
To complete this work, Karner uses mixed methods and draws upon his training in civil engineering, transportation planning, and history.
Prior to joining the faculty at UT Austin, Karner was an assistant professor at Georgia Tech. He previously held postdoctoral research positions in the Department of Transport Engineering and Logistics at Universidad Católica de Chile and the Global Institute of Sustainability at Arizona State University. His work has been funded by Canadian federal funding agencies (the Social Sciences and Humanities Research Council and the Natural Sciences and Engineering Research Council), non-profit foundations (Democracy Fund and the California Endowment), the US Department of Housing and Urban Development, the Federal Transit Administration, the National Cooperative Highway Research Program, the Transit Cooperative Research Program, and university transportation centers at UC Davis, the University of Maryland, and Texas.
EDUCATION
University of California, Davis - Ph.D. (Civil and Environmental Engineering)
University of Toronto - BASc (Civil Engineering)
PUBLICATIONS + PROJECTS
RECENT PUBLICATIONS
Da Silva, D., W. Klumpenhouwer, A. Karner, M. Robinson, R. Liu, A. Shalaby. "Living on a Fare: Modeling and Quantifying the Effects of Fare Budgets on Transit Access and Equity." Journal of Transport Geography.
He, Q., D. Rowangould, A. Karner, M. Palm, and S. Larue. "Covid-19 Pandemic Impacts on Essential Transit Riders: Findings from a U.S. Survey." Transportation Research Part D, 2022. 105: 103217.
Klumpenhouwer, W., J. Allen, L. Li, R. Liu, M. Robinson, D. Da Silva, S. Farber, A. Karner, D. Rowangould, A. Shalaby, M. Buchanan, S. Higashide. "A Comprehensive Transit Accessibility and Equity Dashboard." Transport Findings, July 2021. https://doi.org/10.32866/001c.25224
Amekudzi-Kennedy, A. B. Woodall, A. Karner, A. Akosa, H. Franklin, J.L Simao, H. Gudmundsson, and J. Smith-Colin. "Value-Focused Infrastructure Development: Affecting the Development of Shared Regional Prosperity." ASCE Journal of Urban Planning and Development, 2021. 147(4).
Karner, A. and K. Levine. "Equity-Advancing Practices at US Public Transit Agencies." Transportation Research Record, 2021. 2675(10): 1431-1441. https://doi.org/10.1177/03611981211016861
Karner, A. "People-Focused and Near-Term Public Transit Performance Analysis." Journal of Public Transportation, 2021. 23(2).
Alcorn, L. and A. Karner. "Integrating Formal and Informal Transit into One Hybrid Passenger Transport System in Lagos, Nigeria." Transportation, 2021. 48: 1361-1377.
Karner, A. and D. Rowangould. "Access to Secure Ballot Drop-off Locations in Texas." Transport Findings, May 2021. https://doi.org/10.32866/001c.24080
Bierbaum, A., A. Karner, and J. Barajas. "Towards Mobility Justice: Linking Transportation and Education Equity in the Context of School Choice." Journal of the American Planning Association, 2021. 87(2): 197-210.
Karner, A., J. London, D. Rowangould, and K. Manaugh. "From Transportation Equity to Transportation Justice: Within, Through, and Beyond the State." Journal of Planning Literature, 2020. 35(4): 440-459.
Karner, A., K. Brower Brown, R. Marcantonio, and L. Alcorn. "The View from the Top of Arnstein's Ladder: Participatory Budgeting and the Promise of Community Control." Journal of the American Planning Association [Special issue on "50 Years since Arnstein's Ladder"], 2019. 85(3): 236-254.
Karner, A. and R. Duckworth. "'Pray for Transit': Seeking Transportation Justice in Metropolitan Atlanta." Urban Studies, 2019. 56(9): 1882-1900.
Zhong, Q., A. Karner, A., Golub, A., and M. Kuby. "A Multiobjective Optimization Model for Locating Affordable Housing Investments While Maximizing Accessibility to Jobs by Public Transportation." Environment and Planning B: Urban Analytics and City Science, 2019. 46(3): 490-510.
Kent, M. and A. Karner. "Prioritizing Low-Stress and Equitable Bicycle Infrastructure using a Novel Accessibility Measure." International Journal of Sustainable Transportation, 2019. 13(2): 100-110.
Wu, Y., D. Rowangould, J. London, and A. Karner. "Modeling Health Equity in Active Transportation Planning." Transportation Research Part D: Transport and Environment, 2019. 67: 528-540.
Karner, A. and Marcantonio, R. "Achieving Transportation Equity: Meaningful Public Involvement to Meet the Needs of Underserved Communities." Journal of Public Works Management & Policy, 2018. 23(2): 105-126.
Karner, A. "Assessing Public Transit Service Equity using Route-Level Accessibility Measures and Public Data." Journal of Transport Geography, 2018. 67: 24-32.
Marcantonio, R., A. Golub, A. Karner, and L.N. Dyble. "Confronting Inequality in Metropolitan Regions: Realizing the Promise of Civil Rights and Environmental Justice in Metropolitan Transportation Planning." Fordham Urban Law Journal, 2017. 44(4): 1017-1077.
Cloutier, S., A. Karner, H. Breetz, P. Toufani, N. Onat, S. Patel, S. Paralkar, E. Berejnoi, B. Morrison, J. Papenfuss, A.D. Briggs, and C. Carlson. "Measures of a Sustainable Commute as a Predictor of Happiness." Sustainability, 2017. 9: 1214.