2023 Meadows Symposium Explores Landscape Architecture's Potential to Shape a New Socio-ecological Ethos
Featuring Diane Jones Allen, Alison B. Hirsch, Catherine Seavitt Nordenson, and Margie Ruddick.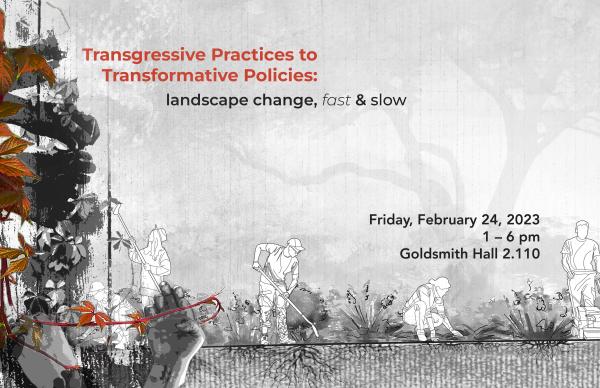 On Friday, February 24, the 2023 Meadows Symposium Transgressive Practices to Transformative Policies: Landscape Change, Fast & Slow will bring a slate of landscape architects and educators together for a conversation about the potential of landscape architecture to build a new socio-ecological ethos.
Organized by Assistant Professor Maggie Hansen, 2021-2023 Meadows Foundation Centennial Fellow, and sponsored by the Center for American Architecture and Design, the symposium will explore a range of landscape-led projects that show the importance of design as a tool for starting and continuously tending to a dialogue about a site's shared future; for listening deeply to the human and nonhuman communities entangled in the site and attending to their evolving needs.
In advance of the event, we're sharing more information about the invited panelists and their work to provide context about the important conversations that will take place from 1:00 – 6:00 p.m. on Friday, February 24.
---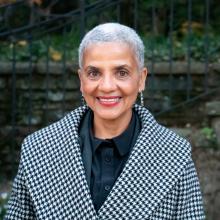 Diane Jones Allen is a professor and Director of Landscape Architecture at The University of Texas at Arlington. She is Principal Landscape Architect with DesignJones LLC which received the 2016 American Society of Landscape Architects (ASLA) Community Service Award. Diane is part of one of two cross-disciplinary teams that won the 2020 SOM Foundation Research Prize focused on examining social justice in urban contexts. She was a 2021-2022 fellow for Garden and Landscape Studies at Dumbarton Oaks, where she undertook research on Maroons in coastal Louisiana. Her research and practice are guided by the intersection of environmental justice, identity, and sustainability in cultural landscapes, as also discussed in her book Lost in the Transit Desert: Race, Transit Access, and Suburban Form (Routledge Press, 2017). In 2017, she served on the ASLA Blue Ribbon Panel on Climate Change and Resiliency and currently serves on the ASLA's Climate Task Force.
For more about Diane, check out her recent Design Unmuted podcast about Maroon landscapes.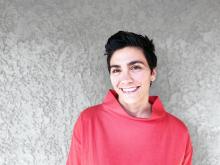 Alison B. Hirsch is an associate professor and Director of the Graduate Program in Landscape Architecture + Urbanism in the School of Architecture at the University of Southern California. At USC, she founded and directs the Landscape Justice Initiative, which focuses on communities that design has not historically reached in pursuits of environmental, climate, and spatial justice. She is co-founder and Director of Research of foreground design agency, a critical landscape practice. Her writing, design, and teaching focus on the spatial politics and embodied dimensions of landscape, as well as the sociocultural practices that shape and endow it with often contested meanings, as seen in the rural communities in California's Central Valley and the vast inequalities inscribed in that landscape's 150 years of industrial agriculture. With two books forthcoming, she previously authored City Choreographer (University of Minnesota Press, 2014), which provides an analysis of the creative process landscape architect Lawrence Halprin developed with his wife, dancer and choreographer Anna Halprin, and co-edited, with James Corner, The Landscape Imagination (Princeton Architectural Press, 2014). Alison was the 2017-2018 Charitable Trust/Rolland Rome Prize Fellow at the American Academy in Rome and a 2022-2021 Landscape Architecture Foundation Fellow in Leadership and Innovation.
For more, watch Alison's Landscape Architecture Foundation Fellowship presentation titled, "Landscape and 'the Working Country': Food Justice and Landscape Ethics in California's Central Valley."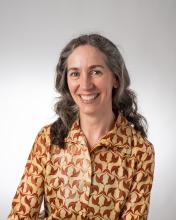 Catherine Seavitt Nordenson is a professor and Director of the Graduate Program in Landscape Architecture at the Spitzer School of Architecture, City College of New York. A registered architect and landscape architect, her work explores adaptation to climate change in urban environments and the novel transformation of landscape restoration practices. She also examines the intersection of political power, environmental activism, and public health, particularly as seen through the design of equitable public space and policy. Her books include Depositions: Roberto Burle Marx and Public Landscapes under Dictatorship (University of Texas Press, 2018); Structures of Coastal Resilience (Island Press, 2018); and On the Water: Palisade Bay (Hatje Cantz, 2010). Her essays have been published widely, including in the journals Architectural Review, Artforum, Avery Review, Harvard Design Magazine, JoLA, LA+, Landscape Architecture Magazine, and Topos. She is a graduate of the Cooper Union and Princeton University, a fellow of the American Academy in Rome, and a recipient of a Fulbright Fellowship for research in Brazil.
Learn more about Catherine's research via The Dirt.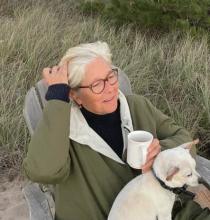 Margie Ruddick is a practitioner, author, and teacher who has pioneered an approach to landscape design that suffuses a distinct aesthetic expression with ecological purpose. Winner of the 2013 Cooper Hewitt National Design Award, Margie is known for her thoughtful and innovative approach to public, institutional, and residential landscape projects. Her book Wild by Design (Island Press, 2016) promotes an integrative vision for creating landscapes that function as diverse habitat for humans, plant life, and wildlife. Margie's designs for the Shillim Institute and Retreat in Maharashtra, India, and the Living Water Park in Chengdu, Sichuan, China have received acclaim for pushing boundaries and building bridges between ecological and formal design; disciplines such as engineering, science, and art; and different cultures. Her innovative design for the central hub of Queens Plaza in New York City transformed Long Island City center into a livable, walkable, and bikeable gateway to Queens. In 2016 Margie founded the conservation nonprofit ONE LANDSCAPE to bring artists, scientists, policymakers, and community members together to collaborate on alternatives to conventional conservation planning. Margie has taught studios and seminars at Harvard University's Graduate School of Design, Yale University, The University of Pennsylvania's Weitzman School of Design, Parsons School of Design, Schumacher College, Princeton University, and Bard College.
Check out Margie's recent episode on the Our Hamptons podcast for more.
VIEW THE MEADOWS SYMPOSIUM DISPLAY >>