Accessibility Measures in Practice: A Guide for Transportation Agencies
New report provides transportation planning practitioners with a step-by-step approach for incorporating accessibility measures into different decision-making contexts.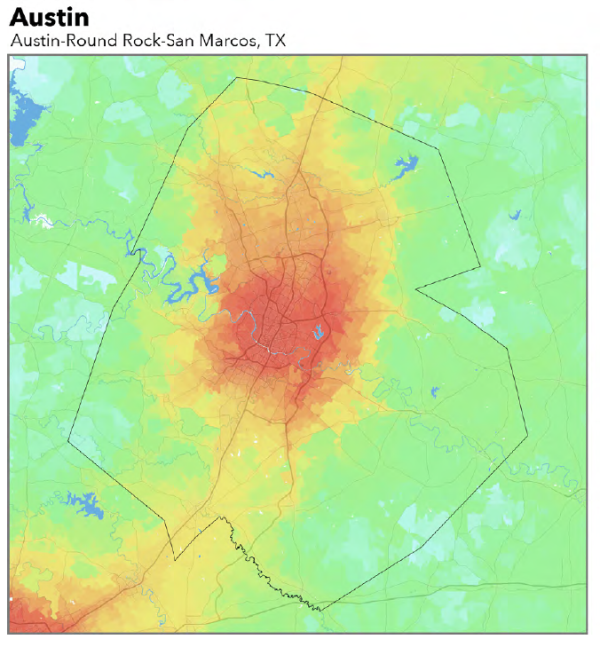 For transportation planners, accessibility can provide a powerful lens through which to assess the performance of transportation and land use systems. Defined as the ease with which travelers can reach valued destinations, accessibility measures can be used to address specific questions like:
How easily can travelers reach grocery stores that stock healthy food in their community?

How much better/worse is driving compared to walking, cycling, or using public transit?

Can low-income people reach suitable job opportunities easily?

In the future, will it be harder or easier for travelers to get to important things that they need?
However, since accessibility assessment is generally not required by existing laws and regulations, transportation agencies must be proactive in considering it as a performance measure for existing and future transportation projects and plans.
A new report authored by Associate Professor Alex Karner and a group of several Community and Regional Planning students, as well as collaborators at The University of Vermont, aims to provide practitioners with a step-by-step approach for incorporating accessibility measures into different decision-making contexts. Published by the Transportation Research Board's National Cooperative Highway Research Program (NCHRP), the NCHRP Research Report 1000: Accessibility Measures in Practice, a Guide for Transportation Agencies makes the case for an accessibility perspective and demonstrates how practicing planners and engineers can put it to use.
In addition to chapters on the principles and application of accessibility, the report also offers a wealth of real-world examples and case studies from state department of transportation and regional planning agencies across the United States, representing a range of contexts, resources, and geographies. Five of these agencies also piloted the guide and offered feedback that was incorporated into the final materials. Pilot agencies included the East-West Gateway Council of Governments (St. Louis, MO), the Florida Department of Transportation (DOT), the Hawaii DOT, the North Central Texas Council of Governments (Dallas-Fort Worth), and the Southeastern Wisconsin Regional Planning Commission (Greater Milwaukee).
"This guide will make it easier for practitioners to apply access measures, ensuring that projects and plans are aligned with the fundamental goals of a transportation system—to connect people to the things they need to lead meaningful, dignified, and fulfilling lives," Karner said. "Too often, projects that would enhance convenience and safety for pedestrians, cyclists, and transit riders have been overlooked because of their impacts on drivers. Accessibility makes the benefits of such projects clear, increasing the likelihood of implementation and advancing broader transportation sustainability goals."
NCHRP Research Report 1000 contributors include Associate Professor Alex Karner, Project Director and Principal Investigator; Dana Rowangould, Assistant Professor in the Department of Civil and Environmental Engineering at the University of Vermont and Co-Principal Investigator; Kaylyn Levine, Research Assistant and Ph.D. candidate at UTSOA, Louis Alcorn, Research Assistant at UTSOA; Minyu Situ, Research Assistant and Ph.D. student at UTSOA; Kyeongsu Kim, Senior Researcher and Project Manager at CTG; and Ayberk Kocatepe, Research Assistant and Senior Modeler at CTG.
Pictured: Number of jobs reachable within a 30-minute drive (darker orange and red shades indicate more jobs reachable) in the Austin-Round Rock-San Marcos, TX region.
Source: University of Minnesota Accessibility Observatory (1)