Bug Filter Design Studio Explores Fascinating World of Insect Vision
Bug Filter will debut a new video presenting a look though a series of 15 digitally conceived, insect-inspired filters.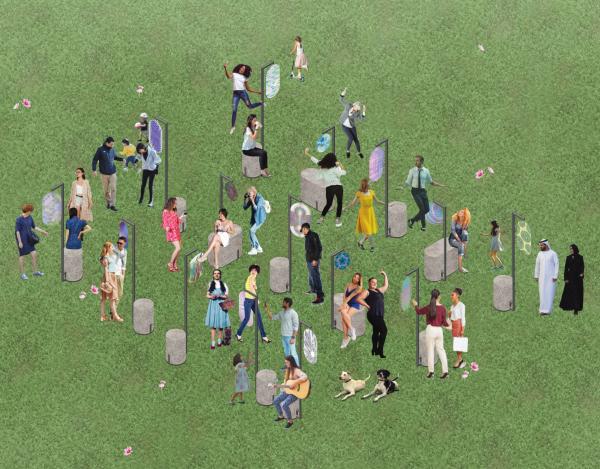 This semester, students in Nerea Feliz's Bug Filter Advanced Design Studio have been exploring the under-acknowledged world of insects, and the idea of experiencing the world through a non-anthropocentric lens. Over the course of the semester, they've sought to capture the world of insect vision by designing a series of lenses that enable us to see as if through the compound eyes of local pollinators.  While exploring a multispecies conception of the built environment, students discovered new aesthetics, optical effects, and visual pleasures. 

Originally envisioned as a collective art installation including a series of furnishings to be exhibited at Austin's annual Fusebox Festival, students designed a series of acrylic lenses to be mounted on steel structures embedded within hempcrete seats. In early March, students participated in a workshop led by Jen Wong of the Materials Lab where they experimented with casting hempcrete, an alternative cast-in-place concrete made of renewable resources.

With the cancellation of in-person events due to coronavirus, Fusebox Festival has re-envisioned their programming as a "virtual performance extravaganza," taking place online April 24-26. Fusebox Festival: Virtual Edition will feature live-streamed performances, studio talks, cooking classes, dance parties, and installations. Bug Filter will debut a new video presenting a look though a series of 15 digitally conceived, insect-inspired filters. Stay tuned!

For more information about Bug Filter, watch the below created by the students, which includes the description of the project, the students' design and construction process, the Materials Lab workshop and the benefits of using hempcrete.
Bug Filter was designed by the following architecture and interior design students: Natalie Avellar, Nai'lah Bell, Elizabeth Cooper, Grace Esslinger, Baxter Estes, Hannah Harden, Anna Henry, Paola Hernandez, Michelle Huh, Abigail Kash, Elena Lyra, Marjan Miri, Payton Russell, Taylor Schill, and Lisa Yang.

Jen Wong, Director at the Materials Lab, generously supported the project with resources, knowledge, materials and skills, and Shalene Jha and Felicity Muth at the Department of Integrative Biology contributed to the students work by sharing their knowledge about local pollinators and bee cognition. The project was conceived by Double Happiness, a collaboration between Nerea Feliz and Joyce Hwang, whose creative practice focuses on research and design at multiple scales, with interests in the intersection of interior design, architecture, urbanism and ecology.