Christine Garner // Weiss/Manfredi
PRP Now! is a series of interviews that highlight a current UTSOA Professional Residency Program student every few weeks.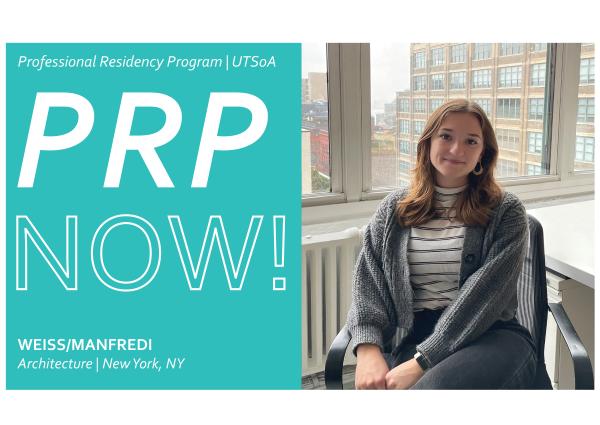 Tell us about your PRP firm. Where are you working?
I am working with Weiss/Manfredi in New York. It's a firm of about 50 people, including 4 interns, and we have one office in Tribeca overlooking the Hudson River. The projects are typically large-scale civic, educational, or cultural programs, which is work that feels very meaningful to me.
Do you enjoy the city you're working in? Favorite aspects?
I love living in New York! My apartment is in Brooklyn and the office is in Manhattan so it has been wonderful to explore both boroughs, which have completely different energies.
I hadn't really considered living in New York before PRP, but it seemed like the perfect opportunity to try it out. I am so grateful I did because I love the city! The best part is that you feel so connected to the human experience. Inevitably everything you do and everywhere you go is shared with others, so it creates a nice sense of coexistence, like when riding the subway or going to the park. Even my house is a co-living space shared with 24 people!
What is currently on your desk? What are you working on?
I always have an iced coffee on my desk as well as a jumble of colorful sticky notes. Currently, there are also printouts of floor plans and custom furniture designs from Longwood Gardens, ready to be reviewed with my project manager. I've worked on quite a few different projects since coming into the office, but my longest-running one has been Longwood Gardens. It's under construction right now, so we have taken Amtrak to Pennsylvania twice for site visits. Most of the work I have done for Longwood is updating and completing the furniture package as well as helping with some submittals for RFI's. The project is beautiful… and enormous. I am so excited to see it completed!
Describe the firm culture? The office atmosphere?
The office is super collaborative! My coworkers have been incredibly helpful, kind, and friendly - it is a very supportive environment. Since we share just one open office, I have been fortunate enough to work on many projects with many coworkers across all levels. We often have lunch together by the river when the weather is nice, or if it is cold like right now, we will flock to the conference rooms or find a restaurant nearby.
What is the first thing you'll tell your classmates upon your return to UT?
There is so much to learn from living in new environments! It can be a little uncomfortable at first, but it is so rewarding.
As you're finishing up the week, what are your plans for this weekend?
This is my last weekend in New York, and it is tradition for people in our co-living house to invite everyone out to places that remind them of home. So I am taking my roommates to a Texas-owned bar in Williamsburg for live music! Many of my roommates are not from the US, so they are looking forward to the Honky Tonk music. I also have reserved a visit to 101 Spring Street, Donald Judd's NYC residence, which I've been wanting to see since visiting Marfa for studio a few years ago. Other than that, I will be packing up and saying my goodbyes.