Erick Vernon-Galindo // KieranTimberlake
PRP Now! is a series of interviews that highlight a current UTSOA Professional Residency Program student every few weeks.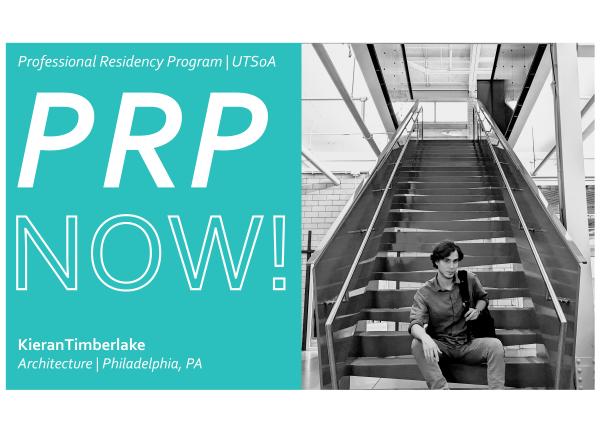 Tell us about your PRP firm. Where are you working?
I am working at KieranTimberlake in Philadelphia on the second floor of a former bottling plant.
Do you enjoy the city you're working in? Favorite aspects?
I do, I walk to work every day and, generally, the city is very charming. It's got industrial vibes, full of American history museums, astonishing historic prisons, great row house examples, and weird street paving patches from a long time ago. Public transport is a plus, and it's positioned close to New York and Washington DC, so traveling to other cities is a breeze.
What is currently on your desk? What are you working on?
Two monitors, a keyboard and mouse, Kleenex, face masks, post-its full of notes, notebooks full of notes, trace paper sketches, and a copy of Mechanical and Electrical Systems for architects frequently used as a base for the second monitor (I still love and reference the book!). I am working on RFI's, renderings for a university building in the CA phase, and business development materials for proposals.
 Describe the firm culture.
The firm culture is hard working. Very collaborative, open, and critical about the work and research that is taking place. The office is also interested in continuing education by organizing various events and presentations like the monthly 2030 challenge or 20 x 20 office presentations, to name a few. Recreational softball season during the spring is super fun. I also find my teammates very inspiring and learn a lot from them daily.
What is the first thing you'll tell your classmates upon your return to UT?
If I see some of them, I'll say hi, and will tell them to definitely give PRP a shot if they can. I found the experience fantastic for gaining an additional perspective on workplaces and our work as architects.
As you're finishing up the week, what are your plans for this weekend?
During the weekend I will probably go skate and check out a food festival and pet baby lambs.
Is there anything else that you would like to add?
An important thing I learned and re-learned is to always be curious and constantly ask critical questions about the work you are doing, no matter how specific or to whom. Always try to be proactive in your role within a project and take the lead.