Interior Design Student Baxter Estes Awarded Prestigious Angelo Donghia Senior Scholarship in Interior Design
Estes' project is a conceptual bookstore that takes occupants on a voyage to worlds and times beyond,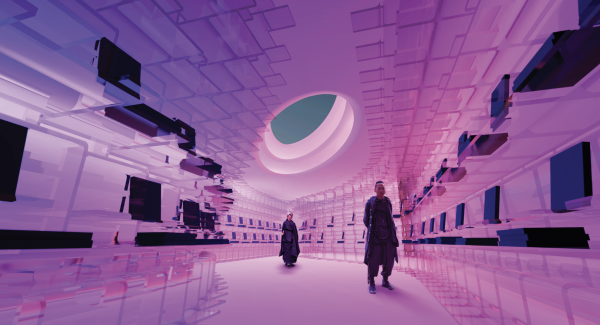 Interior Design senior Baxter Estes was recently awarded a $30,000 Angelo Donghia Senior Scholarship in Interior Design, the largest interior design scholarship in the United States. Estes is one of only 15 students selected to receive the scholarship this year, based on a juried competition of portfolio submissions from 69 nominees at accredited institutions nationwide.

Estes' project, "Odyssey," is a conceptual bookstore that takes occupants on a voyage to worlds and times beyond, and was completed as part of a design studio taught by Assistant Professor Nerea Feliz in spring 2019.

Including Estes, thirteen UT Austin School of Architecture students have been awarded a total of $390,000 from the foundation since 2004. Previous Donghia Scholarship winners include Katherine Kligerman (2018), Janet Chen (2017), Raquel Torres (2015), Ashley Thompson and Jessica Yong (2013), Kimberly Cole (2009), Angela Lauer (2007), Sung Mi Kim and Katie Wooley (2006), Dessislava Boneva and Garrett Seaman (2007), and Lisa Pauli (2004).
The Angelo Donghia Foundation was launched in 2002, and awards scholarships to deserving students who are entering their senior year in a Baccalaureate Degree Program in Interior Design. This year's judges were comprised of designers, architects and representatives of the press including: Andre Kikoski, Andred Kikoski Architect; Beth Baumstark, Studio Greytak; Christine Carney, Roman & Williams; Erik Maza, Town & Country; Ilene Shaw, Design Pavillion; Joel Robare, Gabellini Sheppard; John Greytak, Studio Greytak; Marianna Howatson, Cottages & Gardens; Michael Bullock, Pin Up; Miriam Lissak, MWL Design Group; Parker Larson, Elle Decor; Rebeca Thienes, Interior Design; Renee Brown, Studio Greytak; and Wesley Moon, Wesley Moon Inc.

About Estes' Project:
In the digital age, the future of the bookstore relies on creating a unique spatial destination to engage the community. Inspired by famed Star Wars illustrator Ralph McQuarrie, Odyssey provides a dynamic, unearthly experience that changes to fit the essence of the works it is showcasing. Transparent modular shelves encapsulate visitors as they make their way throughout the undulating pod and explore the unknown. Odyssey inspires imagination much like the science fiction concept art it is celebrating, creating an escape from mundane life on Earth.

A central pod envelopes occupants and guides visitors on their journey through the space. This form, comprised of modular shelving units, includes variants of a base module in order to provide structural stability. Books appear to be suspended in the air due to the transparency of the shelves, defying gravity. The vessel also serves as an amphitheater for events, screenings, and presentations, harnessing science fiction's presence in both print and digital media.

Odyssey harnesses the power of light to change how we perceive space through the use of recessed color-changing LED light fixtures. Inspired by the works of Light and Space Movement artist James Turrell, cool radiance, warm glows, and the familiarity of natural light provide drastically different experiences, incentivizing visitors to return and experience the many worlds displayed within the bookstore.