Major Gift from Professor Emeritus Sinclair Black Will Position School as Leader in Urban Design
The school's longest-serving faculty member continues to shape the profession, the city, and the lives of students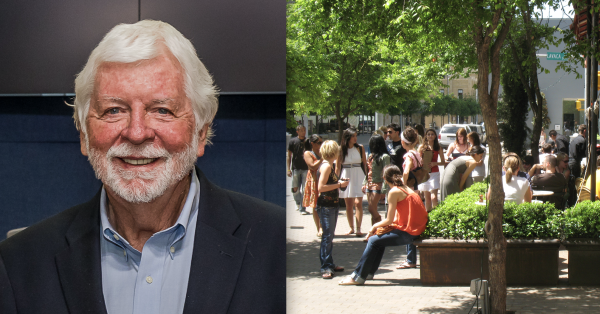 The School of Architecture's longest-serving faculty member continues to shape the lives of students through a generous gift. Professor Emeritus Sinclair Black, FAIA, who taught at the school for fifty years—101 semesters—donated $5 million to support the field of urban design.

"This gift will enable us to position the school as a leader in urban design and will further strengthen our connections with and contributions to the development of Austin," remarked Dean Michelle Addington. "The transformative possibilities of Sinclair's generosity will provide unprecedented opportunities for the school to define a more integrative and collaborative approach to urban design that should serve as a model for others to emulate."

After giving $1 million upon his retirement in 2017 to establish the Sinclair Black Endowed Chair in the Architecture of Urbanism, Black has committed $4 million in additional support to further transform teaching in urban design and to advance the School of Architecture's partnerships with the City of Austin and other community-serving organizations. Funds will be used to support faculty with distinction and expertise in urban design and will bring in visiting critics and lecturers, recruit graduate students, sponsor outreach events and activities, and support students with interest in the field.

Considered an Austin visionary for his innovative and wide-ranging work in architecture and urban design, Sinclair Black received a Bachelor of Architecture degree from The University of Texas at Austin in 1962, a Master of Architecture degree from The University of California, Berkeley, in 1970 and went on to establish the firm Black + Vernooy in downtown Austin. Some of his projects include the Great Streets Master Plan for the City of Austin, 2nd Street District, Cedar Street Courtyard and Reconnect Austin, a grassroots campaign to bury Interstate Highway 35 through Downtown Austin to reclaim the corridor as walkable, mixed-use public space that would provide economic opportunity in the form of new, centrally located housing and businesses. Through these forward-looking public works, Black has helped shape Austin into a major, innovative American city. 

Black was a deeply dedicated professor at the School of Architecture and is credited for countless contributions to the education and careers of several generations of architects. From 1972-73, he served as acting dean of the School of Architecture. When he retired, Black held the title Roberta P. Crenshaw Centennial Professor in Urban Design and Environmental Planning.

Upon making this gift, Black stated: "The very best urban design occurs when physical design skills intersect with both private opportunities and enlightened public policy. The University of Texas at Austin has the creativity, cutting-edge technology, and thought leaders which, when combined with this funding, will create paradigm-changing urban design solutions that benefit Austin and serve as best practice examples for other American cities. I expect great things to come from this!"

The School of Architecture's recent partnerships with the City of Austin include hosting the 2018 East Regional Session of the Mayors' Institute on City Design and a study, led by the Center for Sustainable Development, on the physical and economic implications of different scenarios for the Austin Convention Center. This urban design gift will facilitate additional collaborations such as these, helping the school serve as a knowledge-generator and shaping the future of the city as Black has done throughout his career.