Making as a Form of Critical Thinking
Interior design students embrace failure and digital technologies in visiting professor Jonathon Anderson's Spring 2023 advanced studio.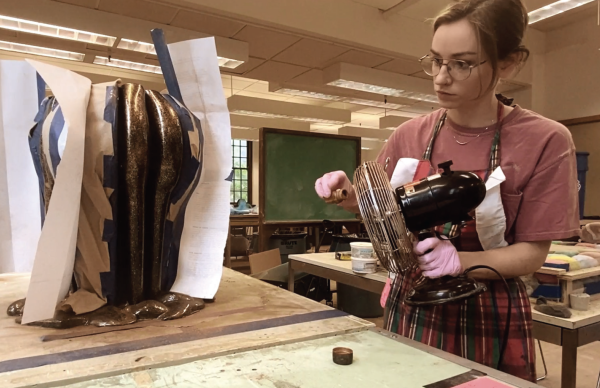 Making—of all kinds, whether it's forming new objects, ideas, or systems—is an essential part of a design education, and, in today's world, as new advancements and digital fabrication tools become ever-more prevalent, making takes on a whole new dimension. 
For visiting professor Jonathon Anderson—Director of the Design + Technology Lab in the Creative School at Toronto Metropolitan University, who taught an Advanced Interior Design Studio at UTSOA last semester—these tools and technologies have transcended their traditional role as mere components of the mass manufacturing pipeline, and have become a key part of the designer's toolset for crafting bespoke work.  
During the Spring 2023 studio, "Machine + Material Processes: Experimental Furniture/Objects," interior design students were tasked with designing and prototyping a full-scale piece of furniture, or a household object, that challenged traditional norms of making and production. Throughout the semester, they were encouraged to push the boundaries of materials, technology, and the digital/physical collapse. And the studio required them to incorporate some form of digital fabrication—be it CNC milling, hotwire or laser cutting, 3D printing, or the use of the school's industrial KUKA robots—into their projects or design process. 
Much like a science experiment, students engaged in a research-though-making methodology: testing, modifying parameters, documenting, and remaking throughout the entire process. For Anderson, whose work at Toronto Metropolitan University explores how industrial manufacturing and CNC technologies influence the design and making process, this embedded use of technology and the idea of making not only as a practice but as a form of critical thinking is critical.
"Within a research-through-making methodology, 'failure' provides an opportunity to ideate and to rigorously test machine and material processes," Anderson said. "Students had to embrace the power of failure as the catalyst for growth and innovation, understanding that it is less about the final outcome and more about the process itself."  
And, while the process was the point, the output was pretty impressive, ranging from an AI-generated table design to a wooden steam-bent light fixture and beyond. 
This studio's emphasis on the relationship between technology and making builds on the interior design program's existing strengths and areas of focus. In recent years, the program has significantly expanded opportunities for students around craftsmanship and craft-related arts thanks, in part, to a five-year gift from Dallas-based interior designer Emily Summers. Since launching in Spring 2022, the initiative has enabled the program to host student workshops and lectures with both Jorge Pardo and Lonneke Gordjin of Studio Drift, with much more in store.
"These types of opportunities exemplify our program's interest in the synthesis of art, design, and technology," Igor Siddiqui, Director of the Interior Design Program, said. "We consider the design of interiors as a multi-faceted creative endeavor. Providing our students with hands-on experience with different materials, processes, and ideas exposes them to the expansiveness of interior design as a discipline."