Master of Interior Design Receives Full Accreditation
The School of Architecture's three-year Master of Interior Design becomes the only CIDA-accredited professional interior design graduate program in the state of Texas.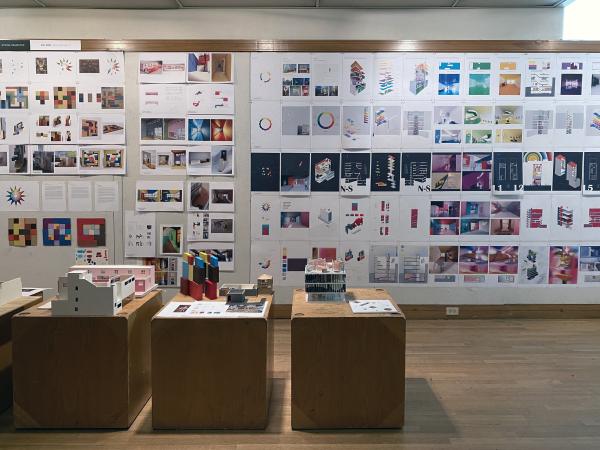 The School of Architecture's three-year Master of Interior Design has received full accreditation from the Council of Interior Design Accreditation (CIDA), making it the only CIDA-accredited professional interior design graduate program in the state of Texas. The program joins the existing Bachelor of Science in Interior Design as a track in professional interior design education available at the School of Architecture, which has been continuously accredited since 1973.

In late January 2021, a team of CIDA-appointed experts conducted an on-campus site visit to review the program's compliance with accreditation standards.  As part of the review, the program developed a comprehensive overview of Master of Interior Design I student work. The exhibition was prepared by Associate Professor Igor Siddiqui, who serves as Program Director for Interior Design, Malati Vasudevan (MID '21) in the role of team leader, Shannon McElroy (MID I '22), Stefan Brits (M.Arch '22), and Xie Maggie Hill (BSID '21), with contributions and support from all School of Architecture faculty teaching interior design courses, current and past MID students, and staff.

Following their visit, the CIDA team commented on the program's many strengths: 
The program's interdisciplinary emphasis enhances students' education. Studio projects expose students to a strengthened design process and meaningful outcomes afforded by interdisciplinary collaboration. The breadth of professions represented by faculty and the guest professionals who participate in the lecture series, in studio critiques, and as subject matter experts for studio projects expose students to the range of career opportunities in design and construction. The required internship enables students to network with local professionals and to gain practical experience. The connections to local and international practices and design professionals, as well as exposure to academic research, benefit students greatly. The faculty members are dedicated and engaging, and they have both academic and professional experience to provide students with quality mentoring and instruction. MID students are adept at three-dimensional development and articulation of space. Student understanding and exploration of color, light, and perception was strong in the evidence presented and students' ability to leverage a variety of media and technologies including 2D, 3D, and 4D (time – video and animation) methodologies to study, develop, and present their designs was remarkable. Students of the MID program consistently applied their previous knowledge and experiences in other fields within their design coursework and studio projects, creating thoughtful, compelling, human-centric design solutions.

The first-professional Master of Interior Design (MID I) program at the School of Architecture was established in 2014 to offer a path through interior design education for those who already hold baccalaureate degrees in any discipline outside interior design or architecture. The first MID students graduated from the program in May 2017 and, since then, the program has experienced steady growth. The program currently enrolls a total of 31 students in addition to 57 Bachelor of Science in Interior Design students. The program's size offers students a close, tight-knit community and studio culture where they can learn from, collaborate, and develop relationships with their fellow students and faculty. Embedded within the School of Architecture, the program benefits from interdisciplinary conversations, collaborative studios, and an energetic dynamic of exchange.

"The design of interior environments is of utmost importance to our everyday lives and well-being and has tangible consequences for society and our planet at large," said Michelle Addington, dean of the School of Architecture. "Among our interior design program's many strengths is the way we have integrated academic research and theoretical knowledge with professional practice. Under the leadership of our interior design faculty, our students are prepared to face future challenges posed by the complex and rapidly changing world."

The Master of Interior Design First Professional degree is accepting applications for the Fall 2022 semester through January 2022. Click here for more information and application details.