MLA Students Receive Texas ASLA Awards
Projects by Franny Kyle and Andrew Lesmes explore how carbon farming can transform the design and planning of the urban realm while also creating a more equitable and resilient city.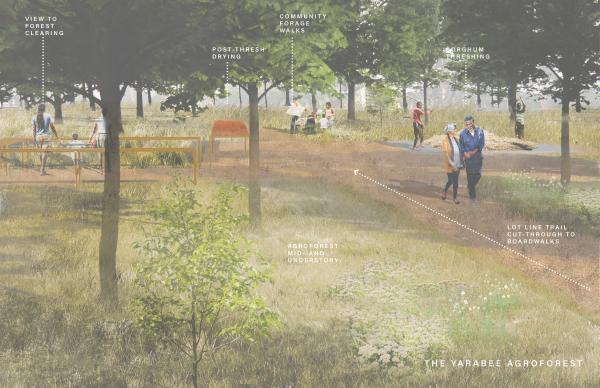 Master of Landscape Architecture students Franny Kyle (MLA '23) and Andrews Lesmes (MLA '23) were recently recognized by the Texas chapter of the American Society of Landscape Architects (ASLA) for projects completed in Associate Professor Phoebe Lickwar's Fall 2022 Advanced Design Studio. Given each year as part of the Texas ASLA annual conference, the awards recognize outstanding site-specific works of landscape architecture or urban design completed by students in the last academic year. 
As part of Lickwar's "Austin Carbon Farming" studio, students explored how the principles and practices of carbon farming can transform the design and planning of the urban realm. A cornerstone of regenerative agriculture, carbon farming maximizes the soil's holding capacities using photosynthesis to draw carbon out of the air and into the living soil. Investigating the urban soils of Austin, Texas, students examined the potential of these soils to serve as a carbon sink and different ways that soil literacy can create a more equitable city. 
Read on for Franny and Andrew's award-winning proposals for sites within the Onion Creek Floodplain and East Austin's defunct Holly Street Power Plant.
---
Austin Carbon Farming Project by Franny | 2023 Texas ASLA Student Honor Award Winner
With the levels of atmospheric carbon resting at about 400 parts per million and formidable projections of our global climate future, conversations around practices of carbon sequestration through soil health are coming to the fore. This project is a proposal for the decommissioned Holly Power Plant on Lady Bird Lake in downtown Austin. This post-industrial landscape has the potential to respond to the need for soil stewardship and the documentation of environmental injustice. 
Franny's proposal imagines what this site could become if the city returned the plant to the community groups that fought for its closure and worked to mend the carbon rift through stewardship, civic engagement, and experimentation. It would be a place that prioritizes embodied knowledge of soil. Acknowledging that human participation in soil building is a recent activity in geologic time, the proposal lays the bones for different kinds of ecological programs that have the potential to sequester carbon. As a public site along a heavily trafficked trail, the urban carbon farm has to operate in a different mode from rural, regenerative agricultural practices. 
Another layer of programming seeks to document the human side of land stewardship and the role people play in shaping soil profiles. A warehouse structure is dedicated to archiving the stories of this neighborhood's political action through land care. This continued documentation of life, resistance, and culture in the Holly neighborhood includes education initiatives and a workshop space for developing new coalitions. The proposal recognizes land as an archive of both deep and political time and sees people as the keepers of this archive. It must be learned not only scientifically, but politically and in the way we live our lives. The first step should be to give the communities who have been at the forefront of this work the space to keep going. 
---
Tilth and Tanks: Adapting Abandoned Infrastructure for Health Equity in the Onion Creek Floodplain by Andrew Lesmes | 2023 Texas ASLA Student Merit Award Winner
The residents of Dove Springs, many of whom live near or within the Lower Onion Creek floodplain in Southeast Austin, are particularly familiar with climate stressors and shocks; tree canopy inequity exacerbates the daily experience of extreme heat in Austin's increasingly long summer heat waves, and devastating floods in 2013 and 2015 claimed several lives, destroyed hundreds of homes, and resulted in floodplain buyouts which displaced hundreds more residents. 
One of these buyout neighborhoods, Yarabee Bend, exists today as a suburban street network devoid of all but four occupied homes, its lots replete with grasses and legible only by the curb aprons, canopy voids, and partially-removed rights-of-way that remain. Just northeast of Yarabee Bend, across William Cannon Drive, an abandoned wastewater treatment site sits above Onion and Williamson Creeks, forgotten for years behind a chain link fence. Within this site, six decommissioned sedimentation tanks—each a 130-foot, perfect circle where spontaneous plant communities grow atop buried biosolids, within uncanny rings on canopy trees—are striking remnants of a hastily-constructed city site operated for little more than two decades before being abandoned. 
These remnant infrastructures present opportunities to promote health equity in the floodplain and strengthen human-soil relationships. Along Yarabee Bend's former lot lines and roadways, new hybrid landscape types begin to restore floodplain functions and overlay a larger strategy of perennial crop experimentation within former residential lots; the circular, monumental tanks of the William Cannon wastewater site become an experiential garden sequence that re-interprets the history of abandoned infrastructure as a community asset.