Monkey Bar Fort on Display at Fortlandia
Assistant Professor Ria Bravo's design for the Lady Bird Johnson Wildflower Center's Fortlandia pays homage to the classic playground staple: monkey bars.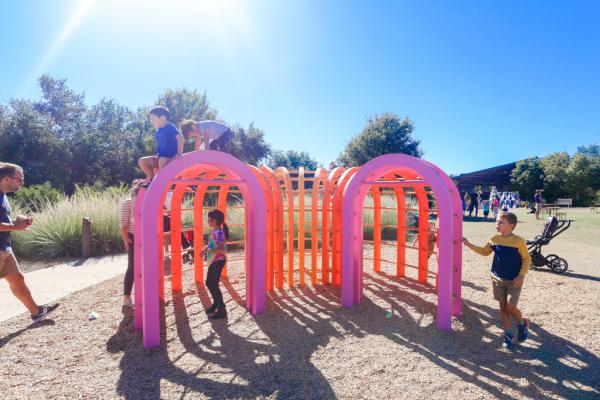 Each fall, the Lady Bird Johnson Wildflower Center hosts Fortlandia, an interactive art installation and exhibit featuring several custom-designed forts on temporary display around the center's grounds. This year, nine artists, architects, and designers have envisioned a new lineup of dynamic creations—including one designed and built by the School of Architecture's own Assistant Professor of Interior Design, Ria Bravo. 
Seamlessly blending architecture and recreation, Bravo's creation, Monkey Bar Fort, invites children and adults alike to climb, swing, and explore under a canopy of colorful arches. Developed in collaboration with James Rose, a colleague from Bravo's time at the University of Tennessee in Knoxville and the Director of the Institute for Smart Structures, the project taps into Bravo and Rose's shared interests in emerging technologies and smart structures, as well as fabrication and assembly methods. 
Comprised of only two components, the project includes a series of CNC-milled wood arches, which are joined together via oak dowels. At 6' high, the fort can be occupied by a range of bodies, from children to adults, and features a central zone for someone to occupy for a little extra privacy and shade. 
Fabricated on-campus by Bravo and Master of Interior Design student Jessica Wilsey this summer and early fall, the fort was assembled on-site at the Wildflower Center by students in Bravo's Fall 2023 Interior Fabrications seminar. Open to both interior design and architecture students, Interior Fabrications asks students to create full-scale mock-ups of interior conditions, which, in turn, opens opportunities for them to inhabit and engage more intimately with their designs. As part of the initial phase of the seminar, students played a pivotal role in the final fabrication and on-site construction of the fort at the Wildflower Center.
Monkey Bar Fort and the eight other forts of Fortlandia 2023 will be on display daily at the Lady Bird Wildflower Center from October 7, 2023 – February 4, 2024. 
B.S in Interior Design Students
Elisabeth Allbritton 
Yu-Hsuan(Serena) Hsieh 
Emily Jacinto 
Olivia Kugler 
Jeannette Massey 
Ani Matzakos 
Eamanne Moharram 
Gabriela Pedraza 
Michelle Smith
Master of Interior Design and Architecture Students 
Michelle Franks 
Tzulin Lin 
Megan Miller 
Kaylee Turner 
Nandita Warrier 
Jessica Wilsey 
Madeleine Wilson