MSHP Alum Publishes Graphic Novel
"AGBANY: The Birth of the Historic Preservation Movement" tells the story of the demolition of Penn Station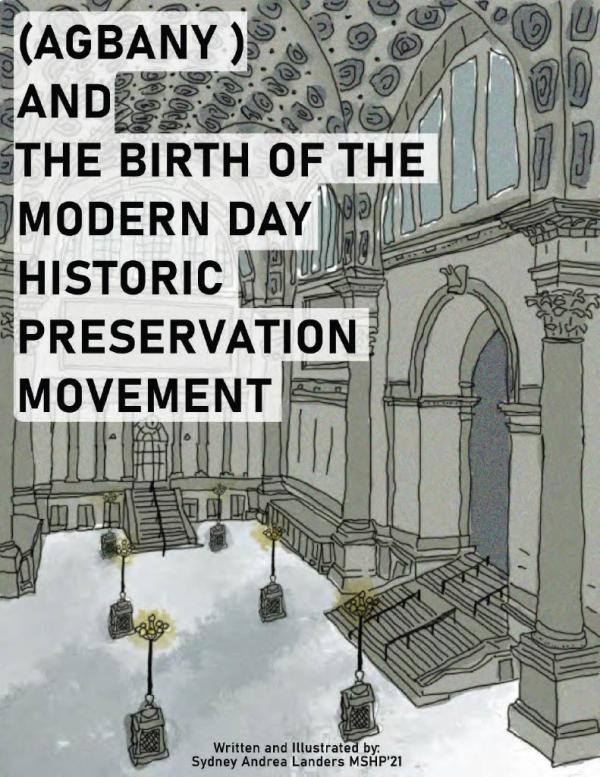 In the face of the impending demolition of New York City's Penn Station in 1962, a group of young architects and their friends formed the Action Group for Better Architecture in New York (ABGANY) to help prevent the loss of the treasured piece of architecture. Though unsuccessful, AGBANY's bid to save Penn Station is one of the seminal events in the history of the modern historic preservation movement and the subject of a ~50-page graphic novel by UT School of Architecture alumna Sydney Andrea Landers (MSHP '21).
 
The piece, "AGBANY: The Birth of the Historic Preservation Movement," was initially developed as Landers' final assignment for Assistant Professor Tara Dudley's American Architecture seminar in Spring 2021. "I had always been interested in art and comics as a kid, but I never thought it was something I could integrate into my practice as a preservationist," Landers said. "When Professor Dudley presented it as an option for the medium of our final project, I immediately knew I wanted to try it. I had seen history-based graphic novels in the past, but none specifically focused on historic preservation, and thought what better story to bring to life than Penn Station's demolition."
 
Before coming to historic preservation, Landers earned her Bachelor of Arts in Art History at UT Austin while minoring in Architectural History at UTSOA. Through conversations with School of Architecture faculty during her undergraduate studies, she discovered an interest in stewarding and rehabilitating historic buildings and decided to pursue historic preservation for graduate school. As an MSHP student, she particularly appreciated the Historic Preservation Program's practical, field-based classes and the smaller cohort size.
 
Since graduating in May 2021, Landers has launched her career as a preservationist in Los Angeles. This May, she also participated in a panel discussion about the intersection of comics and public history as part of the National Council on Public History's annual meeting. The panel brought together artists, historians, and public history practitioners to discuss how comics and graphic histories can help connect people with the past and widen the scope of stories and communities they engage.  
 
 "Comics and graphic novels are a very accessible medium that can help break complex historic stories down into something for everyone," Landers said. "The visual nature of comics can convey such visual subjects as architecture and play on the emotions surrounding it in a way that other mediums, like a journal article, cannot."
 
Next Tuesday, July 12, Landers will join Village Preservation for a virtual discussion about the book. The talk is free and open to the public with advance Zoom registration.  Digital copies of "AGBANY: The Birth of the Historic Preservation Movement" are currently available online, and pre-orders for Landers' self-published physical copies are also now available here.