Promoting Environmental Equity in the Gulf Coast
Assistant Professor Miriam Solis will use funds from the Gulf Research Program's Early Career Research Fellowship to advance environmental justice in the Rio Grande Valley by engaging youth perspectives in environmental planning.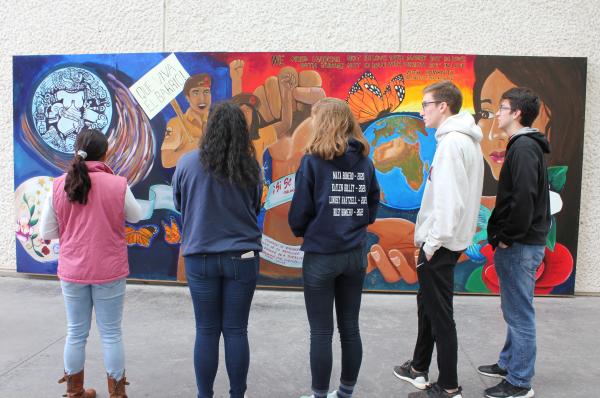 Congratulations to Community and Regional Planning Assistant Professor Miriam Solis, who recently received an Early-Career Research Fellowship from the Gulf Research Program of the National Academies of Sciences, Engineering, and Medicine.
Established in 2013, the National Academies' Gulf Research Program seeks to protect human health and the environment by catalyzing advances in science, practice, and capacity to generate long-term benefits for the Gulf of Mexico region and the nation. Solis is one of four fellows named to the Gulf Research Program's inaugural Education Research track, which focuses on the advancement of K-12 educational equity related to science and environmental literacy by considering the impact of recent disasters on educational opportunities for students in vulnerable Gulf Coast or Alaskan communities.
As part of the fellowship, Solis will receive $76,000 and mentoring support to test research ideas and pursue unique collaborations. The fellowship builds on Solis' ongoing research examining the role of environmental education and workforce development in the planning, design, and operation of urban infrastructure.
Since 2019, Solis has worked with EcoRise on growing the organization's "Building a Green Texas: Activating a New Generation of Sustainability Leaders" program. Funded by a grant from the National Oceanic and Atmospheric Administration, this research-practice partnership works to build environmental literacy among high school students and to help communities become more resilient to extreme weather and other environmental hazards. Through school-year field experiences and paid summer internships, the program helps students gain real-world experiences and exposure to green career pathways.
Solis' research also considers how educational pipelines can lead to career pathways that advance environmental justice in frontline communities. In Spring 2022, as part of a study analyzing the state of the green economy and green jobs in Austin, Solis and a group of Community and Regional Planning graduate students collaborated with the equity-based green workforce development program Austin Civilian Conservation Corps (ACCC) to showcase the on-the-job training experiences of ACCC participants. Using participatory action research and photovoice, the project engaged participants as co-researchers and co-creators, asking them to document their work with ACCC via photography and to reflect on the experience.
With the funding from the Gulf Research Program's Early-Career Research Fellowship, Solis will build on her ongoing research priorities with a new interdisciplinary collaboration with Dell Medical School's Dr. Carmen Valdez and others at UT Austin, as well as the Texas Children in Nature Network. Using community-based participatory research methods to gather young people's priorities and ideas, the project seeks to advance environmental justice in the Rio Grande Valley by engaging youth perspectives in the planning of two public parks in Pharr, Texas. Work on the project began this spring and will continue through the summer.