PRP Now! Katharine Glasheen // Gensler
PRP Now! is a series of interviews that highlight a current UTSOA Professional Residency Program student every few weeks.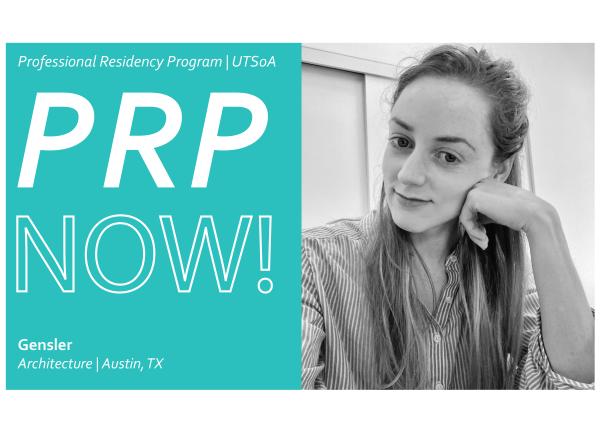 Tell us about your PRP firm. Where are you working?
I'm working at Gensler Austin.

What is currently on your desk? What are you working on?
I keep a legal pad and pen on my desk. I take notes in it when someone is giving me instructions or when issues are being raised during a meeting that the team may want to address later. I'm currently working on reading through 1250+ RFIs and summarizing them in an Excel document.

Describe the firm culture?
It seems to me that Gensler is a firm where, statistically, women can thrive and move forward in their careers. In an industry where women are severely underrepresented in leadership, Gensler is one of the only large architecture firms that employs as many or more women than men in senior positions, according to research by Dezeen this year. Gensler works on interesting projects, including large-scale buildings like skyscrapers and arenas. Gensler is also somewhat decentralized - there are many offices, which do not have hierarchy over the others.

What is the first thing you'll tell your classmates upon your return to UT?
Hi - I'll probably get some life updates from people I haven't seen in a while and likely be asking for directions to our fall classrooms.

As you're finishing up the week, what are your plans for this weekend?
I like to do yoga and pilates, preferably outside where I can listen to the birds. I'm also currently into reading nonfiction or getting brunch with my best friend here.

Is there anything else that you would like to add?
I definitely valued the opportunity to intern at Gensler; I appreciate UT and Gensler for facilitating this program.