Sara Tin-U // Dick Clark + Associates
PRP Now! is a series of interviews that highlight a current UTSOA Professional Residency Program student every few weeks.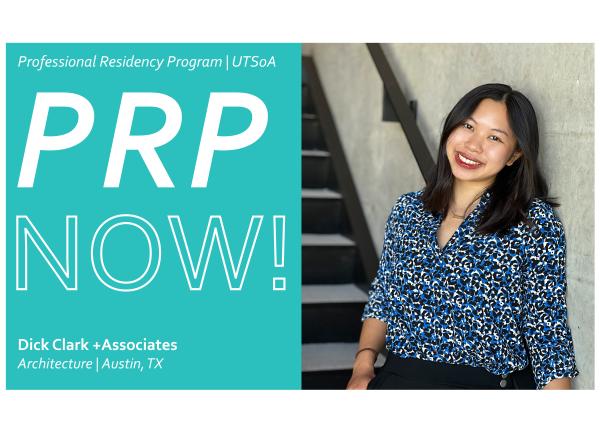 Tell us about your PRP firm. Where are you working?
I am currently working at Dick Clark + Associates (DC+A), a residential and commercial firm right here in East Austin. The office building has such a cool history: it was once an old pawn shop, and DC+A transformed it into this beautiful creative office and retail space. A huge plus is that there's so much natural daylight and a patio to get fresh air, eat lunch at, or grill on.
Do you enjoy the city you're working in? Favorite aspects?
Even though I've been living in Austin for a couple of years, I never got the chance to explore the city off campus until now. It's been a blast exploring the different gems Austin has, especially trying new foods with my friends each week! Since I'm not too far from campus, I'm still able to train with my dance team and see my other UT friends, which has been nice, especially with all the other changes that come with working full time. Another fun thing has been spotting DC+A projects throughout Austin as I drive around. Because of site visits and photoshoots, I've gotten the chance to visit beautiful areas of Austin I'd never seen before. 
What is currently on your desk? What are you working on?
I always have sticky notes slapped across my desktop to keep track of running tasks, and many printed sheets full of redlines and other notes in my drawers. I also have a bag of heart-shaped dog treats, and one of the dogs has figured that out. I always find her peering around my desk on Fridays, waiting for a treat! Lately I've been working on diagrams for the AIA Austin Homes Tour webinar portion as well as renders for a commercial project currently under construction. I am also on a residential project in construction, for which I've gone on site a couple of times. DC+A is a great learning environment, and I've been able to hop around a huge variety of projects and tasks, exploring architecture, interior design, and marketing. 
Describe the firm culture? The office atmosphere?
The firm size is around 24 people, which means you get to know everyone well. The firm culture is super friendly, welcoming, collaborative, and everyone values work-life balance. The DC+A office is laid out in a way that promotes collaboration and socializing. The desks are more like open pods, making it easy to drop by. Everyone is always willing to answer my many questions, and I appreciate how every person takes the time to teach me. DC+A really invests time in every single person, and it shows through every project. On top of that, DC+A loves to have fun! We have great happy hours, birthday celebrations, lots of ping pong, and people sometimes bring treats to leave in the kitchen for everyone. 
What is the first thing you'll tell your classmates upon your return to UT? 
Check out the DC+A Instagram! I worked on it a lot. :) 
As you're finishing up the week, what are your plans for this weekend?
I'm also working on my thesis while doing PRP, so I'll probably spend the weekend in the library or a coffee shop doing work with my friends. I've really enjoyed exploring different study spaces around Austin every week, and I look forward to my weekly chai latte. 
Is there anything else that you would like to add?
PRP has been an invaluable experience. If you have the opportunity, you should definitely do it! It's really enlightening to see how your studies play out in the workplace, and there are just so many incredible skills you gain in an office that you can't in a studio setting. I love that I've been able to grow as an individual, learn what I like, and meet great people!