Sara Zewde Appointed Race and Gender in the Built Environment Fellow
A thought-leader, landscape Designer, urbanist, and public artist, Zewde will cultivate innovation in teaching and research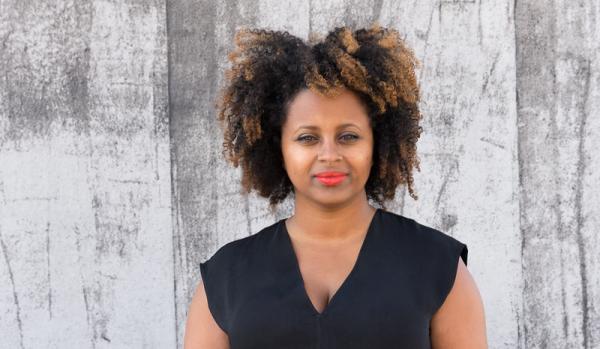 Sara Zewde will bring her expertise in integrating culture, memory, and belonging into design and landscape architecture to the School of Architecture. As Race and Gender in the Built Environment Fellow, Zewde will actively teach, conduct specialized research, and help the school advance its interdisciplinary Race and Gender in the Built Environment Initiative.

Established in Fall 2016, the School of Architecture's Race and Gender in the Built Environment Initiative facilitates diversity among students and design and planning professionals and cultivates innovation in teaching and research on race and gender-related inequities in American cities. Partially funded by UT Austin's Division of Diversity and Community Engagement, the program positions the university as a leader in addressing critical and complex social issues in design and planning pedagogy and practice.

"Diversity, both in terms of who we are and who we serve, is one of the core priorities of the School of Architecture as we strive to advance a more just and equitable built environment," said Dean Michelle Addington. "The school has taken steps to establish a robust discourse by bringing in outstanding scholars through this program over the last three years. Sara Zewde not only extends this important dialogue, but her extraordinary disciplinary breadth has the potential to impact each and every one of our programs. We are excited to work with her and to learn from her."

Zewde specializes in the design of the contemporary Southern city, design and development in historically Black neighborhoods, the history and memory of the Trans-Atlantic Slave Trade, and the politics of public space. She is founding principal of Studio Zewde, a design firm practicing at the intersection of landscape architecture, urbanism, and public art. The studio is recognized for its distinctive methodology, which connects site interpretation with a design process powered by narrative and construction of the highest quality.

In conjunction with her practice, Zewde writes, lectures, and exhibits design work and research. She has garnered numerous awards, including the Silberberg Memorial Award for Urban Design and the Hebbert Award for Contribution for the Department of Urban Studies and Planning at MIT, was named 2014 National Olmstead Scholar by the Landscape Architecture Foundation, and served as 2016 Artist-in-Residence at the Robert Rauschenberg Foundation. Her design work on the historic site of Valongo in Rio de Janeiro, Brazil, was featured at the 2016 Venice Architecture Bienniale. Recently, Zewde was named to the National Trust for Historic Preservation's inaugural "40 Under 40: People Saving Places" list. She holds a Master's of Landscape Architecture from the Harvard University Graduate School of Design, a Master's of City Planning from MIT, and a bachelor's degree in sociology and statistics from Boston University.

"I am truly energized by the inquisitive, compassionate, and creative environment that is the UT Austin School of Architecture, and I look forward to contributing to this special legacy of the school," remarked Zewde.

In the past two years, Race and Gender in the Built Environment fellows have conducted design and planning studios with community-oriented clients and residents in Brownsville, Texas, furthered research on African American placemaking and planning in freedom colonies, integrated race theory and heritage preservation into urban planning pedagogy, and more. Zewde builds upon this work to train and empower the next generation of planners and designers to promote a more healthy, safe, fair, and equitable environment.