Student Team Named Finalists in HUD 2023 Innovation in Affordable Housing Competition
A multidisciplinary team of students from UT Austin is one of only four selected for their plan to redevelop a public housing site in Chicago, Illinois.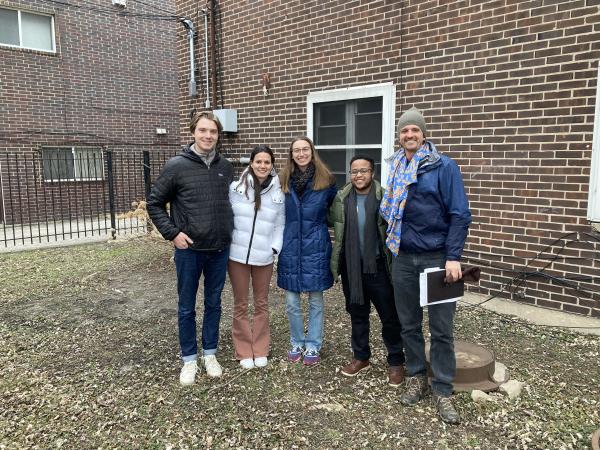 Every year, the U.S. Department of Housing and Urban Development's Innovation in Affordable Housing Student Design and Planning Competition (IAH) invites multidisciplinary teams of graduate students to submit plans in response to a real-life affordable housing design issue. This year, a team of students from The University of Texas at Austin School of Architecture is one of four teams selected to move on to the 2023 competition finals. Students on the UT Austin finalist team include M. Chase Bryan (MSSD/MSCRP dual degree), Jonathan Lee (MSCRP), Natalie Raper (MSCRP), Maria Rubio Figueiredo de Paula (MSCRP), and Shaw Vallier (LBJ/MSCRP dual degree).
As finalists, our students traveled to the 2023 competition site in Chicago, Illinois in early March to meet with representatives from the Department of Housing and Urban Development and the Chicago Housing Authority. From there, students will further refine their proposal before presenting to a jury of industry experts at HUD's Headquarters in Washington, D.C. on April 12. The award-winning team will receive $20,000 in prize money, with $10,000 awarded to the runner-up, and the remaining two teams will receive $5,000 each. The other three teams selected to move on to the finals are from the University of Maryland, College Park; the University of Illinois, Chicago; and Harvard University.
"I am delighted, but not surprised, that our all-UTSOA team has made it to the finals of the HUD Innovation in Affordable Housing competition," said Associate Professor Jake Wegmann, the finalist team's faculty advisor. "Unsurprised because the team members have brought complementary skill sets in design, finance, and program design to bear on the complex problem of delivering maximum benefits on a compact site. They have been willing to question all of their assumptions and made repeated improvements to their proposal, and, clearly, their hard work and thoughtfulness have paid off."
Now in its 10th year, the 2023 competition tasked students with developing an innovative proposal for a site in the Lincoln Park neighborhood of Chicago, Illinois. The primary goal is to maximize the number of affordable units on a 0.45-acre Chicago Housing Authority-owned site. Other priorities include densifying and adding additional amenities on the site, ensuring congruity with the surrounding neighborhood, as well as alignment with the City of Chicago's Climate Action Plan.
As part of Phase I of the competition, students were required to submit
A schematic design level site plan, schematic floors plans, section and building massing;

A narrative to include rational demonstrating an understanding of the community, planning, resident needs and provision of community services, and financing;

And a preliminary pro forma, as well as other financial calculations.
In reflecting on their project, the team notes: "Our project strives to build on the history of the Old Town neighborhood while creating an intentionally inclusive design to accommodate many needs and lifestyles. We're proud of our submission materials which capitalized on each team member's strengths to form a coordinated, considerate, creative project. Ultimately, we're excited to have had the opportunity to participate in the competition this far, and we're honored to keep going!"
This is the second time a team from the UT School of Architecture has progressed to the competition finals. In 2016, our team won the entire competition with a plan to redevelop a public housing project in Santa Barbara, California. As a non-departmentalized school with disciplines that span all scales of the built environment, our students have numerous opportunities, like the Innovative Housing Design and Planning Competition, to collaborate across disciplines and to learn from one another.
Stay tuned for an update on how the team progresses in the competition!
-- 
Since this writing, The University of Texas at Austin student team received second place in the competition. You can watch the team's presentation on the Department of Housing and Urban Development's YouTube channel.