Students Receive APA-Texas' 2020 Advancing Diversity & Social Change Planning Award
Community & Regional Planning students receive 2020 Advancing Diversity & Social Change Planning Award for their work with Austin Water to advance racial equity.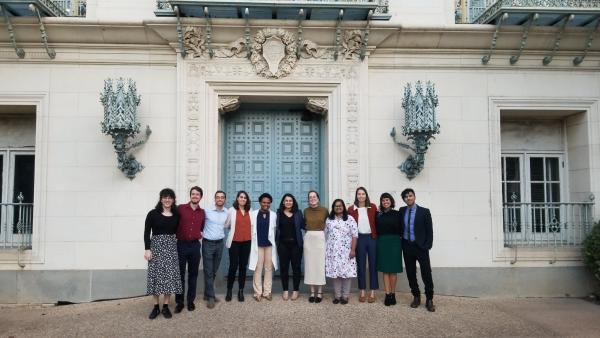 Students from the UT School of Architecture's (UTSOA) Community & Regional Planning program have been awarded the Texas Chapter of the American Planning Association's 2020 Advancing Diversity & Social Change Planning Award. The award-winning project, "Making Equity Flow: Proposals for Advancing Racial Equity Through Water Department Practices," was based on work completed in Assistant Professor Miriam Solis' Fall 2019 Community & Regional Planning practicum, in which students partnered with Austin Water to develop recommendations for how the public water utility could advance racial equity through its policies and programs.  

"This research has been instrumental in helping Austin Water refine and improve our programs in ways that address racism and improve equity in our community," said Austin Water Director Greg Meszaros. "Our efforts to diversify and build a strong workforce, equitably implement our new smart water system for Austin, and expand Customer Assistant Programs have benefitted tremendously from the Making Equity Flow study."

The student team offered strategic direction and recommendations for Austin Water's advancement of racial equity through analyses of three program and policy areas:
The expansion of Austin Water's Customer Assistance Program;
The roll-out of advanced metering infrastructure; and
The design of a recruitment and career pathways program for formerly incarcerated people.
 These areas built on the priorities laid out in Austin Water's 2018-2019 Racial Equity Action Plan and the Austin Equity Office's 2018 Equity Assessment of the water utility. Through both qualitative and quantitative research methods, including GIS and statistical analysis, case studies, and interviews with other cities' water department staff, the 86-page "Making Equity Flow" report identified opportunities, challenges, and lessons from other cities' water department practices to inform their recommendations for how Austin Water could advance racial equity. Throughout the process, the team met with Austin Water staff, as well as representatives from the Austin Equity Office, to get feedback on fulfilling the project's scope and equity goals.

Recommendations from the Making Equity Flow study have resulted in strategic programmatic improvements at Austin Water. First, the utility is advancing a recruitment and career pathway program known as "Phoenix" for individuals who were formerly incarcerated and are disproportionately people of color. Second, Austin Water is developing an Equity Framework to drive decision-making around the five-year implementation of MyATXWater, Austin's smart water meter system. This framework is envisioned to guide an equitable installation process, as well as communication and outreach activities with customers. Finally, Austin Water is using insights about other national water utility best practices gleaned from the study to apply low-income bill credits to multi-family customers. It is anticipated that this proposed multi-family Customer Assistance Program will be presented to Austin City Council for approval later this year. Additionally, recommendations from the Making Equity Flow report were included in the City of Austin Office of Sustainability's Austin Climate Equity Plan, which was recently out for public comment.

"We are really excited to hear this news and want to congratulate Dr. Solis and her team in collaboration with Austin Water for their important work in equitable water planning," said Brion Oaks, the City of Austin's Chief Equity Officer. "Our history tells us that if we don't intentionally center communities of color in our efforts towards equity, they can get left behind. That's why this type of meaningful joint effort is an important step towards advancing racial equity in our City's program and policy areas. We won't be able to undo disparities overnight - it takes innovation and adaptability for continued process improvement, and we remain committed to that charge."

This is the third consecutive year that students from the UT School of Architecture's Community & Regional Planning program have been recognized by the APA Texas Planning Awards Program. Given each year, the Texas Planning Awards recognizes individuals, organizations, and communities for outstanding contributions to planning in Texas.

Students involved with the project include Brytani Cavil, Sari Albornoz, Tim McCarthy, June Greeman, Nadia Carlson, Samira Bashar, Lucy Hall, Tymon Khamsi, and Michelle Parke from the Community & Regional Planning Program; and Matthew Frankel, a graduate student in the Department of Civil, Architectural and Environmental Engineering and the LBJ School of Public Affairs.