Students Win National ULI Hines Urban Design Competition
Multidisciplinary Student Team Creates Sustainable, Adaptable Redevelopment Plan for Chicago Site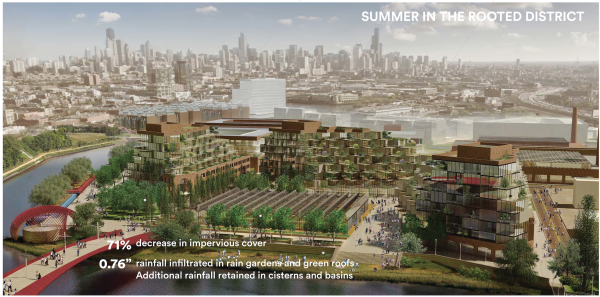 A team from The University of Texas at Austin received top honors in the 2017 Urban Land Institute (ULI) Hines Student Competition in Chicago, Illinois on April 6, 2017. Comprised of students from the School of Architecture and McCombs School of Business, the team was awarded $50,000 for their forward-looking redevelopment plan for a mixed-use Chicago site.

An ideas contest for graduate students, the ULI Hines Competition, endowed by longtime ULI leader and real estate mogul Gerald Hines, is in its fifteenth year. It is designed to simulate a real urban planning and development scenario and allows participating teams 15 days to design and submit a comprehensive master plan proposal for a large-scale urban site in the United States. The proposal must include presentation boards with site plans, renderings, analytical tables, and market-feasible financial data.

This is the first win for a UT Austin student team, which advanced from an initial round of 118 applications from more than 60 universities in the U.S. and Canada, and placed ahead of teams from Carnegie Mellon in Pittsburgh, Université Laval in Quebec, and the University of Maryland, College Park, in the final round of competition.

"We are proud of our students, who all exemplified leadership, creativity, and interdisciplinary innovation during this rigorous competition," remarked Elizabeth Danze, interim dean of the School of Architecture. "Their work envisions and advances a more equitable, inclusive, healthy, and sustainable urban environment, and serves as a model for future collaboration across the UT Austin campus and beyond."

 "This is the competition every premier school of architecture aims to win. Ours is an outstanding team whose work focused and matured, having a huge impact on both the local and final juries," commented Professor Simon Atkinson, faculty adviser for the UT Austin student team. "Texas loves to win, and this win always goes well beyond the team. The real winners are Mike and Betsy Cogburn and the Cogburn Family Foundation, who, with former dean Fritz Steiner, underwrote and stimulated an annual in-house, juried competition of entries from Texas. I believe this is the basis to The University of Texas receiving many honorable mentions, and being a finalist four times in the last twelve years leading up to this win."

Atkinson said that the team's victory represents the strong and emerging work between the School of Architecture and McCombs School of Business Real Estate and Finance Investment Center. "There are many to thank, particularly team mentors from the Austin ULI, and the wonderful support offered by our staff."

This year's competition presented a hypothetical situation based on an announcement made by Chicago Mayor Rahm Emanuel in 2016 stating that the Chicago Department of Fleet and Facility Management would be relocating its headquarters from the site along the North Branch of the Chicago River. Teams were tasked with evaluating the benefits and financial possibilities of buying the Fleet Management and Facility site and potentially combining it with parcels of adjacent vacant property to redevelop or sell as one comprehensive site.

The winning proposal, "Rooted," reimagined the site as a place for "clean industry," with a vision to improve quality of life, allow for adaptive reuse in the long-term, and highlight Chicago's iconic food culture. Recognizing that Chicago has long served as the heartland for food production, processing, and distribution due to its unique location between East and West, "Rooted" created a center for food and manufacturing that ties together the city's past, present, and future. UT Austin students designed a comfortable, environmentally conscious, and lively urban space that uses durable materials and embraces initiatives such as green/living roofs, rainwater collection, and a river ferry system. At the center of the proposal is a re-designed, localized food supply chain that establishes an equitable and inclusive environment conducive to building human capital. The team successfully addressed issues of affordable housing, transportation, accessibility of key resources, sustainability, pricing and absorption.

"This is a huge accomplishment for real estate endeavors at UT Austin," said Jay Hartzell, dean of the McCombs School of Business. "Congratulations to our colleagues at the School of Architecture. This a great example of what can be achieved when some of the top minds from different colleges on campus work together towards a common goal."

UT Austin's first place team included Christopher Perkes (team leader), joint Master of Science in Community and Regional Planning and Master of Science in Sustainable Design; Luke Kvasnicka, Master of Architecture; Miles Payton, Master of Landscape Architecture; Mason Rathe, Master of Business Administration; Kirsten Stray-Gundersen, Master of Architecture; and academic advisers Simon Atkinson and Edna Ledesma of the School of Architecture.

The competition jury consisted of renowned experts from diverse backgrounds in real estate development. Jurors represented a strategic mix of land use professionals, including developers, architects, urban designers, urban planners, investment bankers, and financial analysts. Four of the 12 jurors were Chicago-based professionals who helped provide insight into whether proposals take into consideration local cultural, economic, and political issues.

The School of Architecture is grateful for the support of Mike and Betsy Cogburn and the Cogburn Family Foundation, who underwrote and stimulated an annual in-house, juried Cogburn Competition for ULI Hines Competition entries.

See the Urban Land Institute's announcement.