Wen (Aya) Wen // MARVEL
PRP Now! is a series of interviews that highlight a current UTSOA Professional Residency Program student every few weeks.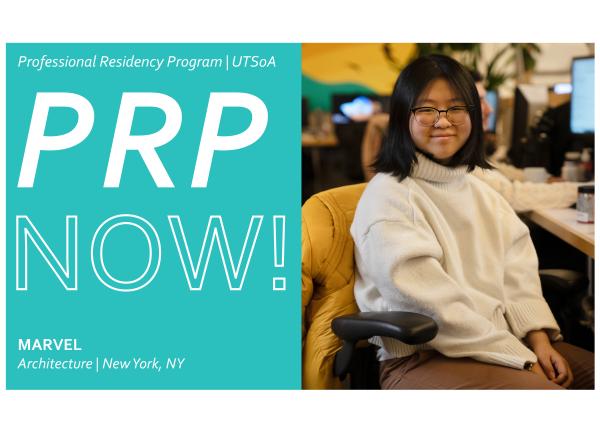 Tell us about your PRP firm. Where are you working?
I am working at MARVEL whose main office located in Tribeca, New York City. The firm is expanding rapidly and now has offices in Virginia and Puerto Rico. We work on a variety of projects including public and cultural projects, educational and campus work, affordable housing, market-rate residential developments, adaptive reuse, landscape, and urban design.
There are over 130 people currently working at MARVEL, with 90 based out of the New York studio. I was one of 9 interns who joined the firm this summer across the various offices.
Do you enjoy the city you're working in? Favorite aspects?
New York City is a very interesting place, where each district has its unique characteristics even though they are packed so closely together. It never gets boring exploring the city and you won't have enough time to explore the small district let alone the entire city (I've been here 6 months already but I still have places I haven't been able to visit)! I have several favorite spots for different categories: my favorite restaurant, cafe, park, museum, etc. But if I must decide on one place to recommend for future PRP students who want to come to New York City to work, I will say people should visit Prospect Park (which I would say is better than Central Park…)
What is currently on your desk? What are you working on?
My desk is always kept pretty tidy since most of the work I do is on screen, so I don't have many interesting things. But I usually keep a glass of water and a matcha latte from a cafe downstairs to keep me hydrated. I also have my sketchbook and pen to take notes during meetings, an external hard drive, and a failed 3d printed model of Brooklyn Bridge Vault, which was a part of a project me and my other interns worked on last summer. I am currently a member of a team that is working on composing our conceptual Master Plan for Gowanus Green, which is a big affordable housing project in Gowanus, Brooklyn. I am mainly working on creating diagrams for the report.
Describe the firm culture. The office atmosphere?
I love the firm culture in this office. It is very cheerful, relaxed, and organized. I've never had a problem communicating with people around the office and everyone is willing to help whenever they are available. We also organize many events for people to gather and talk and just have fun, such as MARVEL lunch every Wednesday, Happy Hour every Friday, and occasional big celebration parties during summer and winter. But this doesn't mean we are not busy. I have some days where I need to work overtime, and I have seen many people stay late to meet deadlines. However, it has never felt stressful or toxic because people are very organized and on top of their work, and I feel like everyone prioritizes their mental and physical health.
What is the first thing you'll tell your classmates upon your return to UT?
I cannot wait to meet everyone back in UT! I believe most of my classmates participated in PRP in different cities, so I would love to know what other people went through and I would also love to share my experiences. For my fellow undergraduate students who haven't participated in PRP, I would encourage people to take advantage of this opportunity. And if they don't have a firm in their mind yet, MARVEL is a wonderful firm for interns to get some great working experience.
As you're finishing up the week, what are your plans for this weekend?
This weekend will be my last weekend in New York City, so I need to start packing my stuff and cleaning my room. But aside from that, I am planning to visit Rockefeller Center for its famous 80 ft tall Christmas tree and do some shopping at the Christmas Market at Bryant Park! I hope I can find some good souvenirs for my family.