Alumna Sara Bronin Nominated to Chair the U.S. Advisory Council on Historic Preservation
Q&A with alumna Sara Bronin, President Biden's nominee to chair the U.S. Advisory Council on Historic Preservation (ACHP)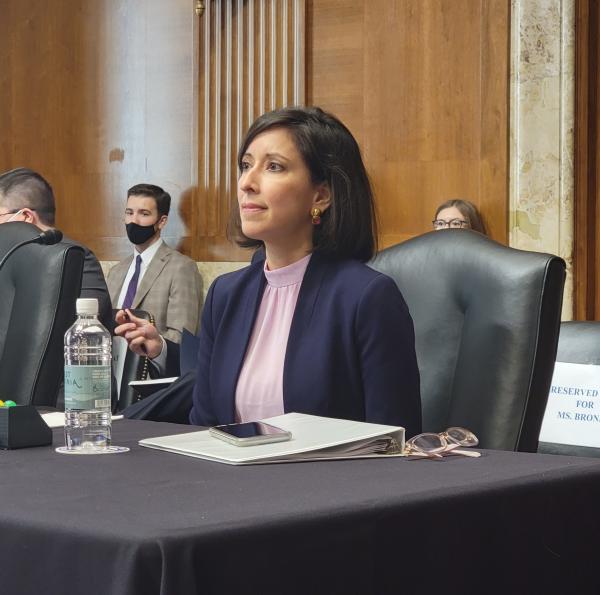 Since graduating from The University of Texas at Austin in 2001 with dual degrees in Architecture and Plan II Honors, alumna Sara Bronin has had an illustrious academic and professional career. She attended Oxford University as a Rhodes Scholar and earned her JD from Yale Law School. Among her many titles, she is an architect, attorney, policymaker, writer, professor, and, most recently, President Biden's nominee to chair the U.S. Advisory Council on Historic Preservation (ACHP).
 
Bronin's interdisciplinary career has enabled her to explore the ways in which law and policy can foster more equitable, sustainable, well-designed, and connected places. In her "day job," she is a professor at the Cornell College of Architecture, Art, and Planning and an Associated Faculty Member of Cornell Law School. She has published books and articles on land use, property, climate change, and historic preservation law. Her forthcoming book Key to the City will explore how zoning shapes our lives.
 
Outside the classroom, Bronin is a board member of Latinos in Heritage Conservation and an advisor for the National Trust for Historic Preservation and the Sustainable Development Code. She is also the founder of Desegregate Connecticut, a coalition that successfully advanced the first major statewide zoning reform in several decades. Previously, she chaired Preservation Connecticut and led Hartford's nationally-recognized efforts to adopt a climate action plan and city plan and to overhaul the zoning code.
 
We recently caught up with Professor Bronin following the announcement of her ACHP nomination to learn more about what she's been up to since graduating from UT Austin and what advice she has for future architects, planners, preservationists, and citizens of the world.   
 
What prompted your initial interest in architecture, and what led to your subsequent interest in historic preservation and then to law and land use policies?
It's hard to pinpoint!  But I'm pretty sure that visiting construction sites with my dad, a civil engineer, sparked my initial interest in how people make places.  So did growing up in Houston, a city filled with flashes of interesting architecture set amidst chaotic, unsightly sprawl.  I headed to UTSOA with the hope that I could help make places like Houston more beautiful and livable. 
 
Midway through architecture school, I discovered that preservation was a distinct field – and at the same time discovered how it is highly constrained by law.  Local historic commission decisions, existing building codes, private covenants, and even the tax code can influence what a preservation architect can do.  The more I learned, the more I realized that the whole architectural enterprise, not just preservation, is subject to a variety of laws at the federal, state, and local levels.  I knew by my fourth year of the B.Arch. that I wanted to attend law school to understand these issues further.   
Tell us a bit about your time as a student at UT Austin and the School of Architecture. 
When I was in high school, I applied to just four schools – UT Austin, Rice, Cornell, and Columbia – and got into all of them.  But UT Austin was the only one that I could attend without indebting my parents and hampering the college choices of my two younger sisters.  A choice made for practicality turned into the best choice on the merits, too.  As a double major in the Plan II Honors Program, I benefited from the richness of not one but two small programs within a much larger university.  My favorite times included three study abroad experiences supported by UTSOA grants:  Santa Chiara with Nicole Wiedemann, Bosnia and Turkey with Jeff Chusid, and Seoul with Andy Vernooy.  For someone whose primary travel experience was visiting Mexican border towns, these experiences were life-changing.  They inspired so many questions that continue to guide my research, and they cultivated a deeper understanding of our global interconnectedness. 
In academia, architecture, preservation, planning, etc. are most often taught as distinct and separate disciplines. Yet, in the real world, there is oftentimes major overlap. Given your experience and your multifaceted background, could you tell us a bit about the importance of overlap and interdisciplinary exchange when it comes to solving real-world problems?
It's essential.  Problems involving space can only very rarely be solved at scale by a single-discipline solution.  For example, say you're an architect who wants to improve green space in a neighborhood: you might be able to plant a few trees, but to make systemic change, you'll need a zoning code or tree ordinance that requires tree planting for all new projects.  Or say you want to pioneer an innovative building technique:  you might get a building code or housing code modification for a single project, but a permanent change might require years of lobbying.  (We're seeing this with mass timber.)  Lawyers don't see the full picture either.  They might be able to close a historic tax-credit deal, but they cannot dream up the underlying rehabilitation plans.  What I have found is that these two sides don't speak with each other that often.  That's why I'm so glad that some of the classes I'm teaching at Cornell are cross-listed at the law school and the architecture and planning school.  Students seem to get a lot out of our classroom exchanges.  If we understand the act of place-making from multi-disciplinary perspectives, we will get the places we deserve. 
 
The disciplines of the built environment are at the core of some of society's most complex challenges – climate change, affordability, systemic inequalities, urbanization, etc. Could you tell us a bit about how you've addressed some of these issues in your career?
In my scholarly work, I've written a lot about climate change in particular, and how sustainable design and lower-carbon urban planning can be facilitated by new approaches in law.  I've also worked at the local and state levels to enact change across all of the areas you list.  For seven years, I chaired the planning and zoning commission of the city of Hartford.  During that time, we tossed out the old zoning code and unanimously adopted a completely new one, which I would argue is among the most sustainable and equitable in the country.  We were the first large city to completely eliminate minimum parking requirements, and through a form-based code, we were able to free all housing (and most construction projects, actually) from onerous public hearings.  That means new development can be efficiently built, as long as it complies with code, which was drafted with input and support from people from every corner of the city.  We also adopted subdivision regulations and inland wetland and watercourse regulations, as well as the city's first-ever climate action plan, and a city plan, overall engaging thousands of stakeholders.  With all of that work complete, I stepped down from the commission, thinking I would turn my attention entirely to a book that I've been meaning to write about zoning. 
 
Then came George Floyd's murder.  It brought (once again) the consequences of systemic racism into our national consciousness.  Shortly after, I convened an open meeting of architects, lawyers, planners, and anyone else who wanted to join to discuss the role that zoning laws play in embedding systemic racism.  We agreed that it was past time for Connecticut to reckon with the unfortunate consequences of our outdated zoning laws.  And so Desegregate Connecticut was born, now a coalition of 80 nonprofit organizations (including the Connecticut Chapter of the AIA) and thousands of people supporting us.  Over the last year and a half, we have been able to conduct groundbreaking research on how the entire state is zoned.  Some of the information is online at the Connecticut Zoning Atlas, www.desegregatect.org/atlas.  We were able to create and participate in events that reached over 4,500 people in our first year, and to educate people through our reports, newsletters, and social media.  A year and a day after we first convened, the Governor signed into law the first sweeping zoning reforms in over 30 years.  Building upon many housing advocates' prior efforts, that piece of legislation was a good start.  But that work is far from over. 
 
As President Biden's nominee to chair the U.S. Advisory Council on Historic Preservation, what are some of your goals and priorities for the position if you are confirmed? Are there specific areas where you would like to focus?
If confirmed, I'll develop more specific goals in collaboration with a wide range of stakeholders.  But I do have a few broad ideas, with the understanding that the Advisory Council is an independent federal agency that has two key roles. 
 
First, it helps to ensure other agencies take into account the impacts of their actions on historic properties (through a process called the "Section 106" review process).  If I am confirmed, I hope to ensure the agency participates in Section 106 reviews with integrity and in keeping with Congressional direction.  So far, it seems to have done a pretty good job at that, and its staff is well-respected across agencies.  
 
Second, the Advisory Council is supposed to advise the President and Congress on historic preservation policy.  I'm hopeful we can persuade them that a few changes are important for all of us.  For example, we could improve policies related to how we respond to natural hazards, which are increasing as a result of climate change.  We could better support the 59 state and territorial historic preservation offices, 574 federally-recognized tribes (which include 204 tribal historic preservation offices), and Native Hawaiian organizations that administer the federal preservation program.  And we could better facilitate private investment in preservation, whether through leasing or transferring historic federal properties or through improving the historic preservation tax credit.  While the Advisory Council has made progress in some of these areas, it would be a tremendous honor to help advance them further.  
 
What advice do you have to share with our students and recent graduates?
UTSOA students and alumni know more about how to create equitable, beautiful, and sustainable places than almost anyone in the world.  This unique knowledge comes with an obligation to not only to transform individual buildings but to scale up the changes we all know we need.  People trust architects to help them see space in a different way.  Consider how you might help with a small neighborhood initiative or even a larger city or statewide effort.  Serve on a local commission or nonprofit board – it is highly rewarding. 
 
And no matter what your background, please be a voice for equity and inclusion in the architecture, interior, landscape, and planning professions.  Support and speak up for underrepresented colleagues; hire and nurture diverse interns; fund stipends for junior associates to attend conferences and workshops (and take licensing exams); and ensure that the burden of diversity education does not fall solely on the women and people of color in your group.  You can be a part of the changes you want to see, in the built environment and beyond.