Alumni Leaders Transform School of Architecture and City of Austin
Major gifts from two alumni will advance research and student experience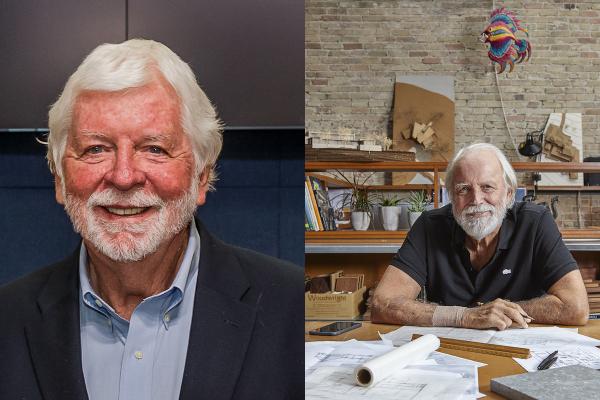 School of Architecture alumni and patrons Sinclair Black and Dick Clark (1944-2017) are providing new educational opportunities for the next generation of architects and designers. Both considered Austin visionaries for their innovative and wide-ranging work in architecture and urban design, Black and Clark received Bachelor of Architecture degrees from The University of Texas at Austin in 1962 and 1969, respectively, and went on to establish design offices across the street from one another in downtown Austin.

Sinclair Black taught at the School of Architecture for over fifty years—101 semesters, to be exact. Most recently, he served as Roberta P. Crenshaw Centennial Professor in Urban Design and Environmental Planning, and, from 1972-73, served as acting dean of the school.

Black is credited for countless contributions to the education, careers, and lives of several generations of architects. His work has had an enormous impact on shaping Austin into a major, innovative American city. His projects have included, among many others, the Great Streets Master Plan for the City of Austin, 2nd Street District, Cedar Street Courtyard, and a proposal to bury Interstate Highway 35 to return the city's surface to pedestrians and cyclists.

To celebrate his half-century of teaching at the School of Architecture, Black is making another important and lasting contribution to the school and the practice of urban design through the creation of a substantial faculty endowment. Upon his retirement earlier this year, he generously donated $1 million to create the Sinclair Black Endowed Chair in the Architecture of Urbanism, the seventh chair in the school's 107-year history. The annual earnings from the $1-million endowed chair will support a professor with distinction and expertise in urban design, bring in visiting critics and lecturers, sponsor events and activities related to urban design, and support students with an interest in the field of urban design.

Dick Clark held deep ties to the School of Architecture as an alumnus, valued mentor, and active member of the school's Goldsmith Society and Advisory Council. In 2008, he established the Dick Clark Travel Fund for students, and, in 2016, he served on the Dean Search Committee that resulted in the appointment of Dean Michelle Addington. Now, two generous gifts in his honor will establish an endowed faculty chair, provide scholarships and travel opportunities for students, and further key initiatives for the school in the areas of design education and experiential learning.

Clark is recognized across the United States for shaping the architectural vernacular of Austin through numerous public and private projects. He is well known for his work on South Congress, from the 04 Lofts behind Guero's to the South Congress Hotel. He also designed popular downtown restaurants and bars such as Lonesome Dove, Hangar Lounge, and Star Bar, as well as many private residences.

Through his firm, Dick Clark + Associates, Clark trained several of Austin's most successful architects, including fellow School of Architecture alumnus Michael Hsu [BArch '93]. His work brought together old and new Austin to help the city grow while maintaining authenticity, and his legacy of generosity will push the School of Architecture forward as it continues to advance its programs and student resources.

School of Architecture students have the unique opportunity to learn in the rapidly growing city and changing urban landscape that is Austin. Some may directly influence the direction of the city and its look and feel, like Black and Clark. As they take part in life and learning at the university and go on to become part of an extensive alumni network as leaders themselves, our students can be inspired by these respected thought leaders and placemakers.