Alumni Spotlight: Dr. Khaled Alawadi
UTSOA interviews alum Dr. Khaled Alawadi, curator of the UAE pavilion at the Venice Biennale.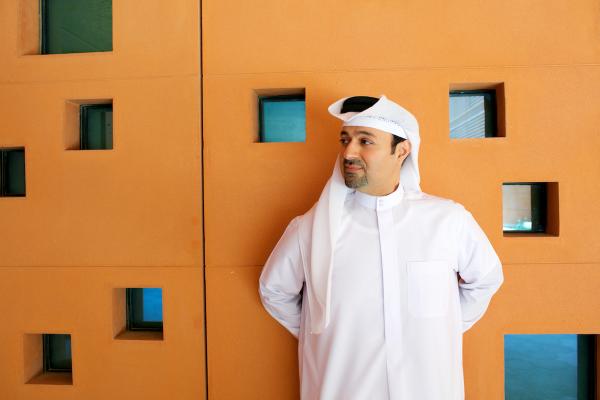 Dr. Khaled Alawadi [MArch '07, PhD in CRP '11] is an Emirati scholar, architect, and educator. He has been appointed by the National Pavilion United Arab Emirates (UAE) to curate the UAE's exhibition at the 16th International Architecture Exhibition at la Biennale di Venezia (Venice Biennale). 

Dr. Alawadi is the first UAE national scholar to specialize in the design of sustainable cities. He serves as an assistant professor of sustainable urbanism at the Masdar Institute in Abu Dhabi, part of Khalifa University of Science and Technology, where he founded the MSc. in Sustainable Critical Infrastructure program. He is a trained architect, planner and urban designer whose research is devoted to urban design and housing and urbanism with a particular focus on the relationships between the built environment and sustainable development.  Dr. Alawadi recently served as Visiting Assistant Professor at MIT's Center for Advanced Urbanism, and previously worked as an architect for Dubai Municipality and as an Assistant Professor at UAE University. 

We spoke with Dr. Alawadi about his views on the potential of the design and planning disciplines, his advice for students, his exhibition at the Venice Biennale, and what it's like to represent his nation on a global scale.


Tell us about your career path. What do you do now?
Throughout my research, my aim is to develop the UAE's reputation as a knowledge hub and engine for the transformation of cities and sustainable urbanization. The UAE has a unique architectural heritage which sits in dialogue with rapid urbanization and development and offers a rich environment for thinking about the future of architecture and urban planning, locally as well as globally.

Can you describe a professional or educational experience that was especially influential in shaping the way you view the design and planning disciplines and their potential?
I always had a belief that architecture can solve the problems of contemporary cities. But when I came to UT Austin in 2004, I found that architecture is limited, and cannot by itself confront big problems such as housing issues, congestion, inefficient infrastructure, pollution, etc. When I joined the urban design and planning program at UT Austin, I learned to consider small and big scales, from the scale of the street to the region. I also learned to pay attention to environmental, social, and economic aspects when designing and developing the built environment. So being at UT and working with the faculty and students was the first turning point in my life.

The second turning point was when I joined Masdar Institute in 2013 and when I served as a visiting assistant professor at MIT. In this stage, I considered myself an urban designer who works in the domains of science, advanced urbanism, and humanity. This led me to focus my research on the intersection of social science and applied science/design. I believe in the ideal that theory guides practice; without theory, urban design practice becomes useless, ineffective, completely bankrupt, and meaningless.  

What about the design and planning disciplines motivates and inspires you?
It's different than engineering and other disciplines. Our research and practice are close to the general public. We don't speak complex and technical languages; everyone understands our work and this adds responsibility to satisfy the public. 

 You are the curator of the National Pavilion UAE's architecture exhibition, Lifescapes Beyond Bigness, at the 2018 Venice Biennale. Can you tell us about the exhibition?
Lifescapes Beyond Bigness focuses on human-scale urbanism and the intersection of architecture and places with the humanity of people and community life. It explores what we can call "quotidian landscapes:" vibrant everyday spaces where informal social life interacts with the built environment, from street-corner gardens to impromptu football pitches.The exhibition looks at how people really live with the built environment in the UAE and adapt their surroundings to the needs of everyday life. It highlights human-scale landscapes that are often overlooked and under-celebrated, but which are an important element of the UAE's architectural heritage.

What was your approach to determining a concept for the exhibition? Did you face any challenges?
This year's Biennale is being held under the theme of "Freespace"—an idea that celebrates the human spirit, adaptability, and generosity at the heart of architecture. This allowed me to develop an exhibition on an area very close to my heart, as the urban fabric of the UAE has been at the center of my research for several years. 

My team and I executed an extraordinary amount of research to prepare for the exhibition and uncovered a real wealth of fascinating stories and insights, so of course it was a big challenge to select the materials to go into the pavilion itself. I'm delighted that we are also releasing a publication to accompany the exhibition, which will delve more deeply into some of this research along with essays from eight expert contributors.

How has this project been different from other projects you've worked on throughout your career?
The Venice Biennale is a high-profile platform that attracts half a million visitors each year, so it's been exciting to represent my nation on this scale to a very different audience. In recent years I've been primarily focused on my academic research and writing, so curating an exhibition has been an opportunity to explore new angles and tell the story of my subject in a fresh, immersive way.  

Can you describe the visitor experience at the 2018 Venice Architecture Biennale? What do you hope visitors take away from your exhibition?
The exhibition presents a series of two-dimensional media, including photos, texts and graphs of behavioral data, typological maps, and technical drawings that highlight how the physical environment of each research site influences daily social activities. We've also taken a more anthropological approach with detailed case studies and personal stories of residents.

The core of the exhibition is a suspended mosaic of three-dimensional scale models. This allows visitors to experience the morphological details of the four typologies, through scale models and representative abstracted forms. This content is enclosed within visually-striking vertical steel bars, which symbolize the "bigness" of urban architecture.

I hope that visitors will take away a new perspective on architecture and society in the UAE, which are not very well understood by international audiences on the whole. At the same time, I hope that the exhibition's themes will contribute to a regional and global conversation about the future of urban planning and design, inspiring new thinking.

Do you have any advice to share with our students and recent graduates?
Cities will play an increasingly important role in social development around the world, both in established and emerging markets, but, from my perspective, urban design has become dominated by a focus on architectural form.

I believe that as practitioners within our sector, we need to renew our focus on putting human needs at the center of urban planning. I encourage young architects and urban planners to focus on the social sciences as well as engineering and design skills and to think creatively about how their work can promote sustainable, future-proof livability and community. As designers, we need to understand human behavior and respond to social needs through visual variety, social diversity, and energy efficiency, embracing the human element within the built environment as the spark which brings cities to life.