Assistant Professor Aleksandra Jaeschke Wins Harvard GSD's 2019 Wheelwright Prize
$100,000 traveling fellowship will fund Jaeschke's research on the culture and architecture of greenhouses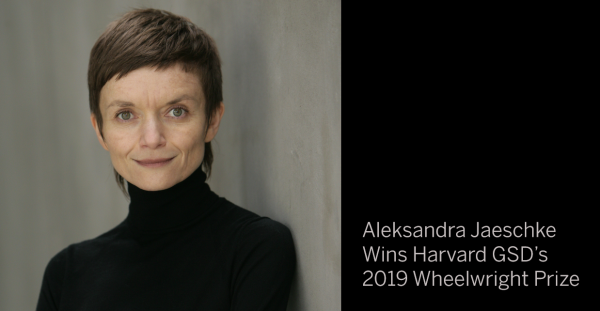 Architect and Assistant Professor Aleksandra Jaeschke is the winner of the Harvard Graduate School of Design's 2019 Wheelwright Prize, a $100,000 grant to support investigative approaches to contemporary architecture with an emphasis on travel-based research. Jaeschke's winning proposal, UNDER WRAPS: Architecture and Culture of Greenhouses, will explore the culture and architecture of greenhouses around the world, focusing on the spatiality of horticultural operations, as well as the interactions between plants and humans across a spectrum of contexts and cultures.

Jaeschke was selected from more than 145 applicants from 46 different countries. Her winning proposal stems from her fascination with the multifaceted nature of greenhouses and the very act of sharing a roof with plant life. Her goal is to investigate the impact of spatial arrangements and speculate about strategies for a more equitable "greenhouse ruralism" and an engaged "urban (horti)culture"—the former to empower farmers, and the latter to engage urban dwellers in the act of caring for plants.

"With her pioneering work on greenhouses, Aleksandra Jaeschke reasserts that the field of architecture can and should continue to engage deeply with nature, with horticulture, and with ruralism and the countryside," said Mohsen Mostafavi, Dean and Alexander and Wiley Professor of Design, Harvard GSD, in an announcement on May 10.

Aleksandra Jaeschke, an expert in sustainable design, joined the faculty of the UT Austin School of Architecture in 2018. Her research investigates how building regulations, coupled with green building technologies and incentives, shape environmentally-driven design and environmental awareness. Her work focuses broadly on mainstream discourses on sustainability, use of integrative design strategies, process-driven design techniques, and ecology.

Before joining the School of Architecture, Jaeschke served on the faculty of the Woodbury School of Architecture in Los Angeles, where she taught urban design studios exploring the catalytic potential of urban infrastructures. Her studios involved close collaboration with community partners, such as the Culver City Department of Community Development. Born and raised in Poland and licensed in Italy, Jaeschke practiced at AION, an architectural firm she co-founded with Andrea Di Stefano, until her move to the United States in 2013. In recognition of her work at AION, Jaeschke received the 2011 Europe 40 Under 40 Award from the European Centre for Architecture, Art, Design & Urban Studies and Chicago Athenaeum. She holds a Doctor of Design degree from the Harvard Graduate School of Design and an AA Diploma from the Architectural Association in London.

With the support of the Wheelwright Prize, Jaeschke intends to spend extended periods of time in a number of regions with a high concentration of greenhouse agriculture and to visit urban and rural greenhouses that are unique for their singular architecture, adaptive approach to technology, or extraordinary function. She will travel to the Netherlands, Spain, Israel, Morocco, Mexico, and South Korea, and will also visit significant sites in Canada, Singapore, Taiwan, the United Kingdom, Switzerland, and Poland. Her goal is to catalog and compare various greenhouse types, from farm-hoop houses to botanical conservatories; operations, from farming to hospitality; and locations, along a rural-urban transect. Jaeschke also hopes to use her travels to launch collaborative projects.

Learn more about the Wheelwright Prize at wheelwrightprize.org.