Blanton New Grounds Project Opens
Designed by School of Architecture alums Craig Dykers, Elaine Molinar, and John Newman of Snøhetta, the redesign enhances the museum experience while serving as a gateway between campus and the city.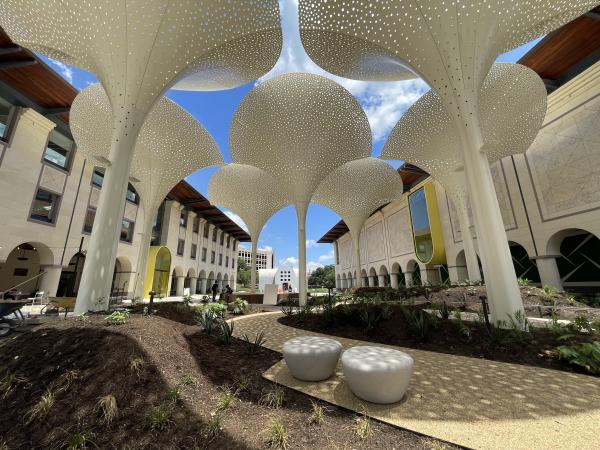 The next time you visit the Blanton Museum of Art, you'll experience it in a whole new way. Thanks to a redesign of the museum's grounds, led by School of Architecture alums Craig Dykers (B.Arch '85), Elaine Molinar (B.Arch '88), and John Newman (B.Arch '86) of Snøhetta, the Blanton's campus is now a fitting extension of the artistic spirit inside the museum and a welcoming gateway between The University of Texas at Austin and the city of Austin. 
The centerpiece of the revitalized grounds project is a cluster of three-story-tall "petals" that form a canopy over a series of new gardens and entry points to the museum's campus. Each petal is made of perforated panels that filter the sun and cast a dappled effect on the grounds on a sunny day, as their curving outlines frame views of Ellsworth Kelly's Austin and the Texas State Capitol. On rainy days the petals also serve as a rainwater collection system, collecting and filtering water for the new native plantings that accent pathways around the grounds. 
Between the petals and Kelly's Austin is the Moody Patio, a large gathering space that includes two adjacent stages, a lawn, and several seating areas. Entrances to the museum's two main buildings on either side of the canopy are marked by two protruding vaults that echo the arches in the loggia and the curves of the petals themselves. One vault, The Lookout, doubles as a second-story seating gallery and picture window that overlooks the outdoor spaces below. 
Beyond the architectural and landscape elements, the grounds initiative also adds four new immersive art installations: 
A site-specific mural by the Cuban-American abstract painter Carmen Herrera, Verde que te quiero verde (Green How I Desire You Green); 
The Butler Sound Gallery featuring Landscape Soundings by Bill Fontana, which transports sounds from the Texas Hill Country to the heart of Austin; 
A colorful billboard-sized mural HI by Kay Rosen that greets visitors from the Brazos Garage; and 
Plexus No. 44 by Gabriel Dawe, a thread-based artwork that welcomes visitors in the lobby with an immersive experience of light and color.
In a press release announcing the grounds design, Dykers notes: "The Blanton holds a prominent place at the intersection of the new Texas Capitol Complex, and it serves as the gateway to the university campus. Our inventive landscape and reimagined building entrances fulfill that promise. Snøhetta's design expands the museum's world-class art collection beyond the museum's galleries and creates a highly-visible public place of—and for—the arts in Austin." 
For more information, visit the Blanton Museum of Art website and read the university's announcement press release.