Celebrate Earth Day 2022
This Earth Day, we've rounded up a sampling of scholarship and resources from across the School of Architecture that not only explores our relationship to Earth and the built environment but also how we can help build a better future for our planet.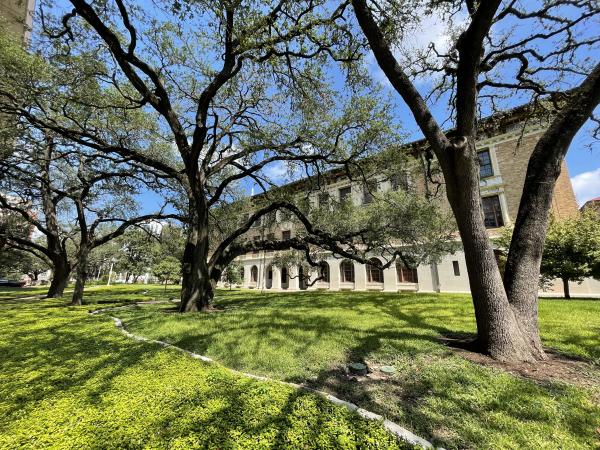 As the world continues to grapple with the physical effects of our changing climate, we—as designers of buildings, landscapes, cities, and communities—must take stock and consider how our disciplines can adapt to address current and future challenges. This Earth Day, we've rounded up a sampling of scholarship and resources from across the School of Architecture that not only explores our relationship to Earth and the built environment but also how we can help build a better future for our planet.
Edited by Associate Professor Matt Fajkus, the school's 2021-22 issue of PLATFORM explores the importance of rethinking disciplinary boundaries, embracing complexity, and navigating the spaces in-between as we work to create a more sustainable, resilient, and equitable future. Featuring scholarship from faculty across our disciplines, the issue looks at sustainability from multiple vantage points and at different scales, from the global and regional, down to the material and minute.  
 
In February 2021, the Center for American Architecture and Design hosted leaders in environmental and climate justice for a discussion about how the disciplines of the built environment contribute to climate change and its deeply rooted, systemic impacts, and what we can do to turn our influence positive. Panelists included the "Father of Environmental Justice," Dr. Robert Bullard, Dr. Kian Goh of the UCLA Luskin School of Public Affairs, and climate activist Dallas Goldtooth whose conversation was moderated by Assistant Professor Miriam Solis and several SOA students.
 
Last Earth Day, we caught up with Jaeschke about her views on sustainability, notions of ecology in architecture, and what she's been teaching and researching recently. She was the 2020 recipient of Harvard's prestigious Wheelwright Prize, which funded Jaeschke's travels around the world to study the culture and architecture of greenhouses. In November 2021, Jaeschke also hosted an online conference and panel discussion called Plant Potential, where artists, architects, and others speculated on how we can redesign our relationship with the environment and embrace the nurturing potential of plants.
 
An outcome of Briscoe's Meadows Foundation Fellowship, OTHER NATURE offers examples of systems and façade treatments that use vegetation as a thoughtful building material and provides possible solutions for mitigating our current environmental crisis. One such example is UTSOA's Living Wall pilot project, envisioned and installed by Briscoe in collaboration with the Lady Bird Johnson Wildflower Center in 2016. Located along the northwest corner of Goldsmith Hall facing Guadalupe St., the Living Wall features a series of honeycomb-shaped components that house native plants and serve as a bio-habitat for lizards, pollinators, and more.   
 
Coordinated as part of the Landscape Architecture Foundation's Green New Deal Superstudio initiative, the advanced studio explored ways that the framework of the Green New Deal could be translated into design and planning projects. The studio, "Prairie Time: Growing Dallas' Green Quilt," looked at West Dallas' history of material extraction for cement manufacturing and speculated on the potential of centering human actions of caretaking toward a more just and ecological future. The studio was recently featured in Landscape Architecture Magazine and work from the studio was selected as a representative sample of the nationwide initiative.
 
Funded by the National Science Foundation's Smart and Connected Communities program and coordinated through Planet Texas 2050, Lieberknecht's project seeks to build the social network, technological interface, and planning strategies needed to better integrate residents' knowledge into climate planning. Working within the Dove Springs neighborhood in southeast Austin , the goal of the project is to better integrate residents' experience with the impacts of severe weather events – such as flooding, extreme heat, and wildfire – alongside existing large-scale data sets, and the planning and preparation work conducted by municipalities to support short and long-term climate resilience planning.
 
Students in Associate Professor Nerea Feliz's Bug Filter Advanced Design Studio sought to capture the world of insect vision by designing a series of lenses that enable us to see as if through the compound eyes of local pollinators. Presented as part of the 2020 Fusebox Festival, students created an hour-long video of 15 digitally conceived, insect-inspired filters to help raise awareness of our current biodiversity crisis. Similarly, Feliz's project "Hidden in Plain Sight" sought to make visible the under-acknowledged world of non-human species—particularly insects—as active participants in urban life.
 
In October 1969, UT Austin students staged a protest to protect the trees lining Waller Creek which were slated for removal during a planned expansion of the football stadium. Several School of Architecture students supported by then-Dean Alan Taniguchi petitioned the university to rethink the campus plan and value the trees and creek on campus. When demolition began, students climbed into the trees to prevent bulldozers from taking them down. Abbey and Annie's documentary features interviews with several alumni who participated in the protests and Dean Taniguchi's son Evan Taniguchi.