Center for Sustainable Development to Host Regional Session of Mayors' Institute on City Design
The Regional Session of the Mayors' Institute on City Design is expected to convene in Fall of 2018 in downtown Austin.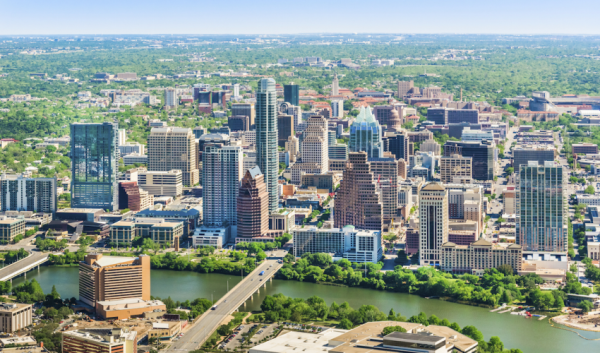 The Mayors' Institute on City Design (MICD), a leadership initiative of the National Endowment for the Arts in partnership with the United States Conference of Mayors, has awarded The University of Texas at Austin School of Architecture's Center for Sustainable Development a grant to host its 2018 East Regional Session.

The School of Architecture and Austin Mayor Steve Adler will collaborate to provide a platform for eight mayors to convene with eight design and development professionals leading their fields for a two-and-a-half-day workshop. The group will exchange ideas and work together to find solutions to some of the most pressing urban design and development challenges faced by the cities of each mayor.

The interchange among mayors, faculty, and design professionals will spark lively debate, reveal new perspectives, and generate creative solutions. Since 1986, MICD has helped transform communities through design by preparing over 1,100 mayors to be the chief urban designers of their cities.

The MICD session initiative is the latest in a productive ongoing partnership between the UT Austin School of Architecture and City of Austin offices, which are currently cooperating on projects to inform downtown development and housing initiatives.

Mayor Adler remarks, "I was privileged to attend the sixty-third National Session this past Fall and I learned, firsthand, how enriching the MICD experience is. UT School of Architecture faculty are active collaborators with many City of Austin departments, boards, and commissions… I look forward to continuing to cultivate important relationships between cities that promote smarter, sustainable growth through the Mayors' Institute on City Design."

School of Architecture Dean Michelle Addington comments, "Never have the challenges and opportunities facing cities been greater than they are today. The Mayors' Institute has a distinguished record of creating dialogue and collaboration on critical issues between cities. We are honored to partner with the NEA and the Mayor's Office to chart new ways forward."
The Regional Session of the Mayors' Institute on City Design is expected to convene in Fall of 2018 in downtown Austin. MICD holds five sessions annually around the country. For a list of upcoming events, past attendees, or for more information, visit micd.org and follow @MICDdotORG on Twitter.
Photo by Towers Realty.