Cole Von Feldt // nARCHITECTS
PRP Now! is a series of interviews that highlight a current UTSOA Professional Residency Program student every few weeks.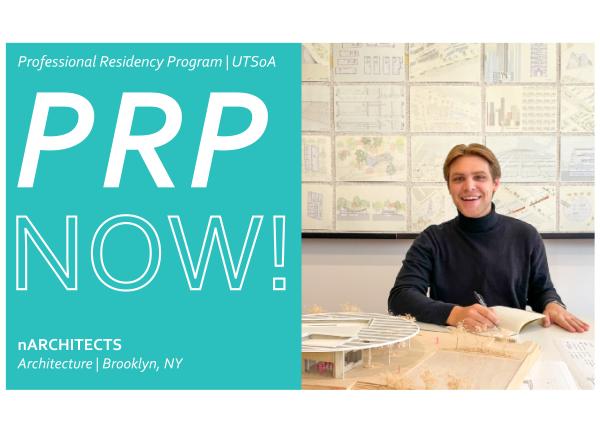 Tell us about your PRP firm. Where are you working?
I am working at nARCHITECTS in the DUMBO neighborhood of Brooklyn, New York. They are a small (but growing), internationally recognized design firm that focuses on cultural and multi-family typologies. nARCHITECTS currently has eleven full-time employees from a diverse array of backgrounds.
Do you enjoy the city you're working in? Favorite aspects?
I couldn't be happier to be situated in New York! The energy is contagious and the number of events and opportunities that this city has to offer is truly unmatched. I often find that, outside of work, my schedule is always packed with trips to museums, architecture talks, and adventures with friends. I live in Brooklyn Heights which has afforded me the opportunity to walk to work and has truly allowed me to take full advantage of the walkability that Texas doesn't always offer. Most of my day-to-day time is spent in Brooklyn which has created a nice balance, as I'm often in Manhattan visiting friends. New York is continuously developing its waterfront which has created plenty of enjoyable spaces while the multitude of parks is always a nice escape from the city while staying within the city.
What is currently on your desk? What are you working on?
I am currently working on drawings that will be displayed in an upcoming architecture exhibition at the Museum of Modern Art; the Jones Beach Energy and Nature Center is one of twelve projects selected for the show. Countless plots of the drawings, littered with redlines, scatter my desk along with a cup of peppermint tea, salted peanuts, a glass of water, and my nearly full sketchbook. During my time with nA, I've helped design a pedestrian bridge for a landscape architecture project and designed furniture for a private single-family residence upstate that is nearing completion. I was also on a team that completed an RFP for a cultural and educational center on Staten Island. Although we were not awarded the project, it was a very exciting opportunity to work in a condensed timeframe dealing with only the schematic design
Describe the firm culture? The office atmosphere?
The atmosphere of the office is typically concentrated, yet casual. Everyone is focused on their tasks but there is still plenty of conversation about weekend travels and the newest restaurant that someone visited. Occasionally, there will be office-wide events after work which has become a lovely way to spend time with my coworkers, in addition to eating lunch together nearly every day. The colder weather has forced our lunches inside, but during the summer we would eat by the East River and add to the liveliness of the DUMBO waterfront neighborhood. In terms of work, everyone is quite collaborative and there are frequent pin-ups and meetings for projects still in design. It's been helpful, personally, to work in an environment where everyone's input is valued. Equally fascinating, too, is the diversity in design opinions as we have a multicultural office with people from Asia, Europe, and all over the United States.
What is the first thing you'll tell your classmates upon your return to UT?
The first thing I'll mention is that we need to go for BBQ immediately; I miss brisket too much. After that, I'll explain how wonderful it was to live and work in New York. It is simply the best city in the world and I am fortunate enough to spend an extended period of time here. I definitely wouldn't call myself a local, but I do love when tourists stop and ask me for directions.
As you're finishing up the week, what are your plans for this weekend?
This weekend I will likely visit the Guggenheim and Frick Madison; two of my favorite museums in town. I prefer to walk as my primary form of transportation – although, sometimes the subway is necessary – so I'm sure I'll spend much of the weekend exploring new corners of the city via foot. During past weekends I've been able to make trips to Vermont to see the colorful autumnal trees, Connecticut to see Glass House and other architectural marvels, and Gilgo Beach on Long Island for a perfect summer day. With less daylight and my number of weekends here fleeting, I'll be sure to take full advantage of all that New York has to offer.
Is there anything else that you would like to add?
The Professional Residency Program is an unmatched experience that everyone should apply for. There is much to learn outside of the classroom and working with a firm not only earns hours towards licensure, but more importantly, it provides some comfortability when working in a professional setting. My time at nARCHITECTS has been great, as well, and I'm the second UTSoA intern they've had in the last eighteen months.