CSD Helps Mayors Understand Role in Urban Design and Community Building
Center for Sustainable Development & Austin Mayor Steve Adler Host 7 Mayors at MICD East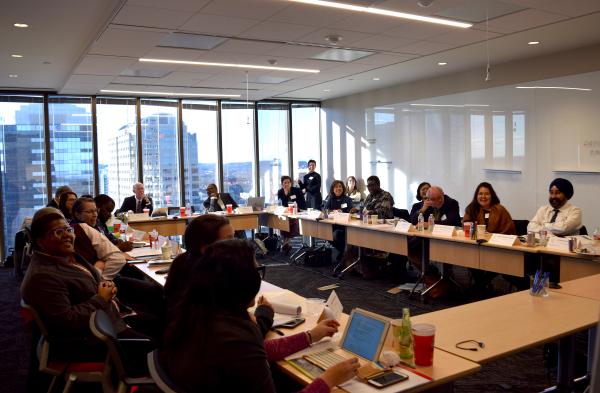 The School of Architecture's Center for Sustainable Development Partnered with Austin Mayor Steve Adler to Host 7 Mayors at MICD East 2018. Here's what they learned

The 2018 East Regional Session of the Mayors' Institute on City Design (MICD) took place in Austin, Texas, from December 12–14, 2018.

Hosted by the Center for Sustainable Development at The University of Texas at Austin School of Architecture in partnership with Austin Mayor Steve Adler, the event brought together seven mayors from around the eastern United States to discuss the most pressing design and development challenges facing their cities. Eight experts in architecture, landscape architecture, urban planning, economic development, transportation, real estate development, and urban design joined the mayors for two and a half days of discussions, offering pragmatic advice for each mayor's project.

The 2018 East Regional Session began with a tour of Austin's Seaholm EcoDistrict, which showcased how public investments and partnerships catalyzed private development in the once-industrial area just west of downtown. The tour ended at City Hall for an opening reception hosted by Mayor Adler. Over dinner, Mayor Adler welcomed the group with reflections on his growing city and his 2015 participation in the Mayors' Institute. Other speakers included Tony Chauveaux, National Endowment for the Arts Deputy Chairman; Trinity Simons, MICD Executive Director; Michelle Addington, Dean of The University of Texas School of Architecture (UTSOA); Allan W. Shearer, Associate Dean for Research and Technology at UTSOA; and Charlton Lewis, Assistant Dean for Student Affairs at UTSOA.

Over the two days that followed, robust discussions provided each mayor with concrete ideas for their projects as well as a new understanding of a crucial element in their leadership portfolio— design. The mayors brought a range of projects to this session, seeking to address a wide array of urban challenges through improvements to the built environment. In addition to making necessary physical investments, city leaders are working to rebuild trust with communities that have long felt overlooked or even harmed by policies such as urban renewal. Many of the mayors also expressed a desire to help neighborhoods celebrate their unique history and culture through design, shaping vibrant places that reckon with the past and generate excitement about the future.

Members of the Resource Team, experts who served in a volunteer role on behalf of the nation's cities, introduced participating mayors to the design process and the ways it can generate creative solutions to complex problems. Through the lenses of architecture, planning, and related fields, mayors learned how to look at their cities with a fresh perspective and new appreciation of their role as "chief urban designer." Over the course of the session, the Resource Team shared a wide range of tools and best practices for meaningful community engagement, infusing history, culture, and equity in every project.

Attending mayors:

Mayor Yvonne Spicer, Framingham, MA
Mayor Ravinder Bhalla, Hoboken, NJ
Mayor Danene Sorace, Lancaster, PA
Mayor Andy Schor, Lansing, MI
Mayor Liz Lempert, Princeton, NJ
Mayor David Martin, Stamford, CT
Mayor Jamael Tito Brown, Youngstown, OH

Resource Team members:

Elizabeth Chu Richter, Richter Architects, Corpus Christi, TX
Kimberly Driggins, City of Detroit, Detroit, MI
Brie Hensold, Agency Landscape + Planning, Cambridge, MA
Ying-yu Hung, SWA Group, Los Angeles, CA
Gabriela Juárez, City of Los Angeles, Los Angeles, CA
Edna Ledesma De Leon, The University of Texas at Austin, Austin, TX
Chuck Perry, Perry Rose, Denver, CO
Sara Zewde, Studio Zewde, Seattle, WA

The Mayors' Institute on City Design is a leadership initiative of the National Endowment for the Arts in partnership the United States Conference of Mayors. Since 1986, MICD has helped transform communities through design by preparing mayors to be the chief urban designers of their cities. MICD conducts several sessions each year. For a list of upcoming events, past participants, and more information, visit micd.org and follow @MICDdotORG on Twitter.