Dean's Message For All
March 2020 Message from Dean Michelle Addington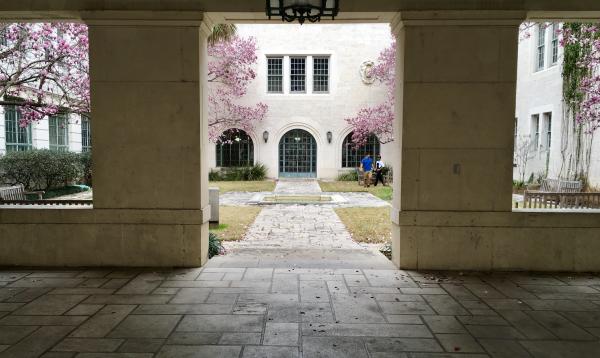 On Monday, classes began again at the University of Texas School of Architecture.  After more than two months of nervously watching the news about the spread of COVID-19, three weeks after the University began considering some aspects of on-line education, two weeks after the first case on campus was confirmed, one week after students were asked not to return to campus, and one day after we finished helping students move out of their studios and workspaces, we embarked on a journey unlike anything that the school has faced in its over one hundred year history.

I have been in awe as our faculty have rapidly reworked their syllabi, taught themselves Zoom, transformed assignments from physical making to virtual proxies, all while addressing a shortened time frame coupled with the need to maintain educational standards and accreditation requirements. 

I have been so deeply grateful for our amazing staff who have been navigating through all of the administrative changes to make sure that students don't fall through the cracks, that resources are made readily available, that our technological systems are adapted and upgraded, and that our students are safe and supported everywhere they are in the world. 

And I am bowled over by the graciousness and perseverance of our students as they have been buffeted about by these extraordinary winds of change.  The aspect that moves me to tears is how many in our community have somehow found the time to do even more—the faculty members who have been training other faculty, the staff members who have been hunting down new internship opportunities, the students who thoughtfully packed up the desks of other students and also the many students who have called volunteering to help in any way that they can.  We have a community unlike any other I have ever come across.

We know that it will be messy, that there will be failures, that many aspects won't translate well from physical to virtual, that technology will be unpredictable, and that the experience will at times be frustrating and disappointing.  But for each hour of each day that goes by, we will gain more knowledge and experience of what works and what doesn't, what can be opportunistically capitalized on and experimented with and what will always be a shadow of its former essence.

I cannot promise that this semester will be a rousing success.  I can promise, however, that we all will be learning every day how to manage this better; that we will be working to fix those aspects we can fix; and that we will continue to improve the way we interact.  Fundamental to moving forward will be our communication with each other.  We need to hear what's not working, we need to hear suggestions and ideas.  For the past few weeks, we had been trying to streamline and concentrate our communication approach to make sure that the important messages were not lost in the noise of so many routine messages.  Now, we would like to open up more avenues and modes of sharing and talking. 

Later this week, we will be sending you our first attempt at a regular news update, which will compile useful dates--such as when drop/add deadlines are, or when grant applications are due—with needed information about topics such as new travel restrictions, as well as highlights to upcoming events such as webinars, etc.  We have also been thinking of adding a marketplace section to the news update that everyone could post to. For example, this might be where someone might offer to bring groceries to their colleagues, or suggest a particular technology platform.  I will be holding virtual town halls, starting next week, and students have asked that I also hold virtual "snacks with the dean."

Faculty, staff, and coordinating committee meetings will go on-line, but we will also try and have smaller groups for those who may share a particular issue or a particular topic.  To make sure that we don't lose our important forums for discourse, both CAAD and City Forum will continue putting together conversations and talks.  And we hope that many of you will create your own groups. As always, our main page https://soa.utexas.edu/headlines/covid-19-campus-updates will remain our primary source for important information and links, and the university main page  https://coronavirus.utexas.edu/ should also be consulted on a regular basis. 

Communication is a key framework connecting our community, but we must also remember to serve as each other's stewards.  Everyone is struggling in some way, some more privately than others.  Many of you are having to home school your children while working full-time or studying full-time.  Others are taking care of ill family members or may be ill themselves.  Some have loved ones or friends who have lost jobs. Our compassion is what will bring us through, but we also have to be paying attention to those whose needs may not be as visible.  No one in our community should feel alone or left behind as we work our way through this semester.  Please, please reach out if you need help, or if you are aware that someone else needs support. We will get through this together, and we will be a better, stronger school when this virus wanes.

And one last thought. We do have a remarkable community here at UTSOA, and in many cases, the bonds that have been built here will endure for a lifetime.  But we are also part of a much larger community that doesn't have the benefit of our support structure.  As we are thinking about what we need and how best to support one another, let us never forget all of those out there who do not have our fellowship and our privilege.  What can we do as individuals, and what can we do as a school, to support those who have no one else.