Designer Kelly Wearstler Mentors and Supports UTSOA Interior Design Students
The Kelly Wearstler Endowed Fund for Design Students will create new opportunities for students to expand their global perspective, seek new opportunities in the industry, and better prepare them for their careers.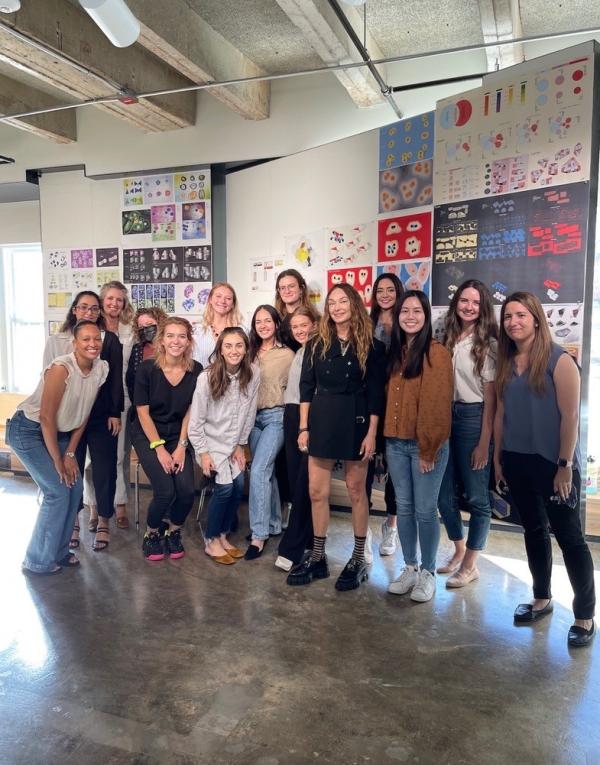 UT School of Architecture's Interior Design program is pleased to announce a partnership between AD100 Hall of Fame designer Kelly Wearstler.
 
Founder and principal of the eponymous studio Kelly Wearstler, the designer will work with UT to support its students with new learning and professional opportunities including summer internships, recruitment and employment placement, as well as on-campus workshops that focus on the world of design practice and the global relevance of interior design in contemporary society.
 
Wearstler has also established the Kelly Wearstler Endowed Fund for Design Students to provide undergraduate scholarships and graduate fellowships to design students with financial need. The fund will create new opportunities for students to expand their global perspective, seek new opportunities in the industry, and better prepare them for their careers. The fund will also be used to support meaningful experiences outside the studio and classroom, including participation in travel and study abroad, research activities, and professional internships and residencies. 
 
Spearheaded by the director of the Interior Design program Igor Siddiqui, the partnership began last fall with Wearstler attending the midterm reviews of Master of Interior Design students from the UT School of Architecture. Since then, she has also participated in portfolio workshops and final design reviews.
 
"My visits to UTSOA have been truly inspiring – the level of talent in the schooling, and among the faculty and students is really incredible," said Wearstler. "I am so excited to be developing my relationship with the school to further support the next generation of designers."
 
"We are thrilled to be working with such a game-changer in the design industry," Siddiqui added. "This collaboration will increase our capacity to support our students and to provide them with access to opportunities at the highest levels of design practice." 
 
Wearstler's partnership and philanthropic investment with the school reflects her commitment to design education and the cultivation of talent and is a testament to the quality of The UT School of Architecture's students and faculty. Her participation will have an immediate impact on today's students as well as a lasting influence on future generations of design leaders.
 
About Kelly Wearstler
Kelly Wearstler is an American designer known for creating multi-faceted, experiential residential, hospitality, commercial and retail environments, virtual worlds, as well as expansive collections of lifestyle product designs. Through an exploration of materiality, color, forms, and an intuitive juxtaposition of contemporary and vintage, architectural and organic, graphic and instinctual, she curates a wealth of experiences into every space. Wearstler believes honoring history, location, and architecture is imperative to pushing the boundaries and challenging the rules.
 
Wearstler's most notable projects include Santa Monica Proper Hotel, Austin Proper Hotel, Westfield Century City, Tides Miami and custom residences for high-profile private clients. In recent years the designer has designed virtual spaces for brands including Hummer GMC and JennAir and launched a new vertical collaborating with artists such as Rotganzen and Morgan Peck.
 
Wearstler's achievements have been recognized by numerous awards such as the AD100 Hall of Fame 2022, Elle Décor Titans 2021 and Time Magazine the Design 100.